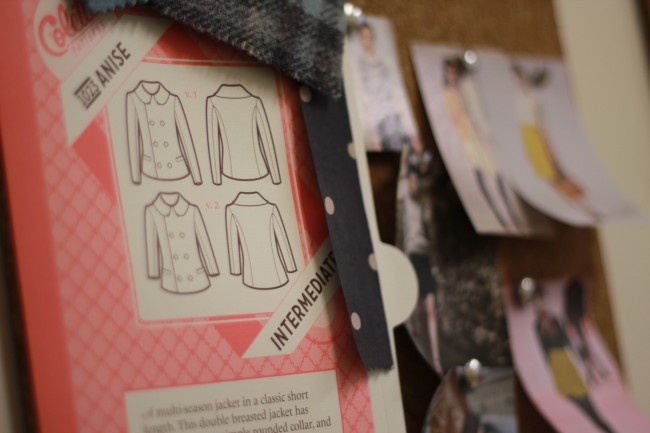 Today is the first day of the Anise Sew-along. Ready to shop?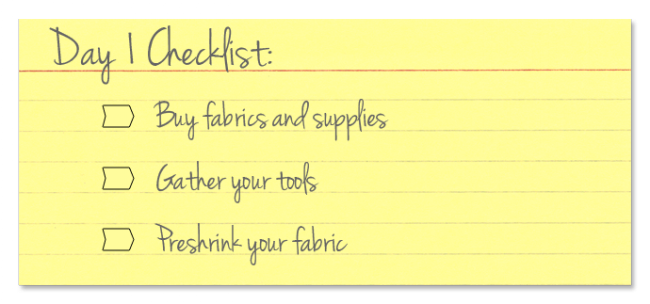 If you're following along with the Anise Companion, we'll be covering the material from day 1, pages 4-9. If you're reading the companion, this information might be repetitive, but this way we can review it together.
Buy your supplies
These are the supplies you'll need for our sew-along.
Main fabric. This is likely to be wool, but you can also other fabrics, including linen or even cotton for a light summer jacket. Wool will be easiest to work with because it responds so well to pressing. My favorite choices for this jacket are wool flannel, worsted, boucle, tweed, or camel hair. But there is a big range of appropriate fabrics. Just consider their weight and drape individually. You want something stiff enough to be tailored and scultped, but not so heavy that you end up with a lot of bulk. For my jacket, I'll be using a light blue textured Pendleton wool I got on mega-sale.
Fusible weft interfacing. Look for weft interfacing, which will drape well for this jacket. You can find it in black as well as white. Choose a weight that will work well with your fabric, giving the right amount of stiffness. You can experiment with woven interfacings, but do not use nonwoven.
Lining fabric. This is the fabric for the inside of your jacket. Choose a fabric to match, or opt for a fun color or print. I recommend all kinds of silk (twill, crepe, or charmeuse are lovely) or a rayon lining fabric. Skip the polyester or acetate, which get hot and sweaty. I'll be using a vintage grey polka dot silk.
Underlining fabric. Choose plain cotton muslin to underline your jacket, giving it more body. Hold the muslin together with your fabric and interfacing to choose one with the right amount of stiffness.
Test garment fabric. Buy extra muslin so you can make a test garment and fit it before sewing. If you have some inexpensive fabric lying around that more closely matches your main fabric, you could also use that.
Light flannel for sleeve heads (optional). Sleeve heads are optional, but recommended. They help shape the cap of the sleeve and disguise the seam allowance. You can buy them online, but later I'm going to show you how to make shaped sleeveheads from cotton flannel. 1/2 yard will be more than enough.
¼" shoulder pads. These very thin shoulder pads will help shape the shoulders without adding much bulk. I purchased mine from B. Black & Son
Silk thread. Choose a silk thread in a contrasting color to use for basting.
Polyester thread. Choose a polyester thread to match your main fabric and some to match your lining fabric.
Eight 1" buttons. Pick out some 1 inch buttons. They could contrast with your jacket fabric, or coordinate with it.
Gather your tools
Here are the tools you'll need:
Sewing shears. Use sewing shears (also called dressmaker's shears) to cut your fabric. Even if you use a rotary cutter, it's a good idea to have these on hand.
Pinking shears (optional). We'll use these to finish the edges of our pockets later.
Pins. You'll need plenty of pins. I prefer glass head ones because they won't melt under your iron.
Pattern weights. Use these to hold the pattern on your fabric while you trace it, or while cutting with a rotary cutter.
Hand sewing needles. You'll be doing plenty of hand stitching, so grab some of these.
Marking pens or chalk. Choose one that stays put and shows up easily on your fabric, but washes away cleanly.
Point turner. A bamboo point turner will help you get sharp points and corners, and also help push out seams so you can press them evenly.
Steam iron. Perhaps this goes without saying, but you need an ironing board and steam iron. These tools will be almost as vital as your sewing machine!
Tailor's ham (recommended). A tailor's ham is not strictly necessary, but it will make pressing certain parts of the garment much easier.
Seam roll (recommended). A Seam roll helps you to press without the seam allowances showing through. It's also useful for pressing sleeves.
Rotary cutter (optional). Not necessary, but makes cutting your fabric go faster. If you go this route, you'll also need a mat.
Preshrink your fabric
Now it's time to preshrink your fabric. That means getting all the shrinkage out BEFORE your garment is sewn. Even if you'll be dry cleaning a wool jacket, you need to eliminate the shrink that will happen eventually. Wool is very prone to shrinkage.
You have a few good options for preshrinking your wool fabric before sewing:
Dry cleaning. Take it to the dry cleaners and ask them to preshrink it. This can be expensive and you may need to hunt around for a dry cleaner who understands what you're trying to do.
London shrink. Take a bed sheet and wash it, then lay the damp sheet out flat. Place your wool on top and roll the sheet and wool up together. Let it sit overnight, then unroll it in the morning and let it dry completely. Once it's dry, press the fabric with steam.
Dryer shrink. This tip comes from Pam of the sewing blog Off the Cuff. She recommends placing your wool in the dryer with a damp towel, drying at high heat for 30-40 minutes. You may want to test this with a swatch beforehand, but I've found it a reliable method.
For other fabrics, such as your lining fabric, simply wash them as you normally would. For silks and rayons, I prefer to hand wash in warm water, then hang dry. Once it's dry, press with steam to remove any wrinkles.
Preshrink the muslin you'll be using to underline your jacket, but don't worry about the muslin you're using for your test garment. Since that's only a temporary garment that you won't be wearing, there's no need to preshrink.
Bonus:
Want to get a head start on day 2? You can start cutting and stitching up your test muslin. We'll talk fitting in one week, so you have plenty of time to get your stuff together.
Join us next Tuesday, Oct 2 with all your supplies and we'll get started with fitting!