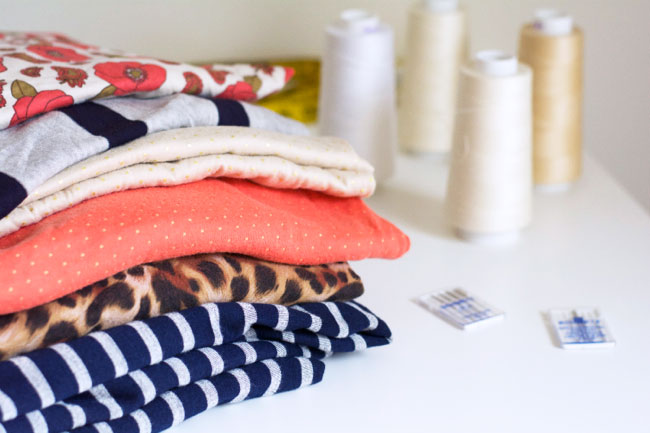 To begin our sewalong, we'll be giving you a couple weeks to pick out your fabric and gather your supplies.
Gather your supplies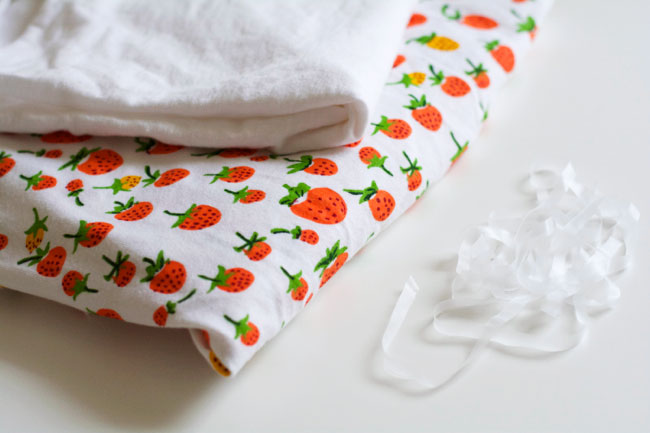 Main Fabric. For all versions, you'll want a medium to lightweight knit fabric. Some types of fabric that are suitable are jersey, lighter French terry, double knits, and baby rib knits.
Lining Fabric. For version 1, you'll also need a lightweight jersey knit lining fabric.
1/4" clear elastic. The clear elastic will help us gather and stabilize the waist of the skirt.
Choosing your fabric
For the main fabric of your Moneta, you'll want to look for a medium or lightweight knit fabric. This covers a rather broad spectrum of fabrics, depending on the type of dress you want to make. Generally, you want something in a sort of Goldilocks zone – not too heavy and not too light.
On the lightweight end of the spectrum, you will want to consider how sheer the fabric is. The skirt is unlined on all versions, and the bodice is unlined in versions 2/3, so you'll want to make sure the fabric provides enough coverage.
On the heavier end of the spectrum, avoid anything too solid and stable, like very thick sweatshirt fleece, as the gathered skirt will end up too bulky and won't hang quite right.
If this is your first time working with knits, it's probably best to stay away from slippery, fluid fibers such as rayon and stick with something that's a little more well-behaved. A great choice would be a cotton/spandex jersey. It will be on the more stable end of things, but the spandex will help it spring back to its original size after being stretched [also referred to as 'recovery'.]
For the bodice lining in Version 1, you will want a lightweight jersey that won't add too much bulk. If you're using a light colored shell fabric, keep in mind that high contrast colors and prints might show through.
A few fabric options
Since one of my favorite pastimes is window shopping for fabric online, here are some different options I've come across. I can't wait to live vicariously through all of your fabric choices!
(Please note that I can't vouch firsthand for quality as I've not purchased these myself.)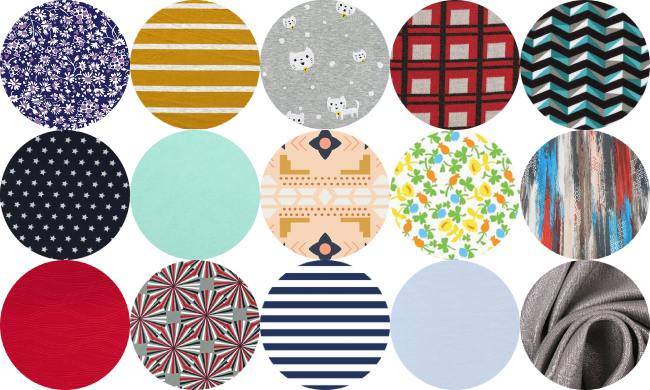 Row 1:
Daisy All Over jersey from Girl Charlee
Goldenrod Ash Stripe jersey from Girl Charlee
Lovely Cat Baby Terry from Bonita Fabrics
Geometric Knit from Mood
Chevron jersey from Hart's Fabric
Row 2:
Navy Stars Jersey from Louiseau Fabrics
Ice Green jersey from Girl Charlee
Desert Blanket Knit from Hawthorne Threads
Briar Rose Calico jersey from Hart's Fabric
Weathered Tribal ITY from Fabric Mart
Row 3:
Puckered Stripes ITY from Fabric Mart
Laguna Jersey in Radient Red from Hawthorne Threads
Navy Stripe knit from Hawthorne Threads
Laguna Jersey in Cloud from Hawthorne Threads
Silver Metallic Jersey from Mood
Gather your tools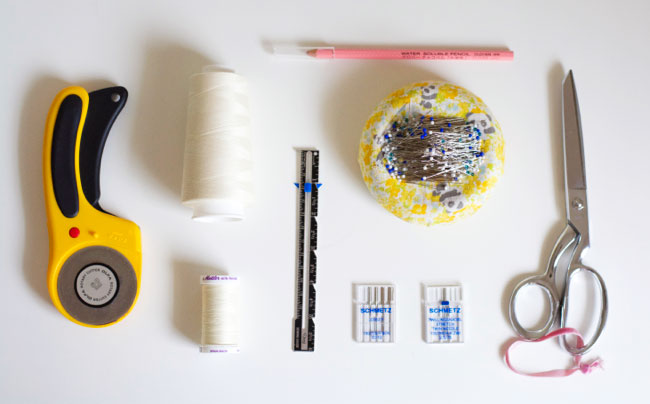 Sewing Shears. Use sewing shears (also called dressmaker's shears) to cut your fabric. Even if you use a rotary cutter, it's a good idea to have these on hand.
Rotary cutter (optional). Not necessary, but makes cutting your fabric go faster. If you go this route, you'll also need a mat.
Pins. You'll need plenty of pins. I prefer glass head ones because they won't melt under your iron.
Pattern weights. Use these to hold the pattern on your fabric while you trace it, or while cutting with a rotary cutter.
Marking pens or chalk. Choose one that stays put and shows up easily on your fabric, but washes away cleanly.
Seam gauge. Not absolutely necessary, but very helpful when hemming.
Ballpoint Needles. They may also be labeled as jersey needles. Ballpoint needles are designed to push through threads rather than pierce them, so they help prevent runs and snags in your fabric.
Twin Needle. A twin needle will allow you to create a professional looking stretchy hem. Look for one labeled 'stretch'.
All purpose thread. You'll need all-purpose polyester or cotton thread on regular spools. If you are using a serger, you'll also need cone thread.
Equipment
You can make the Moneta using either a serger or your standard home sewing machine. We'll discuss techniques on both in a future post.
If you're using a serger, you'll still need your standard machine on hand for hemming and a few other small tasks.
Pretreat your fabric
Before we begin, you should prewash your fabric in whatever manner you plan on caring for the finished garment. This is not something you want to skip, as knits have a tendency to shrink more than wovens.
Do you have any questions about fabric, tools, or supplies? Let me know in the comments!