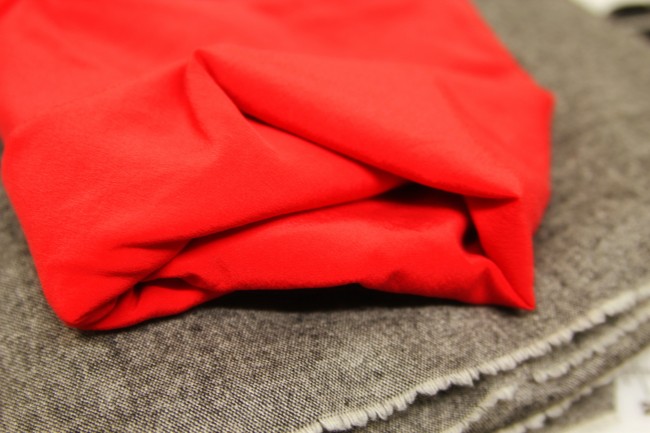 Today, I was planning to post about darts and pockets for the Clovers. However, two things prevented this.
One, I realized that it might be a good idea to talk briefly about lining for your Clovers. If, like me, you're using a fabric that might be itchy (like wool), you might like a little discussion on this matter.
Two, I am a little behind and couldn't manage to get far enough along to whip up the post for you. Wow, things have been crazy busy around here. And I thought, well, it's probably preferable to be a day behind schedule than to develop an ulcer. I hope you agree.
Now, let's talk pants lining. I have some thoughts and some really cool techniques to link you to.
The fabric I'm using for my Clovers is above. The salt-and-pepper wool will be the main fabric, and I'm using the BRIGHT red stretch silk for the underlining. So even my lining fits with my Fall palette!
If you've decided that your fabric needs a little something softer on the inside, the first question is whether to line the pants or underline them. Underlining just means that you cut the same pieces from both fabric, baste them together, and then sew them as one piece. In contrast, when lining a garment, you basically make another version of the garment and insert it inside.
I would advise underlining for these pants rather than lining. I've had fitted pants that were lined and I don't think there's anything wrong with them. But there may be a tendency for the lining to bunch up and twist on fitted pants, and who needs it? Especially when underlining is so easy. Plus, with a little foresight, you can save time by finishing the seams at the same time.
You have a few options for underlining:
Baste the underlining pieces to the main fabric pieces before sewing. Worry about finishing seams later, as you sew, like normal. Easy peasy.
Serge the underlining pieces to the main fabric pieces. If you don't have a serger, you could also use a zigzag or overlock stitch on you sewing machine.
Use this technique described on Pattern Review to do a finish similar to a Hong Kong finish while attaching your underlining. I haven't tried this yet, but it sounds great for the vertical seams!
Sew the underlining and main fabric pieces with right sides together to finish the seams. Shannon of Hungry Zombie Couture explains this technique well. I've done this, and it's awesome.
Personally, I think I am going to go with serging them together, then pressing the seam allowance to the side and doing a mock flat fell seam. That way, no itchy wool will be touching me, even on the seam allowance.
I'm also using a stretch cotton for the inner waistband rather than the wool, again to avoid the itchies.
So that's what you need to know about underlining. Now on to the sewing!