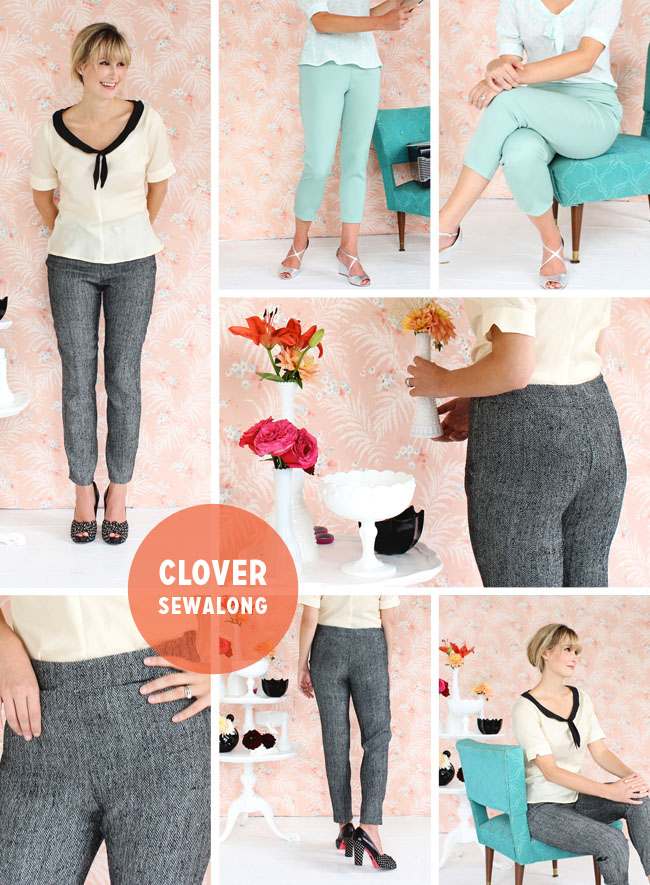 It's officially October (how did that happen, by the way?), and that means it's time for another sewalong! Are you guys ready to make some Clovers?
I know what the big holdup is when it comes to making trousers. One word: fit. Let's face it, when it comes to pants, getting a great fit is not something that can be left to dumb luck.
So this sewalong will have a big fit focus. In fact, pretty much all of next week is devoted to pants fitting! And I'm going to walk you through what I've found to be a good method for fitting this particular pair of pants. In other words, take a deep breath… we're going to work through it together.
The great news is that these pants are exceedingly simple to construct, so we can take our time with fit and fly through the construction pretty quickly. And once you get these fitted the way you want, imagine the possibilities and variations!
This Thursday 10/06, I'm going to post a pants fitting cheatsheet that should hopefully help you work out problems with your muslin. And I would love it if you guys could help each other out in the Flickr group, since it might be difficult for me to answer all fitting questions that come up. Plus, I'm sure some of you have more direct experience with certain fitting problems. But we'll help out as much as possible!
And of course, no sewalong would be complete without buttons. Please feel free to paste these codes into your own blog, if you so desire!

<a href="/clover"><img src="//www.sewalongs.com/media/promo/clover-125.png" width="125" height="125" alt="Clover Trouser Sewalong" title="Join the Colette Patterns Clover Trouser Sewalong!" /></a>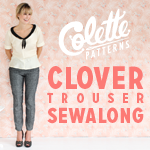 <a href="/clover"><img src="//www.sewalongs.com/media/promo/clover-150.png" width="150" height="150" alt="Clover Trouser Sewalong" title="Join the Colette Patterns Clover Trouser Sewalong!" /></a>