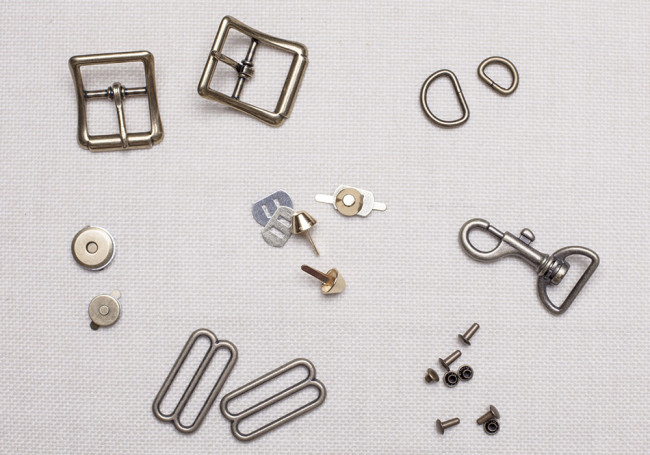 Many of you have asked for resources on finding some of the more specialty items used to make bags for the Cooper Sew Along.
I've spent more hours than I can count researching this stuff as we planned our kits, so I want to share some of my resources with you today. I have used most of the products I'm recommending below, or at least have samples of them.
I've organized these into the various supplies you might be looking for, but note that a lot of these stores sell a variety of outdoor and specialty fabrics and hardware. So you can likely find more than one thing at some of these, depending on what you're looking for.
Canvas and heavy fabric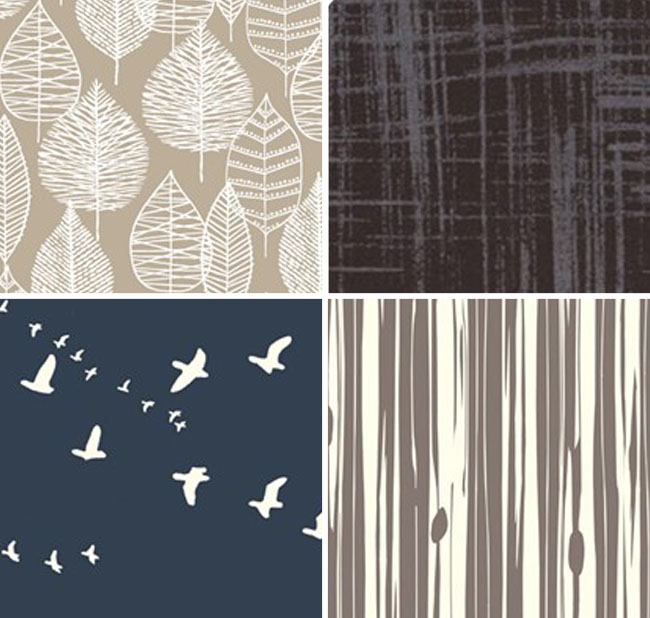 Organic Canvas from Birch: Fabricworm carries some awesome prints in organic cotton canvas. I love that there are prints suitable for men, women, and kids here AND that it's organic. Some prints are pictured above.
Hart's Fabric: How about some nice striped ticking? They also have a lovely selection of canvas.
Spoonflower: Make your own print, or choose one from their vast selection! All of their fabrics can be ordered in twill and canvas. I'll be using Spoonflower to design my own Cooper soon.
Big Duck Canvas: This canvas is very affordable, comes in several weights, and is offered in a wide variety of colors. If your machine can handle it, I like the 10oz weight.
ahh.biz: This store sells a lot of what you might need or want, including canvas, nylon cordura in both 500 denier (good for lining) and 1000 denier (the kind of fabric backpacks are made from). They also have hardware and webbing. My only hesitation is that (1) their website is bloody awful – turn off your computer's sound before you go there. And (2) their customer service was pretty lackluster when I had a shipping issue.
Pendleton: We used Pendleton blanket weight jacquard for one of our backpacks, and it is an AMAZING bag fabric. Soft, gorgeous, hard-wearing, and milled right here in Oregon. Their website is pretty limited on the patterns and yardage, but if you are in Portland, the woolen mills outlet is an incredible resource.
Waxed canvas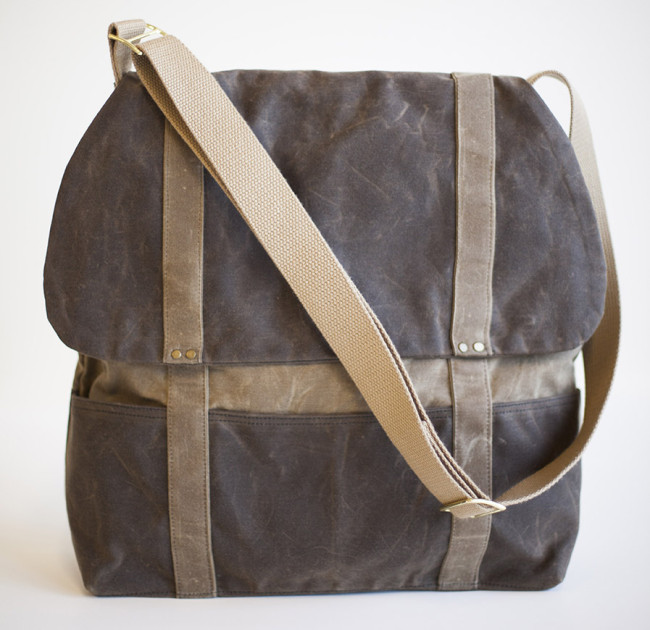 Military waxed canvas: AHH sells this rather affordable canvas (starts at $18/yard), but it only comes in olive drab.
Fairfield Textile: This is my favorite source, but they do have a minimum. The brown samples of Cooper were made from Fairfield waxed canvas, and I have a swatch book of all their colors, and the palette and quality is outstanding. However, I think the minimum order is 5 yards, so you may need to make a lot of bags or get some friends together to make it worth the cost.
Fabricline: This is the web store of our beloved outdoor fabrics store here, Rose City Textiles. They have a few types of waxed canvas. I have seen these in person, and I'd advise ordering swatches. The superwax is quite lightweight and seems more suited to lining. I'm afraid they might be sold out on some of the others, so you might want to call. They are really nice people.
Rough and Tumble Bags: This bag maker sells waxed canvas by the yard in a few colors.
Fab Crafts UK: Thanks to reader Siobhan for alerting us to this Ebay seller! For those in the UK, this is a source for waxed canvas.
Merchant and Mills: Another source for the UK. All of their things are so lovely. They sell waxed canvas (oilskin) by the half meter. I believe there is only one color. Check out their other fabrics too, just gorgeous.
Lining fabric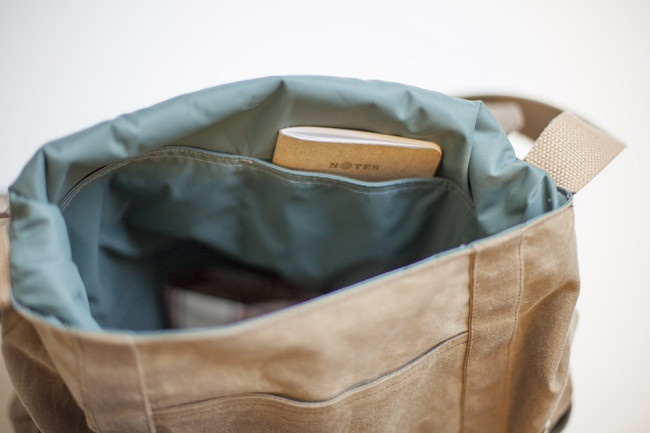 Fabricline: They have so much ripstop! They even have an organic cotton ripstop! I've made some bags with cotton/poly ripstop like this and though it's not water resistant like nylon, it is a dream to sew with.
Rockywoods: This company has good prices on nylon ripstop and other outdoor fabrics. I like the 1.9oz ripstop, and it comes in a variety of colors for a good price.
Leather and faux leather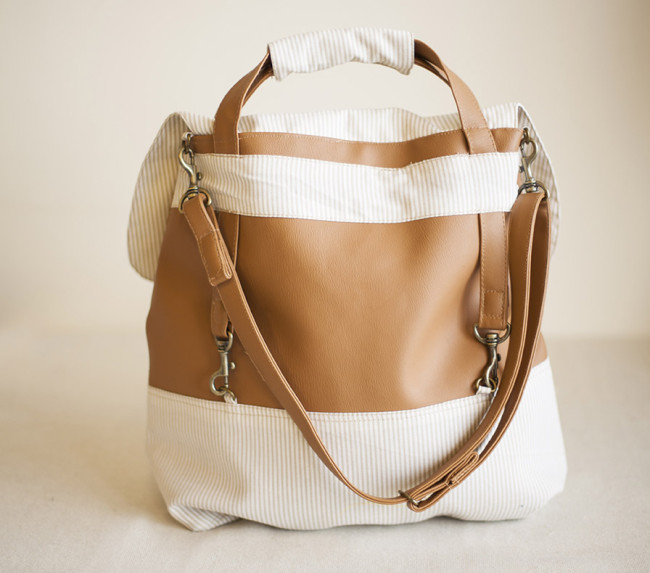 Silverstone: If you want the really high quality faux leathers, check here for sure. I've ordered some fantastic stuff here and the deals are amazing. Izit leathers retail for $112/yard, but they have a black one for $37.50. Our bag designer, Laura of Pansy Maiden, also recommends Knoll faux leather for really good quality. The prices here are pretty amazing for the quality you get. They also sell leather.
Webbing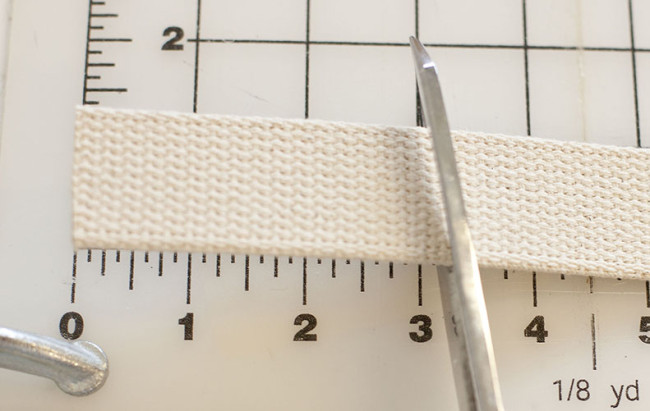 Ahh.biz: They carry the 1.5″ cotton webbing you'll need in several colors. This is good, heavy webbing.
The Village Haberdashery: So much webbing and in unusual colors too! This is a particularly great choice for those in the UK.
Etsy: Just do a search for "1.5 cotton webbing." There are a lot of sellers! Here's one selling it in several colors.
Strapworks: So much webbing! You can get cotton, nylon, even webbing printed with patterns!
A note on webbing: I've noticed that 1.25″ webbing is easier to find that 1.5″. I think 1.5″ looks better, but you can definitely go for the more narrow one if you'd like. You might want to size down your hardware a little to fit, though. Also, you can follow the instructions in the Cooper Companion to make your own self-fabric straps and avoid webbing altogether. It's a really good-looking option too.
Hardware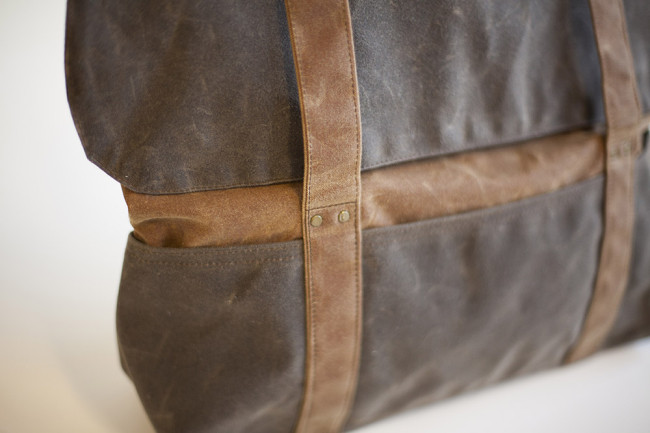 Gifts for Crafters: I highly recommend our hardware kits, because it'll probably save you time and money hunting down hardware from different places that might not quite match. I've been there while sourcing these kits! But if you want something else, like a different color or finish, read on for alternatives.
Ahwok buckles: This is really intended more for pros, so you have to order large quantities. But the prices are good and the selection is huge.
Being Bags: This Etsy store has a good selection of hardware as well. Laura says she orders from them. The quantities might be a little high. Again, try searching around on Etsy if you can't find what you want here.
Hardware Elf: Lots and lots of hardware options! Definitely a good source for jiffy rivets.
Ahh.biz: This store really does have almost everything. They have a large selection of hardware.
A note on Jiffy rivets: Your local fabric store might sell jeans rivets, which tend to be a bit bigger. But we've used those too, and they are also an option!
Hope these resources can get you guys started!
Does anyone have other resources to share, particularly outside the US?