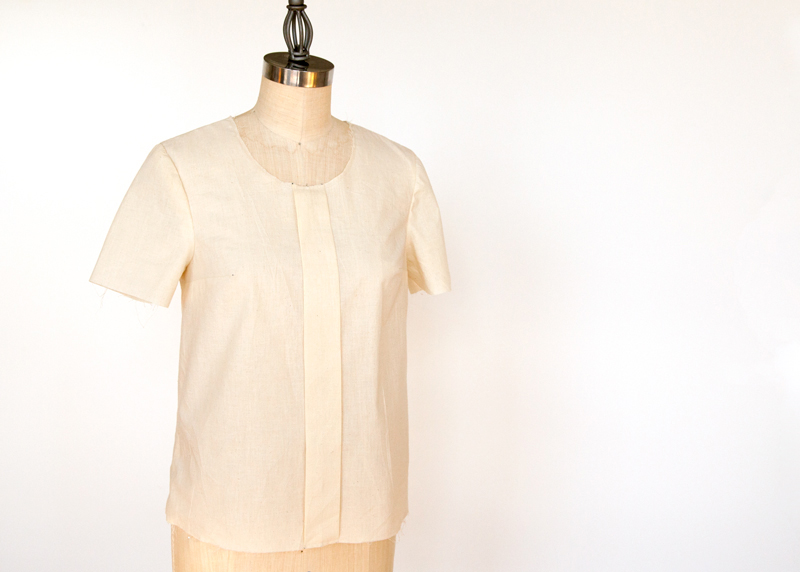 Let's make a muslin!
I know that this is a step that a lot of people dread or even skip altogether, but making a muslin is the single best thing you can do to achieve dependable results when sewing.
It seems tedious, but with a garment like Sorbetto, which you will want to make time and time again, making a muslin will be an hour well spent.
That being said, this will seriously be the fastest test garment you have ever made.
Sewing Your Muslin
Start by cutting your muslin. Make sure to transfer all markings, including the notches, darts, and center front pleat.

Stitch along the raw edge of the armhole with a 1/4″ seam allowance. We will skip the bias binding at this stage, but the stitching will give us an idea of the proportions.

Next, sew the darts and center front pleat, per the pattern instructions. Press the darts down and the pleat flat. You can also stitch the pleat in place along the neckline and hemline to keep everything flat.

Sew the shoulder and side seams. There is no need to finish the seam allowance, but you should press all seams for an accurate fit.

If you are making version 3, insert the sleeve. This is not a place were we strive for sleeve perfection. If your sleeve cap isn't perfectly eased, don't sweat it.

Staystitch the neckline, and the armholes (versions 1 and 2).
Fitting Your Muslin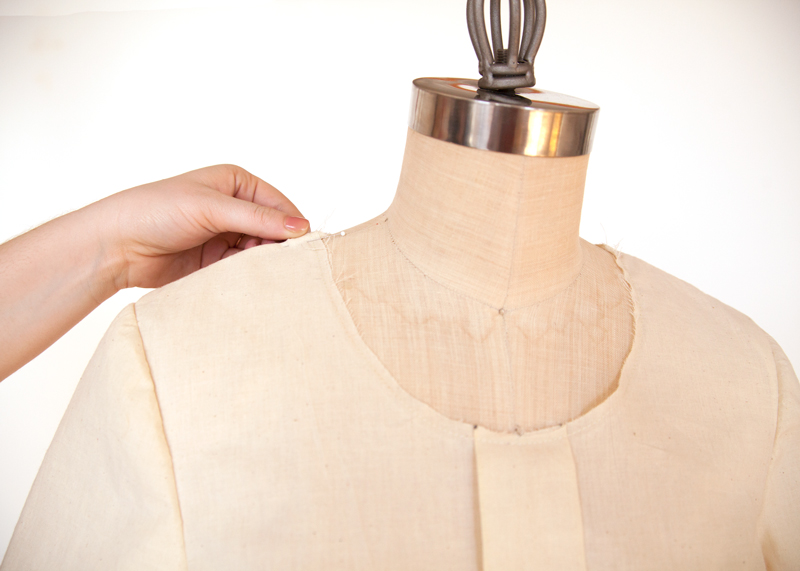 Now we can try our muslins on and begin fitting.
Take a look at the fit. Does the garment seem to be tight anywhere? Is it bulging, or producing loose wrinkles and folds of fabric?
If it seems too big in any one spot, pinch out the excess fullness and pin it. Use a seam gauge or ruler to measure how much you need to remove from the pattern in that area, and transfer those markings to your pattern.
If it seems too small in any particular area, slash the muslin! Pin some extra fabric behind the slash, and once you have it the way you want, measure the gap you've created.
Now, once you have your muslin pinned to perfection, you can transfer your markings to your pattern.
NEXT UP…
This week we will wrap up fit adjustments, with shoulder and sleeve adjustments on Wednesday. Then on Friday we will cover abdomen adjustments and moving the dart.