Welcome to the Sorbetto Sewalong!
I am so glad you are joining us for the Sorbetto Sewalong! Together, we will make all three versions of this lovely top.
If you don't have your own copy of the pattern yet, you can download it in the Colette Patterns shop—it's free!
YOUR TEACHERS
This Sewalong will be co-taught by myself (Haley) and my pal and fellow sewing expert, Katie.
I am a professional sewing teacher, writer, and the Editorial Director over at Colette HQ. I have years of experience in women's ready-to-wear, teaching, and home sewing.
As Producer at Colette HQ, Katie teaches new skills through in-depth tutorials, Sewalongs, and articles for Seamwork Magazine and the Colette Blog.
We can't wait to make all three versions of Sorbetto with you!
HOW IT WORKS
Our Sewalongs are simple. We'll publish a series of posts detailing each step in the process of fitting and sewing the pattern. You can sew along with us, ask questions, and share your techniques and advice with others.
Feel free to leave comments with thoughts, questions, and photos. We try our best to answer as many questions as possible, but encourage you to jump in and help each other out as well.
WHAT'S COVERED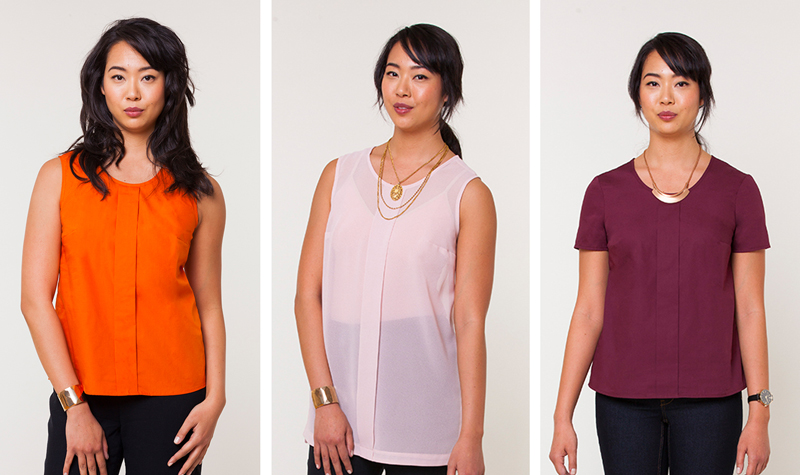 We'll start this week with a discussion of fabric and supplies. Then we will dive into fitting, so you can get a completely custom-fitted Sorbetto.
The focus on fit makes this Sewalong a little different from the rest. We will divide our fitting into two sections: pre-muslin fit adjustments, and post-muslin fit adjustments.
Pre-muslin fit adjustments are changes made to a pattern based on simple measurements alone. They help minimize the work to be done once the muslin is sewn.
After our muslins are created, we'll dive into some additional adjustments to help you achieve the perfect fit.
After thoroughly fitting Sorbetto, we will construct this simple top, from cutting to hemming. And finally we will share our Sorbettos.