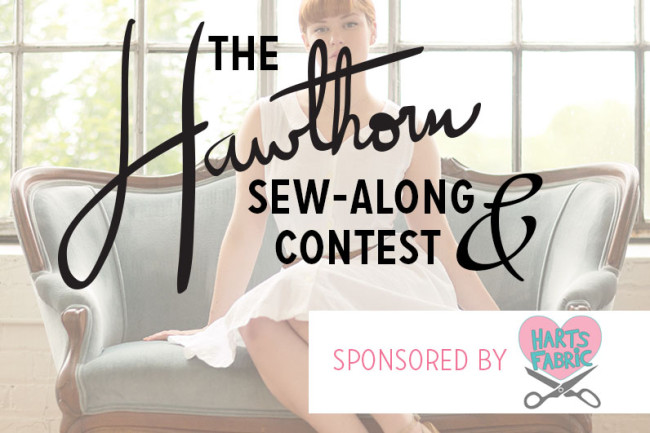 Are you ready to make Hawthorn together?
This is going to be a fun one. Together over the next few weeks, we'll be making Hawthorn. Then to wrap it up, we'll choose several favorites for you to vote on (similar to the Readers' Choice portion of the Laurel contest), with prizes from Colette Patterns and Hart's Fabric.
Quick note: A few customers alerted us to a couple typos / bits of errata in some of the early digital patterns, which have been fixed. If you're using the digital pattern, I encourage you to log into your account at colettepatterns.com and download the updated version. This just applies to the digital pattern.
Let's dive into the details, shall we?
Skill Level
Hawthorn is rated as intermediate. If you're a relatively confident beginner, you can probably tackle this pattern with us.
If you want to keep it simple, I'd recommend either the sleeveless version, the blouse, or even attaching the short sleeves of the blouse to the dress. The 3/4 sleeve, which has a cuff and placket, is probably the most challenging part of the whole construction.
What we'll be covering
We'll be providing information covering all three versions of the pattern.
I will be making the sleeveless version, and also showing you how to construct the 3/4 length sleeve with cuff and placket, step by step. Rachel will be making the dress, but using the short sleeves from the blouse version.
Win some prizes!
When you sew along with us, post pictures of your completed dress in our Flickr group with the tag "Hawthorn" to be entered into our contest.
As some of you discovered last time, it's a good idea to set up your Flickr account ahead of time and make sure you have at least 5 photos in your account. Flickr has spam prevention measures so that photos from brand new accounts may not show up right away.
We will choose 20 of our favorites and open it up to the community here on the blog for voting.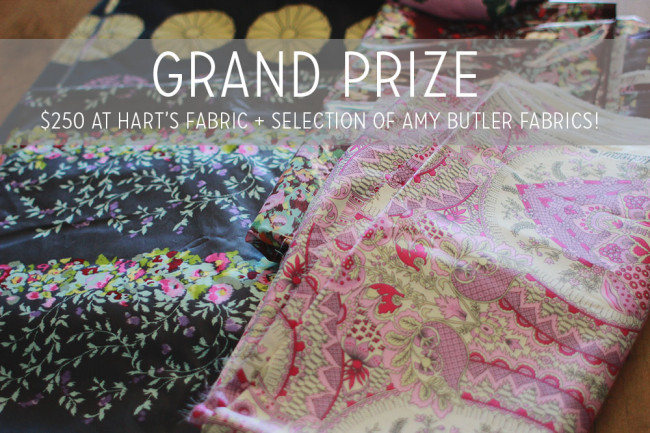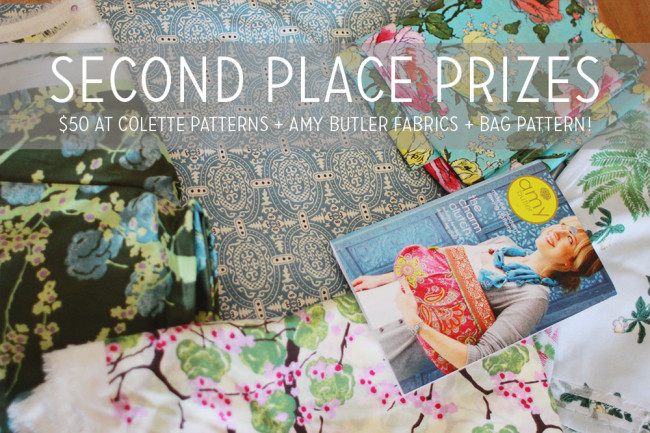 The grand prize winner will receive a $250 gift certificate to Hart's Fabric (check out their shirting or cotton sections if you're shopping for fabric) and a prize package from Colette Patterns of Amy Butler fabric, including sateen, velveteen, rayon, oilcloth, and canvas.
Two second place winners will receive a $50 Colette Patterns gift certificate, an Amy Butler handbag pattern, and a generous selection of Amy Butler fabric (exact designs may vary).
The Flickr group is also a great place to ask questions and get help from each other. As always, we try to jump in when we can both here and on Flickr, but since we can't answer every question, we encourage you to help each other out too!
Get Your Button
Joining us? Be sure to grab the code for these buttons for your blog!
125 pixels:

<a href="/hawthorn"><img src="//www.sewalongs.com/media/promo/hawthorn-125.png" width="125" height="125" alt="Hawthorn Dress Sewalong" title="Join the Hawthorn Dress Sewalong!" /></a>
180 pixels: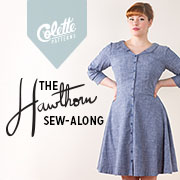 <a href="/hawthorn"><img src="//www.sewalongs.com/media/promo/hawthorn-180.png" width="180" height="180" alt="Hawthorn Dress Sewalong" title="Join the Hawthorn Dress Sewalong!" /></a>
250 pixels: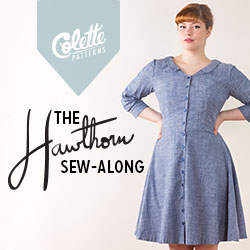 <a href="/hawthorn"><img src="//www.sewalongs.com/media/promo/hawthorn-250.png" width="250" height="250" alt="Hawthorn Dress Sewalong" title="Join the Hawthorn Dress Sewalong!" /></a>