Happy Monday, Sew-Alongers! Are you ready to get started with some Hawthorn sewing? If you've finished your fittings and cut your interfacing and final fabric, the answer is, "Yes!"
Today, I will walk you through attaching your interfacings and beginning to assemble the bodice. Here is our full checklist to get you caught up:
Iron fabric and cut pattern pieces
Apply fusible interfacing
Staystitch curves
Sew darts
Attach shoulders
Iron Fabric and Cut Fabric Pieces
1. Fold your fabric in half and with right sides together and press.
Note: For easy stripe matching, I like to pin along the fold, checking to make sure that each pin goes through at the same point in the print.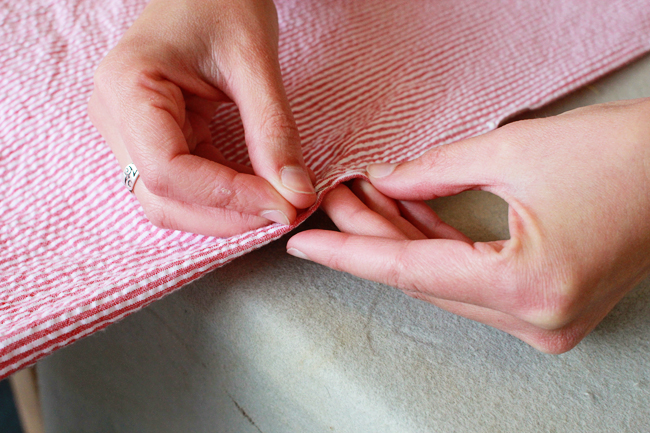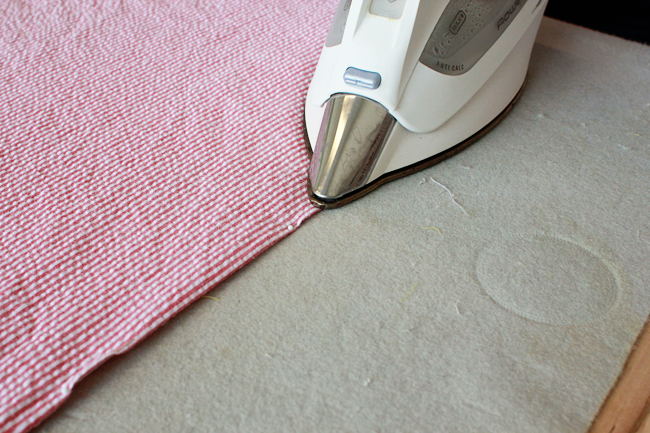 2. Layout your pattern pieces according to the diagram in your pattern booklet.
3. Use your marking pen, pencil, or chalk to transfer all of the mark- ings (such as circles, darts, etc) to the wrong side of your fabric. Mark the center front of pieces that are cut on the fold. This will help you to align pieces accurately. If you are using a rotary cutter, proceed to step 5.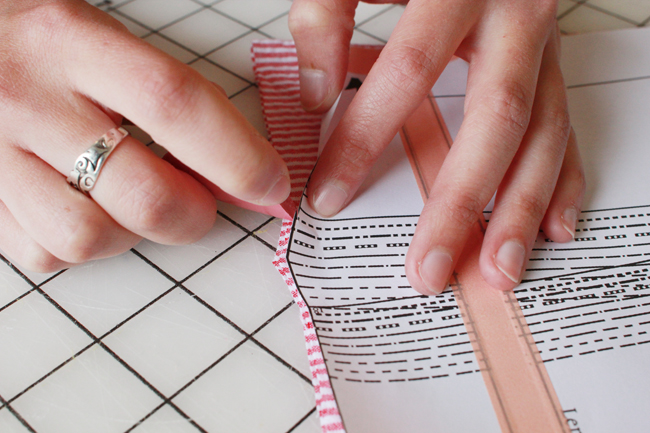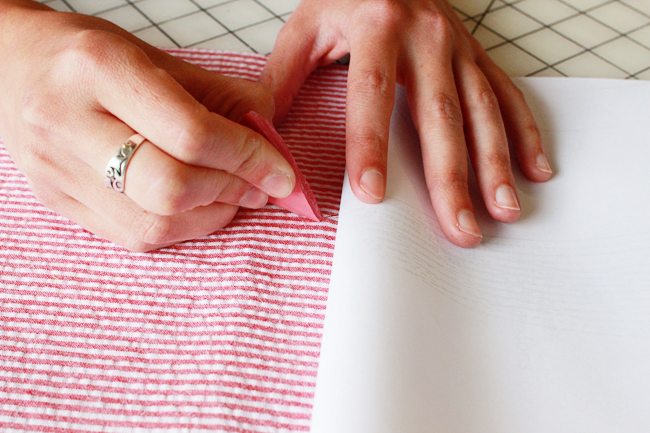 4. You can either place weights on your pattern pieces and trace the edges, cut the pieces out with a rotary cutter, or pin your pattern pieces in place and use fabric sheers to cut the pieces out.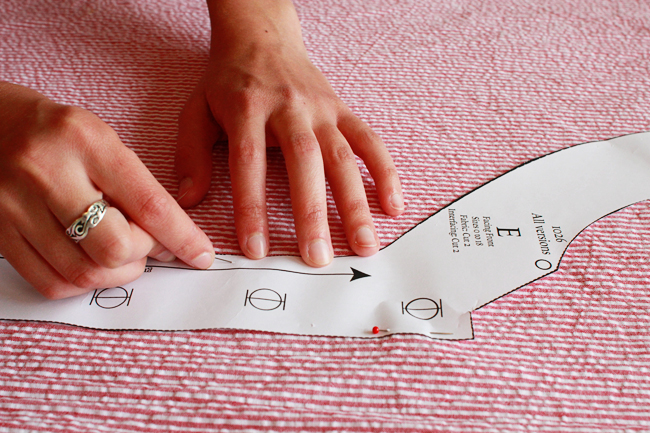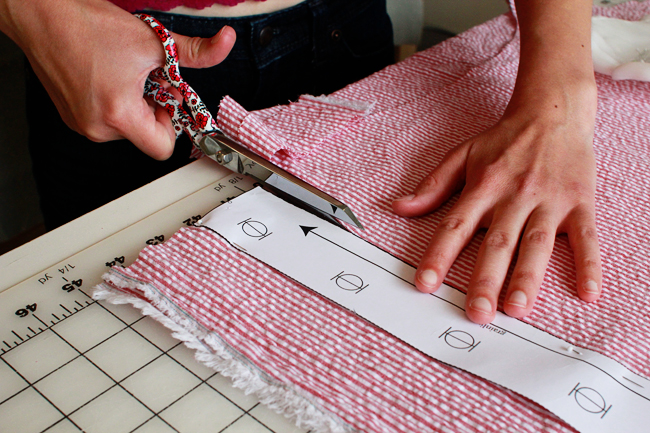 Apply fusible interfacing
1. Set your iron to cotton and full steam.
2. Lay the bumpy side of your fusible interfacing on top of the wrong side of corresponding fabric piece for two of the collar front (F) pieces, the collar back (G), the facing front (E) pieces, and the facing back (H).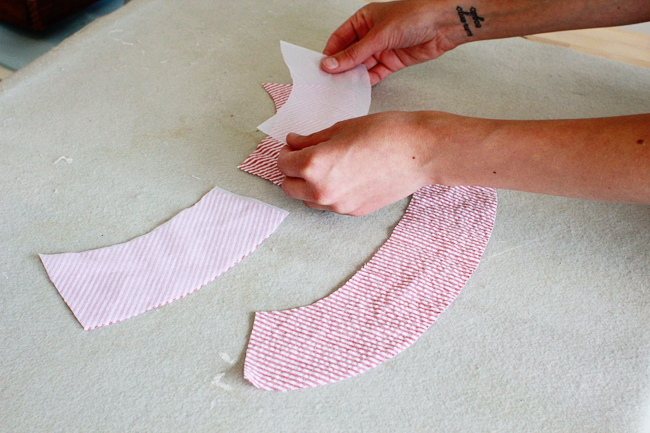 3. Dampen your press cloth and lay it over top, being careful not to pull the interfacing out of place.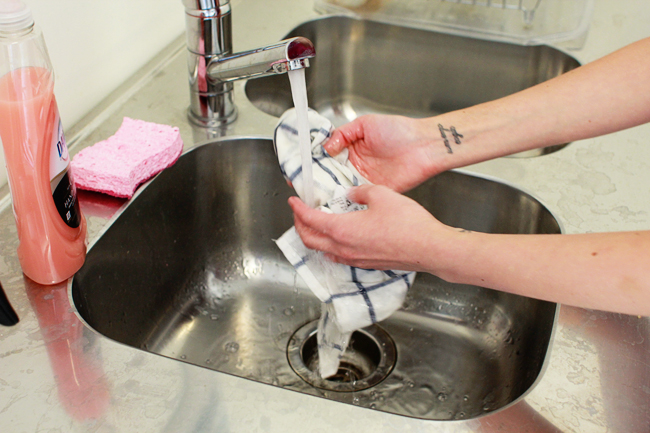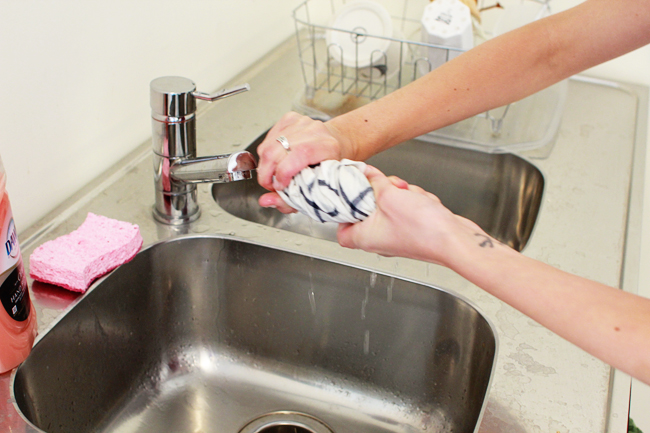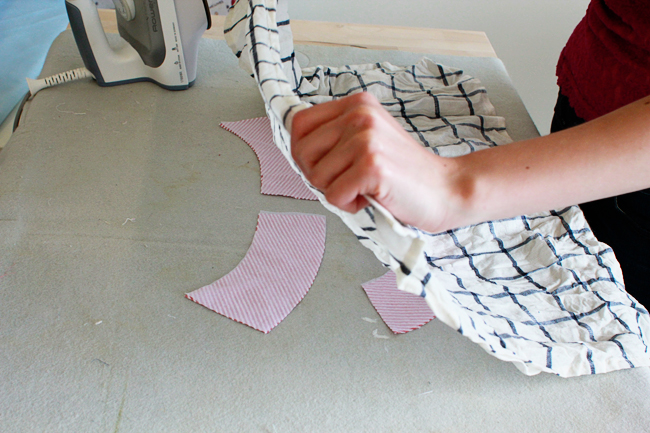 4. Press down firmly on every section for 30 seconds.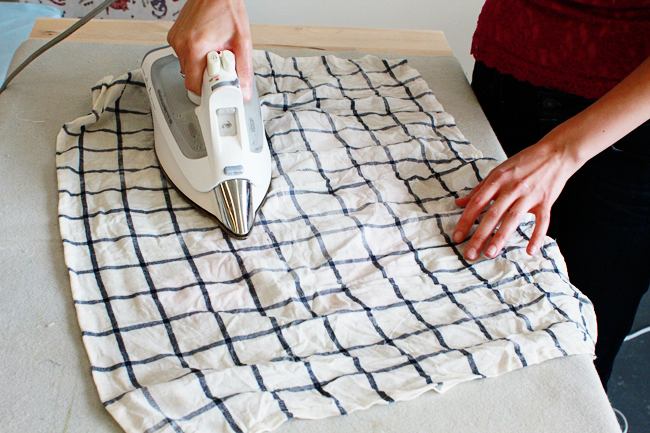 5. Remove press cloth, flip the pieces over, dampen the presscloth again and repeat.
Staystitch curves
Definition of Staystitching: Staystitching around curved edges (such as necklines) helps prevent them from stretching out, making them easier to match up later. Simply machine stitch along the edge, slightly within the seam allowance.
1. Staystitch around the neckline on the facing front (E) pieces, the facing back (H), the collar fronts (F), and the collar back (G), stitching a scant 1/4" from the raw edge. Begin at the shoulders and stitch toward the center, which minimizes stretching.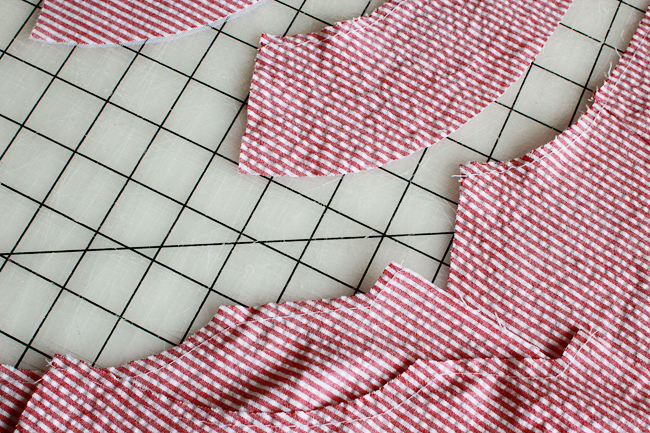 Sew Darts
1. Connect dart tip marking to the dart leg markings in the seam allowance, creating your dart leg lines.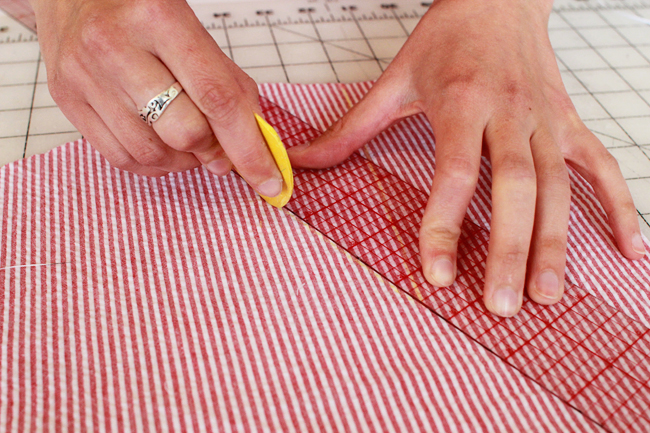 2. Bring dart legs together and pin from the tip of the dart toward the seam allowance.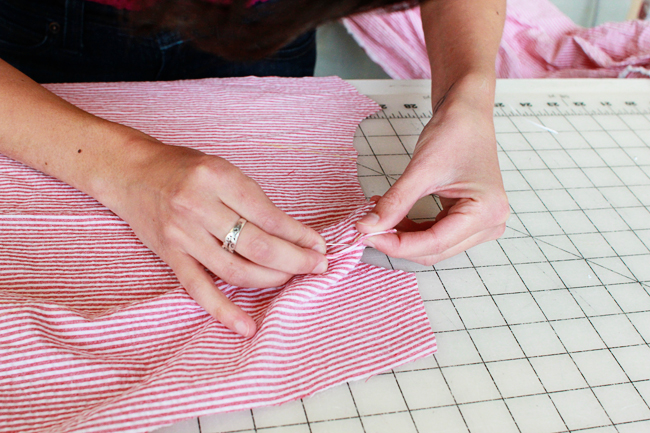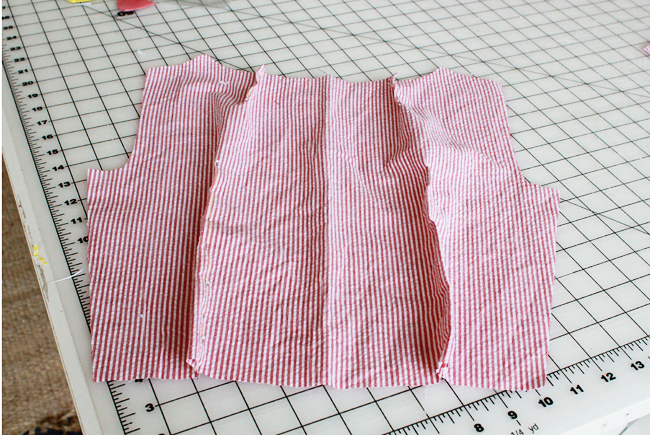 3. To sew each dart, backstitch at the seam allowance end, then sew straight off the tip of the dart leg line. Do not backstitch at the tip.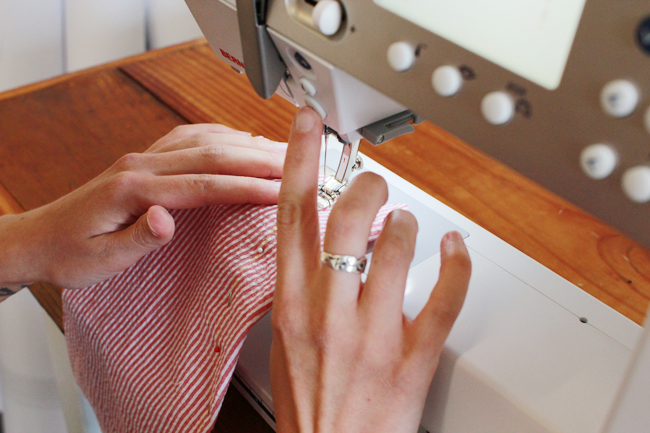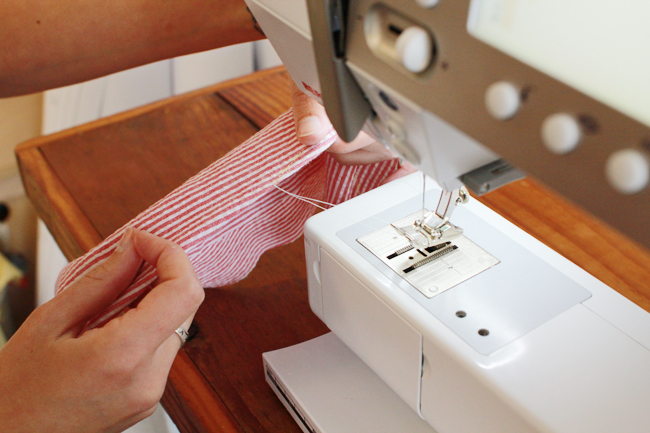 4. Double knot your thread tails, then snip.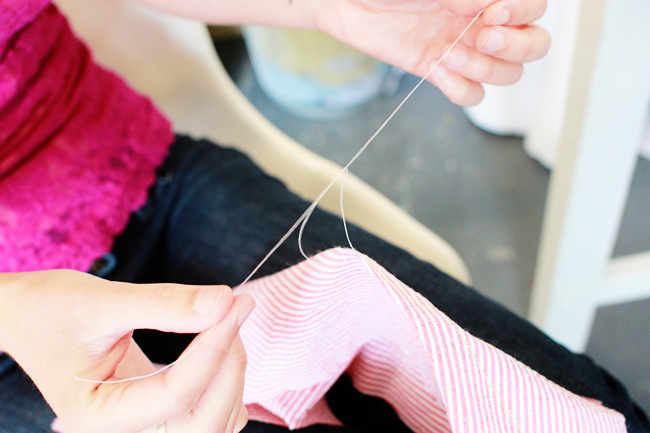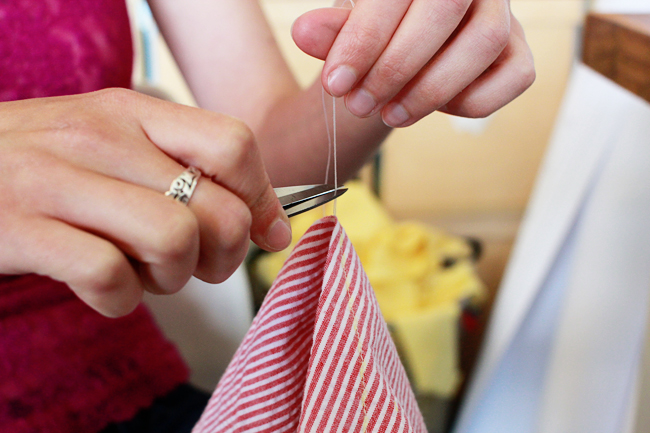 5. Press darts flat and then towards center.
Attach shoulders
1. With right sides together, pin the two bodice front (A) pieces to the bodice back (B) piece at the shoulder seams.
Note: If matching print lines, remember to pin 5/8″ in where your actual stitch will go. Look to see that your pins are entering and exiting at the same points in the print to get a good match.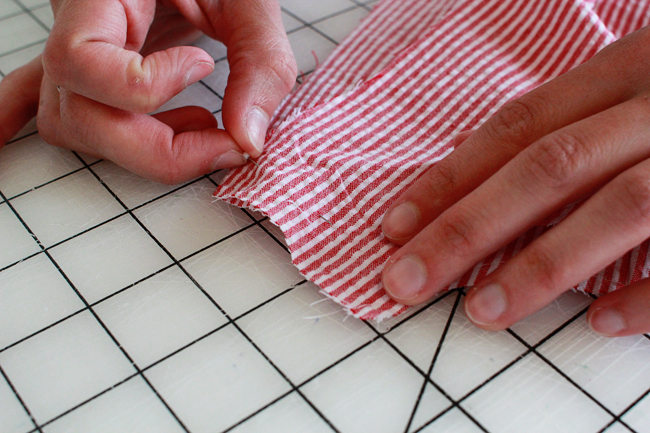 You will see that I put a little bit of effort into matching my lines up, but I wasn't too meticulous about it.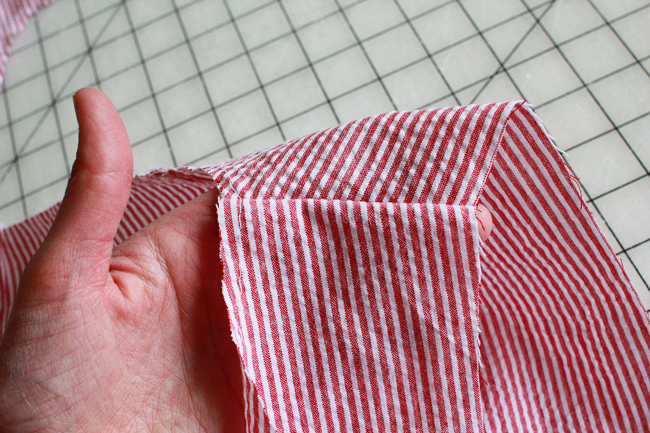 And here is what you should have for today: A semi-constructed bodice and fused facings and coller pieces.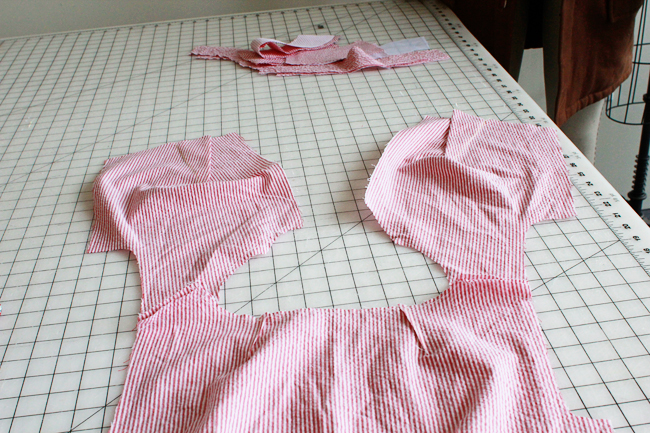 On Wednesday we will proceed on to attaching our collar and facings, then sew our side seams. How is everyone doing so far?