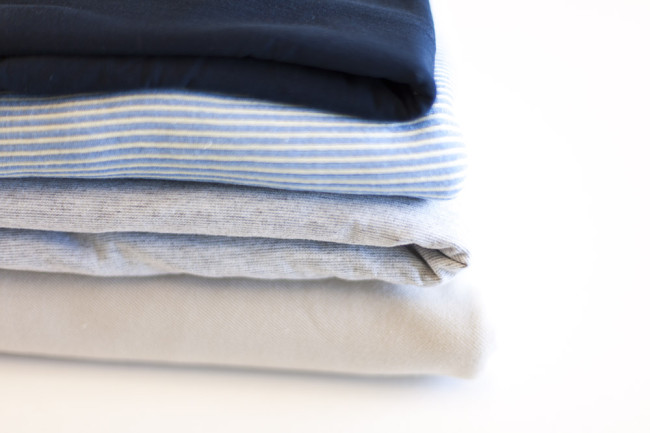 To begin our sewalong, we'll be giving you a couple weeks to begin picking out your fabric and gathering your supplies.
Gather your supplies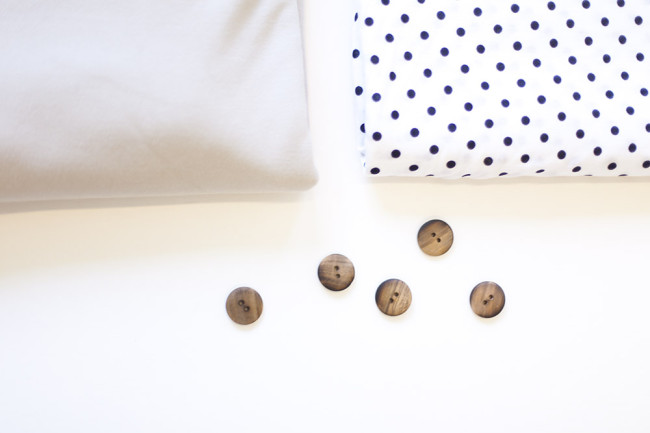 Here's what you'll need to make the Mabel skirt:
Main Fabric. Look for a firm, stable knit such as ponte or double knit. See the section fabric section below for a little more guidance on these fabrics.
Lining Fabric. Your lining fabric will be used to line the inner waistband. Use a thinner fabric for this to keep the waistband from getting too bulky. Look for a medium- or lightweight jersey for this.
Five 1-inch buttons (version 2). These buttons will go down the front of your skirt if you're making version 2.
Choosing your fabric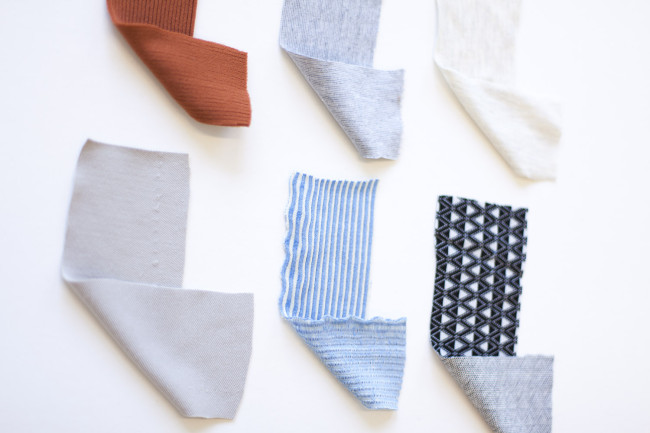 Your main fabric for this skirt should feel thick and stable. This will help smooth your skirt over lumps and bumps, reduce the hazards of visible panty lines, help the skirt retain its shape, and give the skirt a dressier look.
Ponte or double knit (which are slightly different but often labeled interchangeably) are both excellent choices.
Sometimes, you can find stable, firm rib knits that work well. Rib knits tend to be quite stretchy, but can also be thick and hold their shape well. There is a huge variety in rib knits, so be careful to choose one with some weight and thickness.
Heavy, thick jersey or interlock jersey can also be a good choice. Again, look for something that feels sturdy and isn't too thin.
French terry is a sturdy fabric with a looped back that can also work and feels good next to the skin. It's an easy fabric to work with and very versatile.
For the waistband lining, a medium- or lightweight jersey is the best choice because it won't add much bulk around your waist. Find a jersey that's light, but not so light that it's transparent.
Cute options online
Here are a few adorable thicker knits I've found online. So cute! I can't vouch for the suitability of all of these because I haven't bought them myself, but these are items in the right category of knits and could work well.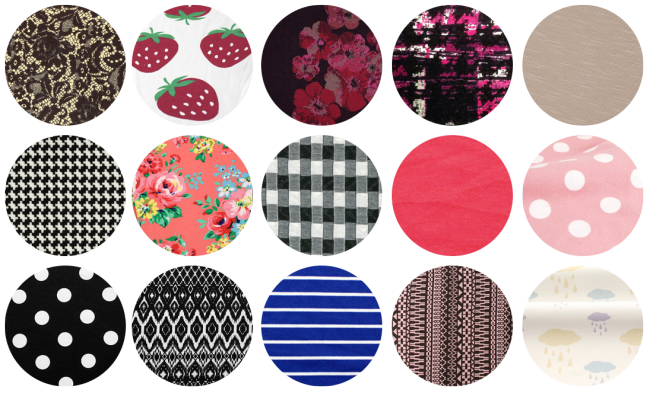 Row 1:
Lace print ponte from Hart's
Strawberry French terry from Bonita fabrics
Floral ponte from Mood
Funky houndstooth ponte from Grey's Fabrics
Slub ponte from fabric.com
Row 2:
Marni double knit houndstooth from fabric.com
Floral French baby terry from Bonita Fabrics
Double knit checks from Hart's Fabric
Coral ponte from Girl Charlee
Pink dot French terry from Bonita Fabric
Row 3:
Black and white dot ponte from Girl Charlee
Ikat ponte from Girl Charlee
Blue stripe ponte from Girl Charlee
Pink and black rib knit from Bonita Fabric
Cloud interlock knit from Bonita Fabric
Gather your tools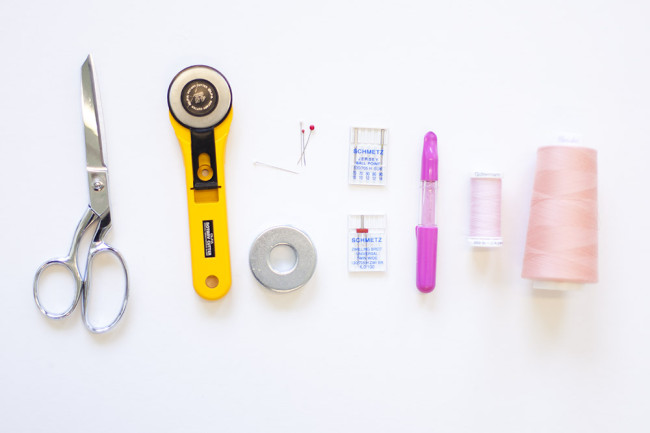 Sewing Shears. Use sewing shears (also called dressmaker's shears) to cut your fabric. Even if you use a rotary cutter, it's a good idea to have these on hand.
Rotary cutter (optional). Not necessary, but makes cutting your fabric go faster. If you go this route, you'll also need a mat.
Pins. You'll need plenty of pins. I prefer glass head ones because they won't melt under your iron.
Pattern weights. Use these to hold the pattern on your fabric while you trace it, or while cutting with a rotary cutter.
Hand sewing needles. You'll be doing plenty of hand stitching, so grab some of these.
Marking pens or chalk. Choose one that stays put and shows up easily on your fabric, but washes away cleanly.
All purpose thread. If you're using a serger, purchase thread on cones. Otherwise, all purpose polyester thread on spools will do.
Ballpoint needles. Ballpoint needles (sometimes labeled as "jersey needles") are ideal for sewing knits. They separate threads in the fabric rather than piercing them, reducing the chance of runs.
Twin needle. A twin needle can be used to sew a neat and stretchy hem on a standard sewing machine. Look for the wide twin needle, which is 1/4 inch in width.
Equipment
You can make this skirt with either a serger or a standard home sewing machine. We'll talk in more detail about both options in a future post.
If you're using a serger, you'll still want a standard machine on hand for hemming and a few other small tasks.
Pretreat your fabric
Before we start sewing, pretreat your fabric by washing and drying it the same way you plan to treat your finished skirt. This will emiminate shrinkage before you start cutting.
Do you have any questions about fabric, tools, or supplies? Let me know in the comments!