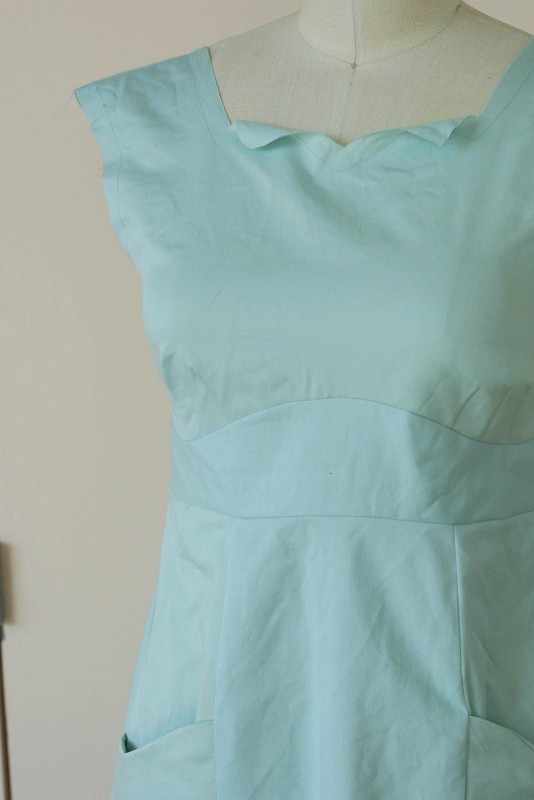 Let's talk muslins.
A lot of sewists are hesitant to make muslins because it takes time. It seems like you're making the same garment two, three, maybe even four times.
But really, muslins are way faster than real garments. You can omit facings and closures, and that alone saves a ton of time. You don't need to hem them. And when it comes time to make your real garment, you'll move much faster through all the steps.
That said, muslins present a little problem for writing a sewalong. We haven't yet gone through all the steps to construct the dress, so making the muslin might be a bit tricky. I want to focus this post on getting your muslin ready for fitting, rather than going through the whole dress construction.
Since you don't need to do facings and closures, putting your muslin together following the pattern instructions should be pretty easy. The two things that might trip you up are (1) darts, (2) the curved seam of the midriff, and (3) the pocket construction. So here's what I have to say about that:
Use this handy guide for sewing the darts.
When sewing the midriff seam, use plenty of pins and sew slowly.

If the midriff seam puckers a bit, don't worry too much. We're focusing on fit at this stage, not aesthetics.

Try using your pattern pieces to visualize the pocket construction before you try sewing it.
If you don't think you'll have trouble with the fit in the hips, you can do a muslin of just the bodice. The hips are not super fitted, so unless you are pear shaped, you may not need to mess with the skirt at this stage.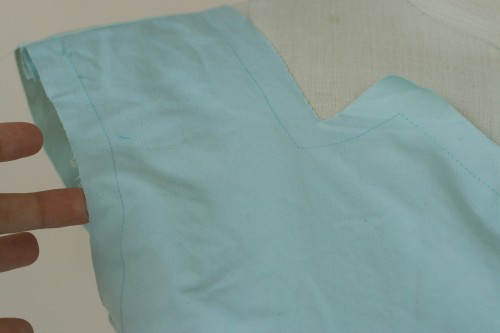 As you're assembling your muslin, you might find it helpful to stitch along the raw edges with a 5/8″ seam allowance, as shown above. Because you're not doing any facings at this stage, those stitching lines will show you where the edges of your garment will really be!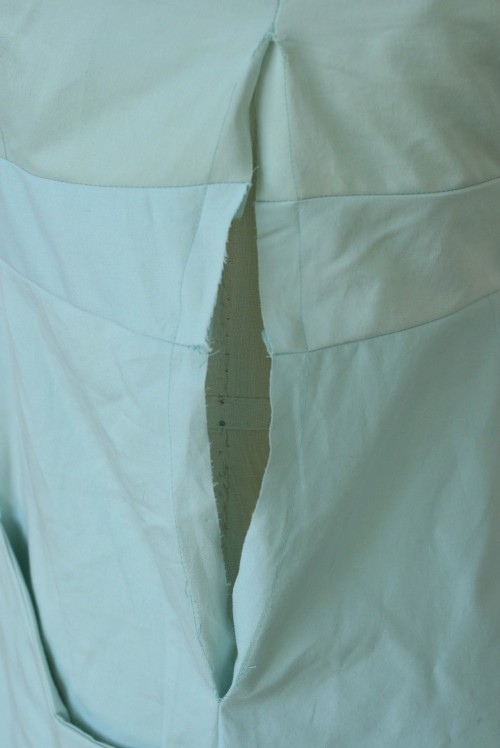 And since you're leaving out the zipper, you should also stitch 5/8″ along each edge of the zipper opening.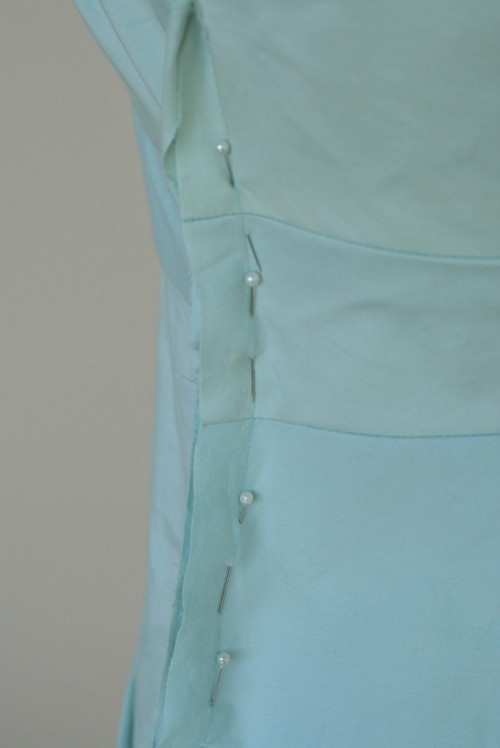 Then, when you try on your muslin, pin it closed by inserting your pins right into the stitching lines along the opening. This will make sure you're not accidentally pinning the dress too loose or too tight.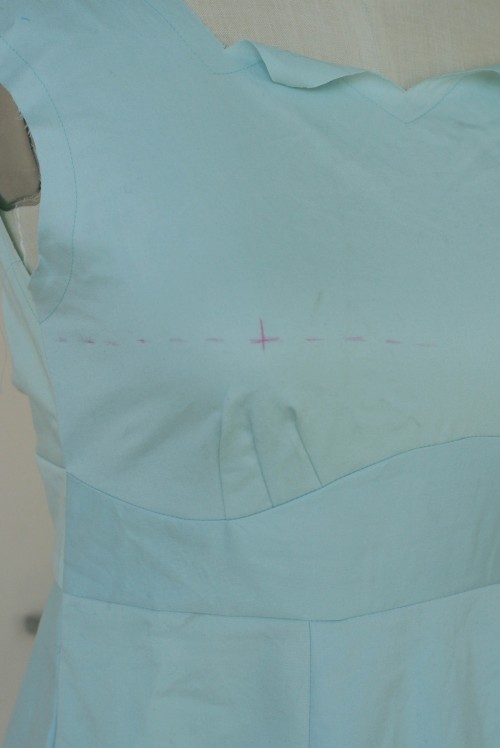 Once you have the dress on, we're going to make a few marks so we know where the dress hits on our bodies. Start by marking the apex of your bust on the dress. I used a cross mark here.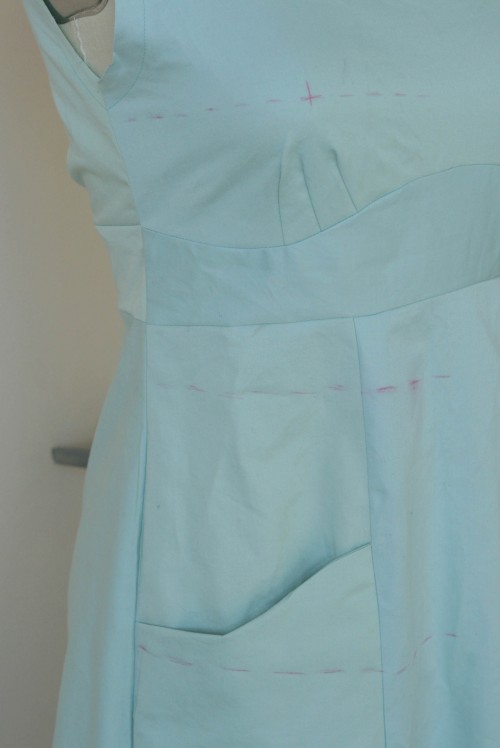 Next, mark the bust, waist and hip lines for your body.
You'll notice that your natural waist on this dress is actually on the skirt, not at the waistline seam! The midriff sits higher than the natural waist, so this is to be expected.
Now we're ready to make adjustments. Take a really good look at the fit. Does the dress seem to be straining anywhere? Is it bulging, or producing loose wrinkles and folds of fabric?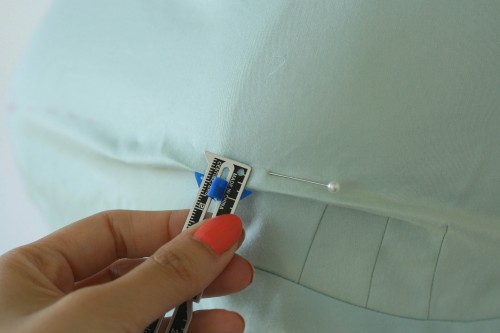 If it seems too big in any one spot, pinch out the excess fullness and pin it. Use a seam gauge and measure how much you need to remove from the pattern in that area.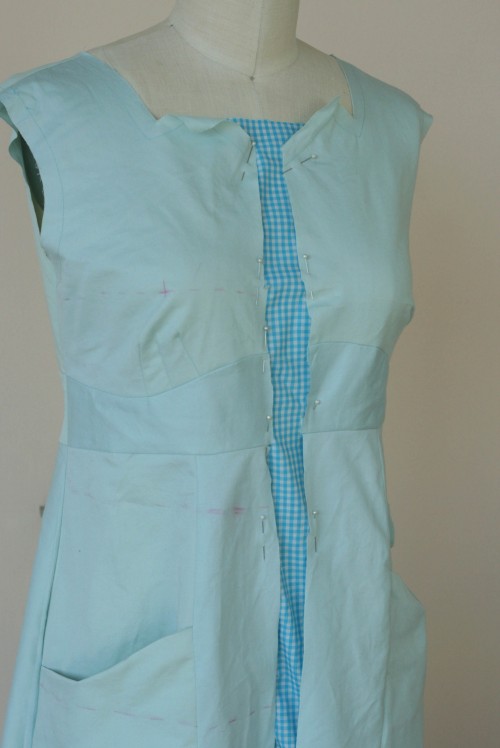 If it seems too small in any particular area, slash the muslin! Pin some extra fabric behind the slash, and once you have it the way you want, measure the gap you've created.
But what if you need to add room in one area but not another? For example, what if you need more room around the bust, but not the rest of the dress?
No problem. You still just slash the dress as shown above. Measure the gap you made at the bust to see how much you need to add there. You can then do a full bust adjustment using that measurement. We'll cover the full bust adjustment tomorrow, but essentially, it allows you to add fullness at the bust without adding width elsewhere.
Now, once you have your muslin pinned to perfection, it's time to transfer those changes to your pattern. This can be relatively simple, or pretty complex. We're going to cover some of the most common ones.
We're going to cover three major pattern adjustments tomorrow: full bust adjustment, small bust adjustment, and grading the pattern for large hips. Stay tuned!