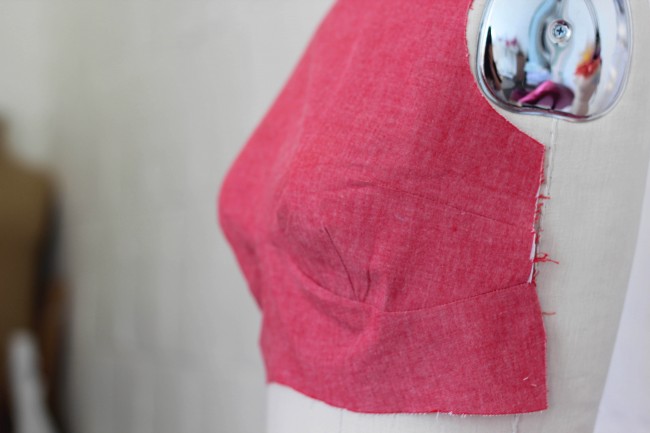 It's time to get sewing on our Rooibos! I timed this for a Friday, so that you have the weekend to cut your fabric and get started.
Today, we're going to be putting our bodice together. I'll show you a trick for dealing with the fussy curved seams of the midriff, and we'll talk a bit about finishing the seams.
First, you'll want to cut out your fabric, interfacing, and contrast fabric. If you are going to be making your own piping, you can follow our piping tutorial to do that as well.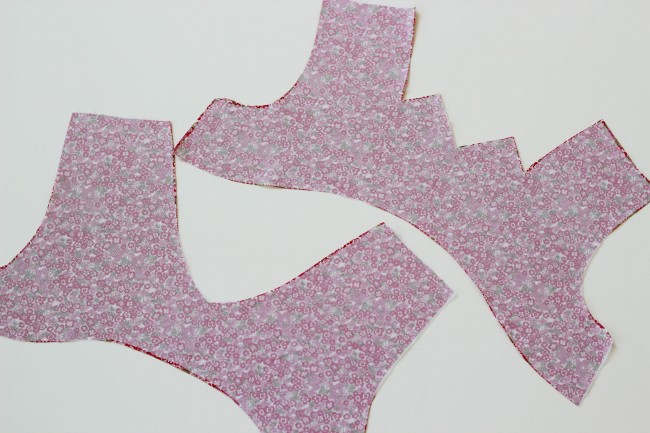 1. First, fuse your interfacing to the facing pieces.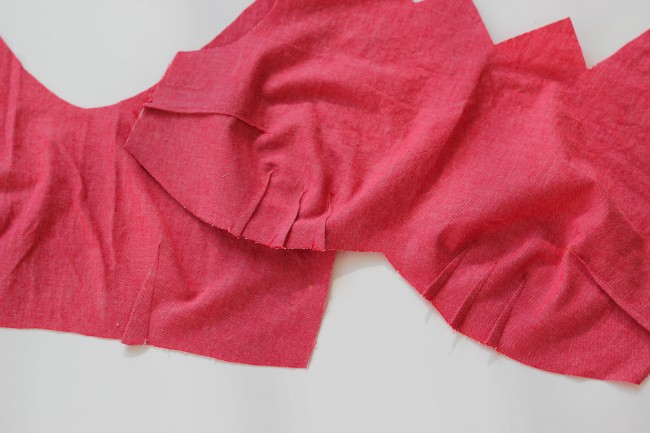 2. Next, follow the instructions and sew the darts on the front and back bodice. You can use our tutorial on how to sew darts if you need a refresher.
You can see that I've added a side dart. That's because I did a full bust adjustment; I'm a 34D and needed just a little more fullness.
3. Press the darts toward the center. It's a good idea to use a tailor's ham for pressing the tips of the curves. This dress has some serious curves!
Ok. Now we're ready for some fun tricks!
It's time to sew the front midriff to the front bodice. You'll notice that this seam is very curvy, and you might find it challenging to fit the two curved edges together without puckering. Let me show you how I did it.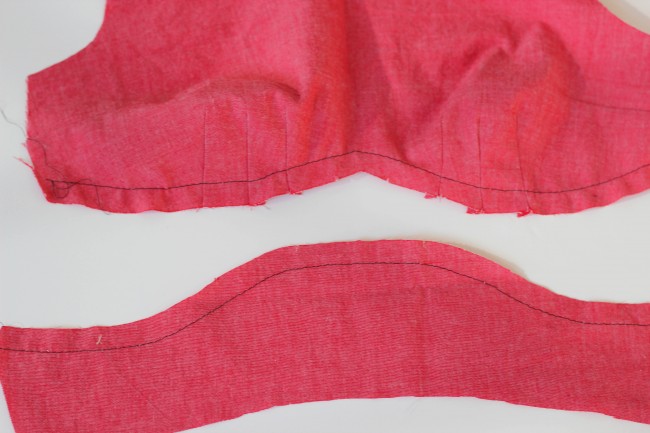 4. First, use a long stitch length and sew a line of basting 5/8″ from the edge on the lower edge of the bodice front and the upper edge of the midriff front. You can see above that I used black thread, so that you could see it. You don't need to use a contrasting color.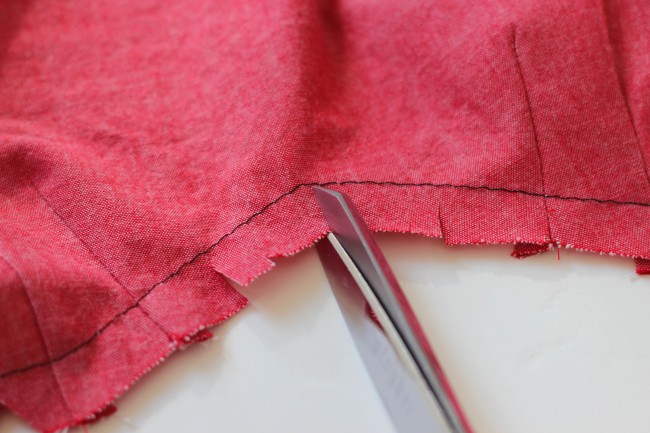 What we're going to do now is notch and clip the seam allowance on these pieces before sewing. Doing this will make it easier to put the two pieces together without a lot of puckering and pulling.
5. Use the tip of your shears to clip into the inner curves on both of these edges. Your basting stitches will tell you where the seam will be, so don't clip too close to the stitching. Up to about 1/8″ from the stitching is fine.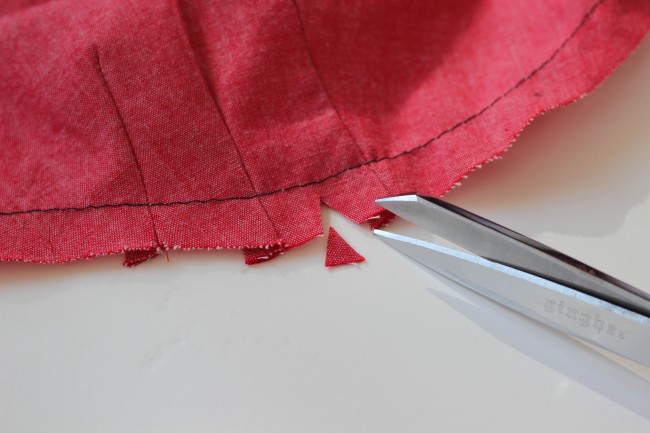 6. Now notch the outer curves along these two edges. Again, keep the tip of the notches about 1/8″ from the stitching line.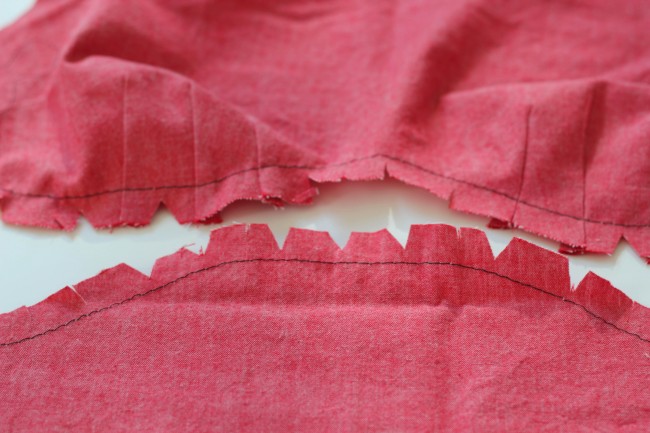 Here's what the two edges will look like now.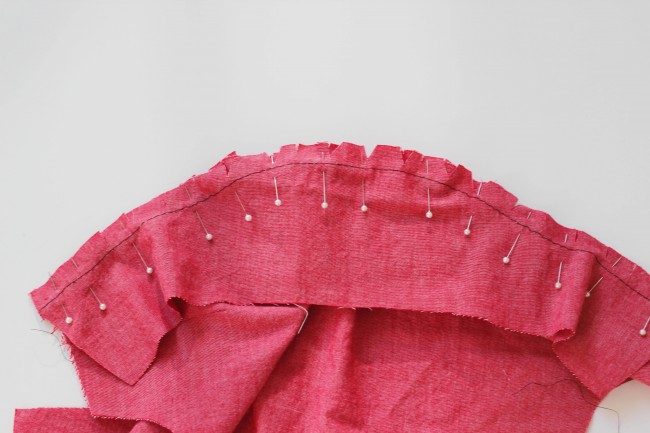 7. With right sides together, pin the midriff front to the bodice front. Try to align the two basting lines together as you pin, and use plenty of pins. I normally don't use tons of pins while sewing, unless it's a curved seam like this.
8. Once your pieces are securely pinned together, you can remove the basting stitches.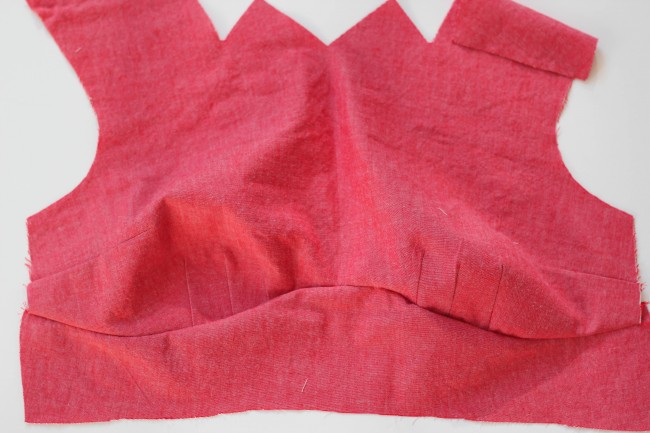 9. Now sew your two pieces together! Stitch slowly, and try to keep your fabric from bunching up as you go. The notches/clips will help tremendously with this.
You can see the seam completed above, but it isn't pressed yet. That's because we're going to finish the seam before we press.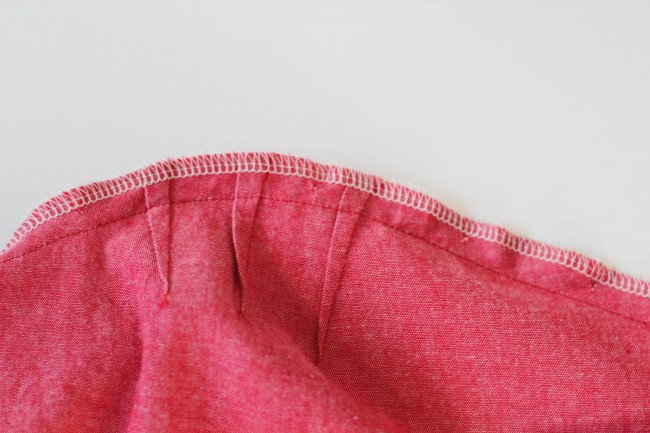 10. Finish the seam. You have a few choices for finishing the seams of your Rooibos.
I chose to serge the seams. Serging is great because it's durable and works with many different types of fabrics. But not everyone has a serger.
For most fabrics you'd be using for Rooibos, pinking the seams with pinking shears is a fast and easy approach. It works well for this because you are likely using a tightly woven fabric.
Another option is to zigzag stitch over the edges, which can have an effect similar to serging. If your sewing machine has an overlock stitch, you could use that as well. This will take a fair amount of thread, though.
Please feel free to chime in if you have other seam finishing ideas!
11. Once you've finished the seam, press it downwards, toward the midriff.
So that's it for curved seams and seam finishing. Let's just do a couple more things to get ready for our next sewalong installment on Tuesday.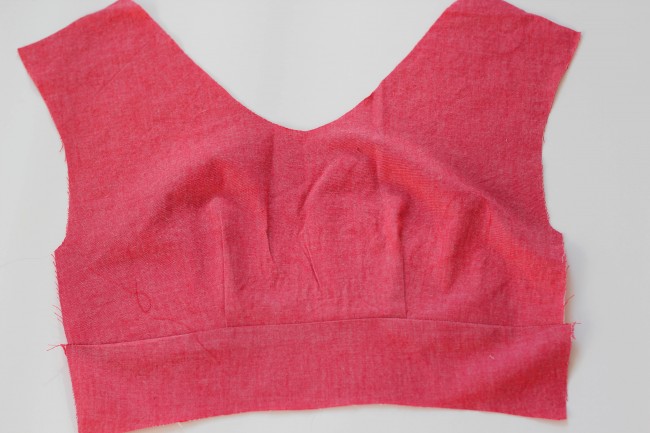 12. With right sides together, stitch the back bodice to the back midriff.
13. Finish the seam and press downward.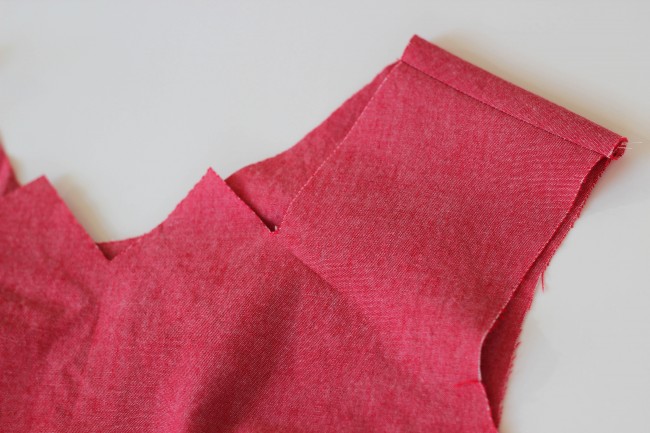 14. With right sides together, stitch the front and back bodice together at the shoulders.
15. Finish the seams and press.
Thanks for following along! On Tuesday, we're going to move onto the next steps, which will include adding the piping (optional) and the all-in-one facing.