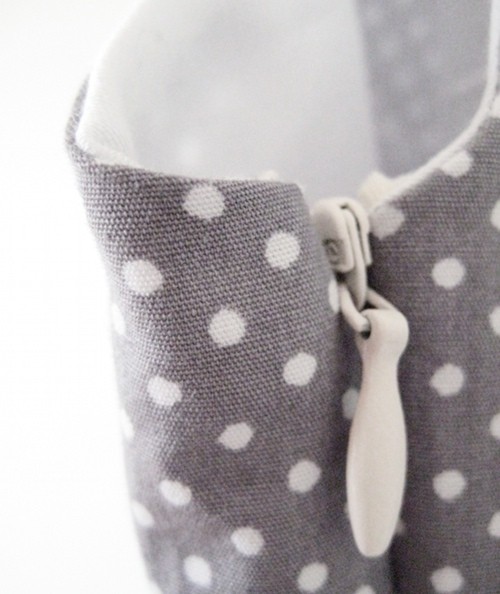 It's time to start planning for our dresses!
There are multiple ways to customize the Rooibos. First of all, you can easily combine up to three different coordinating fabrics:
the main fabric, which forms most of the dress
the contrast fabric, which forms the collar and facing
the optional piping, which you can purchase or make yourself
This gives you a lot of opportunities to play with color and scale.You can also add numerous little details that work well with the overall style, like decorative buttons, bows, even embroidery.
This week, we're going to be talking about design, planning, and choosing fabric. Next week we'll start working directly with the pattern, so if you haven't got your Rooibos pattern yet, there is still some time. Remember to enter ROOIBOSAUGUST before August 16, 2011 for your discount.
In a few days, we'll talk about the nuts and bolts of picking a fabric. For now, let's focus on the fun part.. getting ideas!
So I thought we'd start by getting some inspiration from what others have done with Rooibos. Get out your sketchpad and let's brainstorm!
color and texture
Color is a great place to start with Rooibos. I think it lends itself well to very bright colors, but also looks great in quiet colors, especially with a little pop of color in the contrast or piping.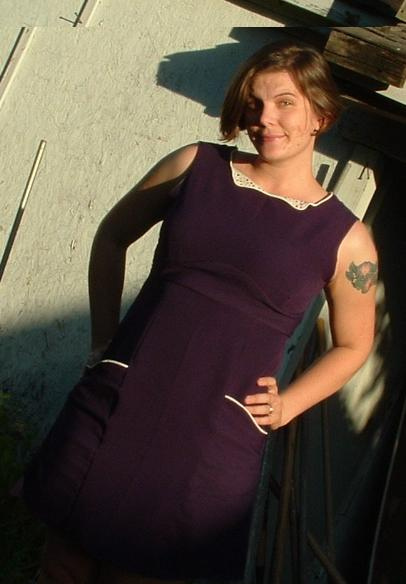 Veganruthie made one in a gorgeous plum color. I think plum is the new black… it goes with pretty much everything.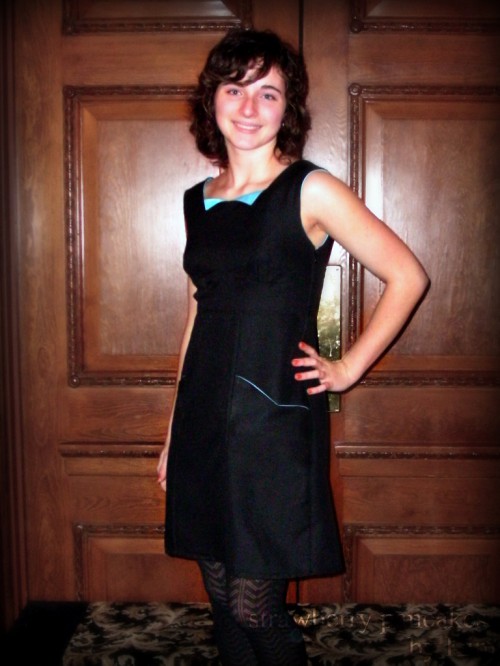 …or maybe black is the new black. I really love the combination of black with bursts of bright aqua on this version from Strawberry Pancakes by Kim.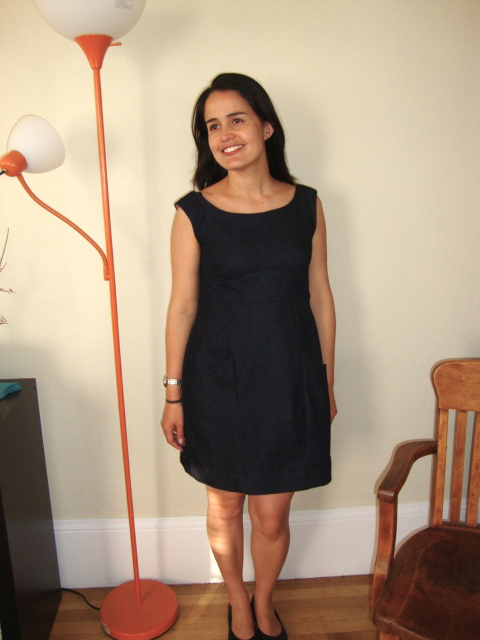 I hadn't thought much about making Rooibos in denim, but this one by ali_ali_ali has me convinced. And of course, denim would work with just about any contrast color too. I like that it gives the dress a more casual look.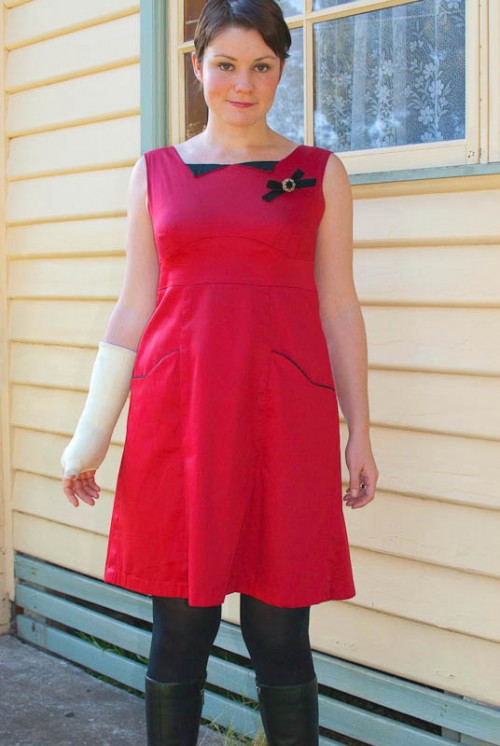 Red is a classic choice that will look great with black fall accessories, like this version by rachelbessie.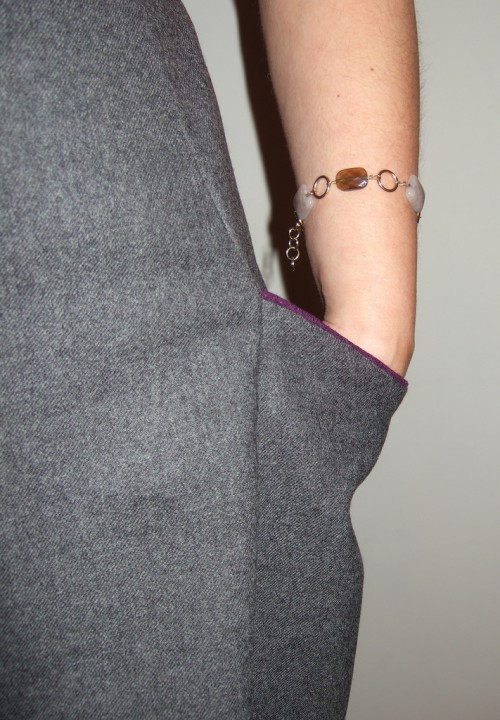 If you want a subtle look, I've always been partial to seeing the Rooibos in grey wool, perhaps with a pop of colored piping, like this version posted by Karen Ball.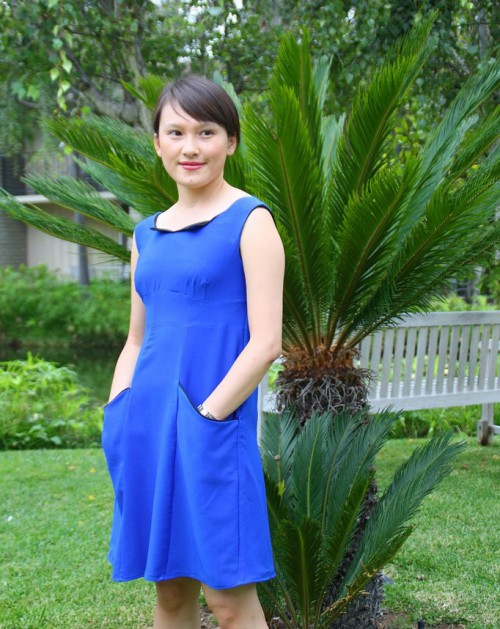 …or if you want to go brighter, take inspiration from this pretty number by hokidoki. Doesn't that color look amazing on her?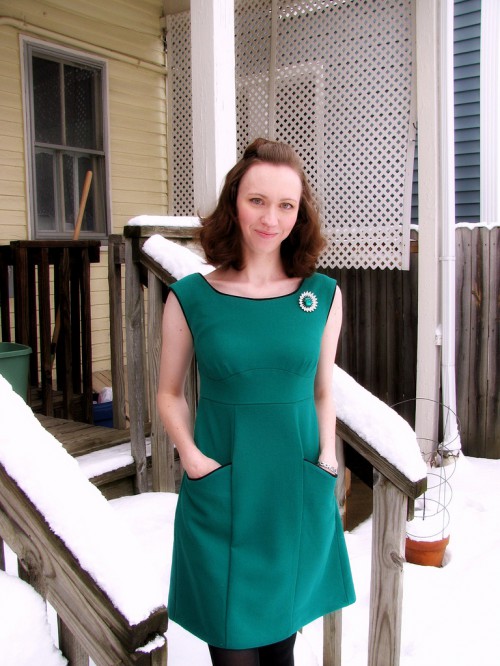 Jewel tones like this beautiful wintery green from Dionneleon can look amazing and flattering.
print
You can really go wild with print on this dress. You could choose to use a print for the main fabric and then a coordinating or contrasting solid for the contrast details. Or use a solid for the main fabric and a print for the contrast. You can make your own piping with either solid or printed fabric too.
If you decide on using print for the details, choose a small to medium scale print so the details will be visible. This would be a perfect chance to use a small amount of expensive Liberty lawn, for example!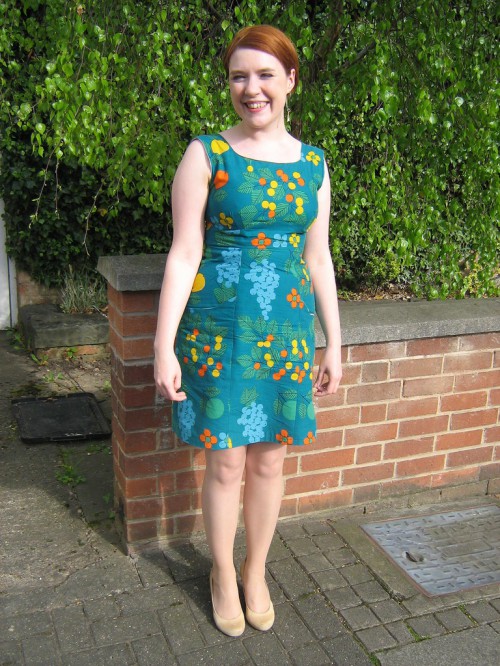 This gorgeous print is featured on a Rooibos by Dolly Clackett. Even though Rooibos has a lot of seams, I think the large scale print works really well!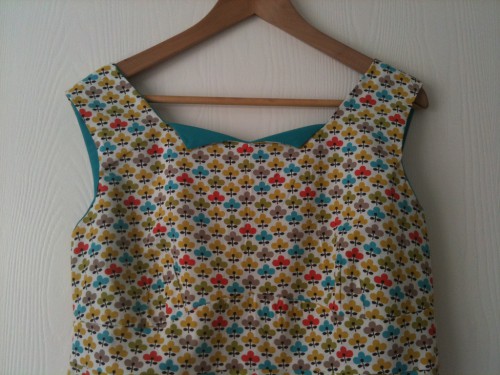 A smaller scale print works beautifully too, as you can see from DollyGW's version.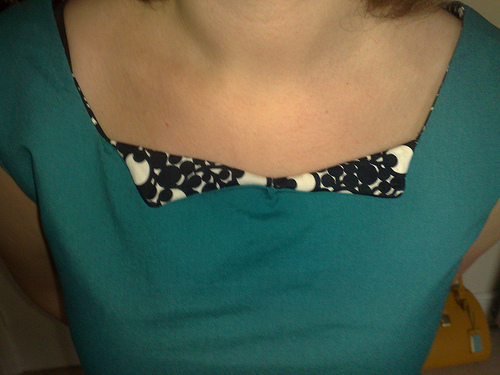 Another option is to use a patterned fabric for your contrast fabric, and make some matching piping in the same fabric, like this version from gin soaked roisin. (By the way, I've noticed an inordinate number of my customers have handles with references to Tom Waits songs, which makes me happy to no end).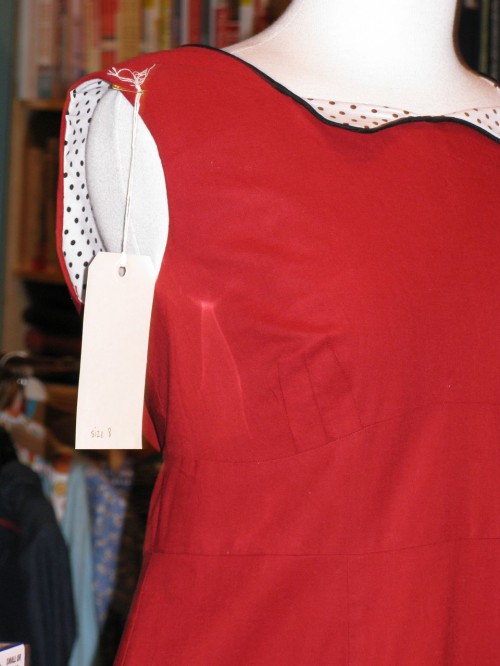 Here's a variation on a similar theme. Shelly used dots for the contrast, and I just love seeing that peek of pattern lining the armhole! Because the dress is made with an all-in-one facing, you get that pretty look of lining all the way around.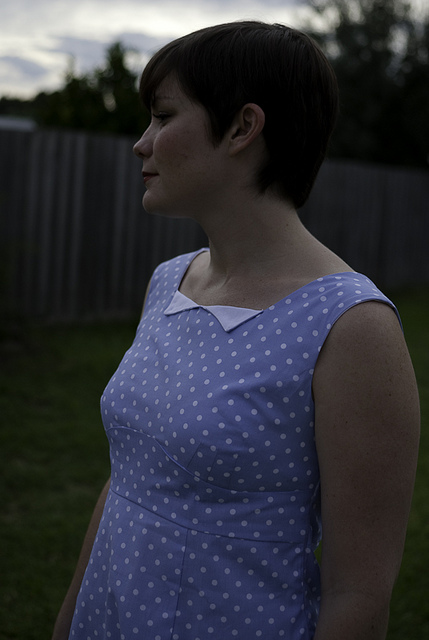 On the other hand, here's a dotted version with solid details from rachelbessie, which is also quite fetching.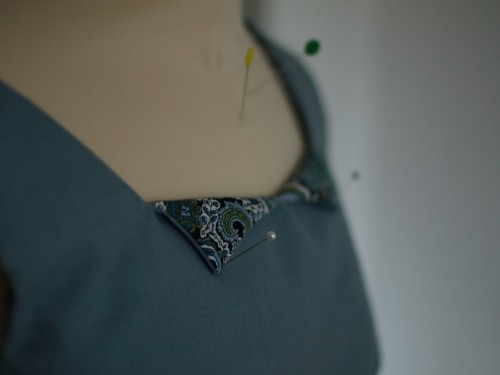 Paisley makes a great contrast fabric on this dress by sazknits, because it has so much small detail.
details
Even though I love details, I like to keep this dress fairly simple and use the piping and contrast as the main focus. Some small decorative buttons or a matching belt can be a beautiful touch, though. I am thinking about incorporating some very simple embroidery on mine, or maybe some small bows to match the piping.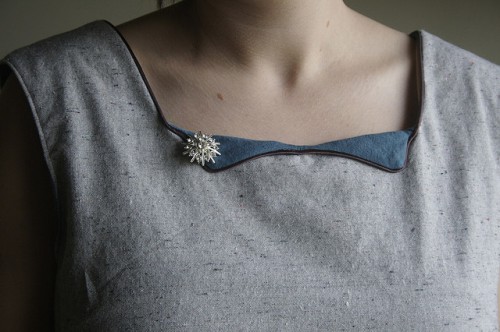 Melissa added a rhinestone button (or brooch?) to her Rooibos collar. I think the tiny collar would be absolutely perfect for other small rhinestone embellishments as well… buttons or sew-on stones.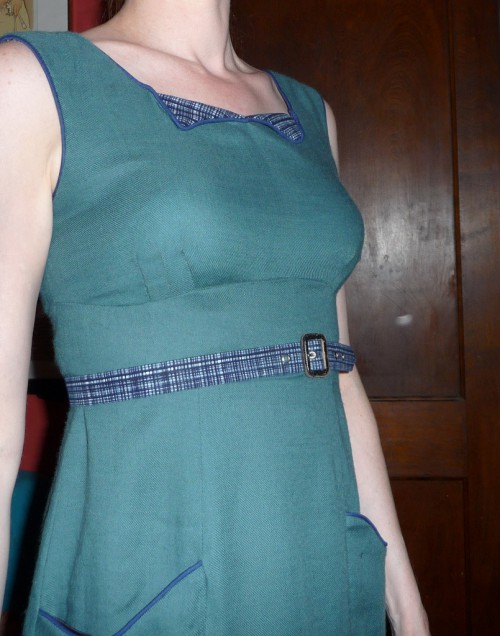 Hillary made this gorgeous version with matching belt. Pretty, no? It's another idea I'm thinking about for mine.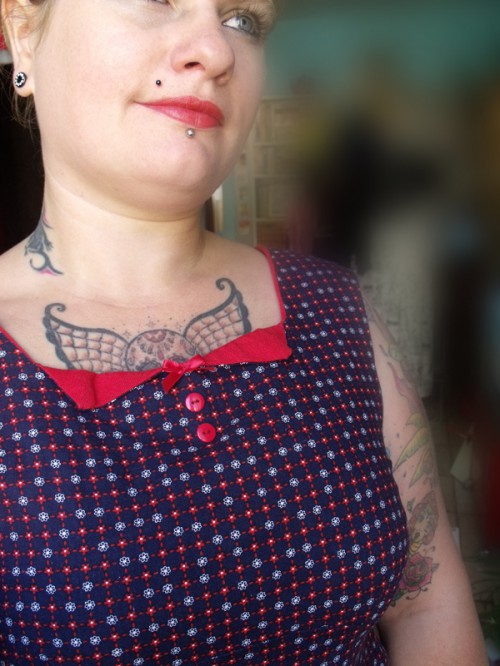 You could also add decorative buttons or bows, like Peggy Sue from Marseilles.
Do you have any color / print / detail ideas for the Rooibos yet?
{top image: detail of a Rooibos by Amélie}