Like all sewing projects, we will begin the Aster sewalong by gathering fabric and supplies. I love this part of the project! Choosing the right fabric to match a pattern is a fun task that I never tire of.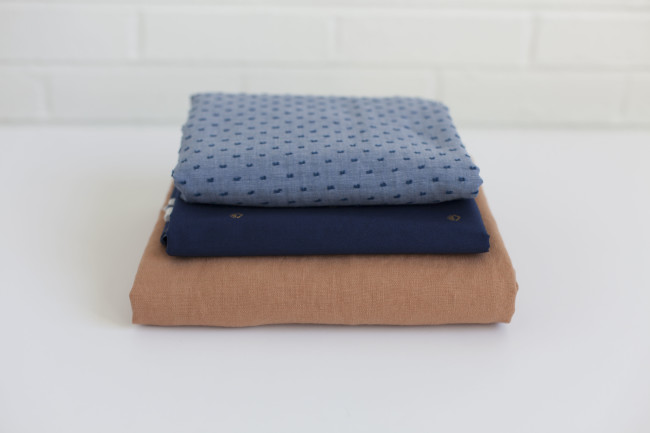 Gather Your Supplies
Main Fabric: For versions 1 and 2, you'll want a medium to lightweight woven fabric. Chambray, poplin, shirts, and even linen will flatter these variations beautifully. For version 3 chose a light to medium weight fabric with substantial drape. This will allow the flutter sleeve to fall delicately, rather than stick out. Rayon challis, cotton lawn, or silk crêpe are great options.
Interfacing: All versions will require interfacing to stabilize the placket. Version 2 requires additional interfacing for the sleeve cuff.
Buttons: All versions require six 5/8″ buttons, version 2 requires two 3/8″ button to finish the placket.
Bias Tape: One yard of 1/4″ single fold bias tape for finishing the neckline. You can also make your own bias tape, but you will need to purchase 3/8 of a yard additional fabric.
A note on the pattern: The Aster pattern contains errata, which should be noted in an insert with your pattern. If you did not receive the insert, see our errata page for the details.
Choosing Fabric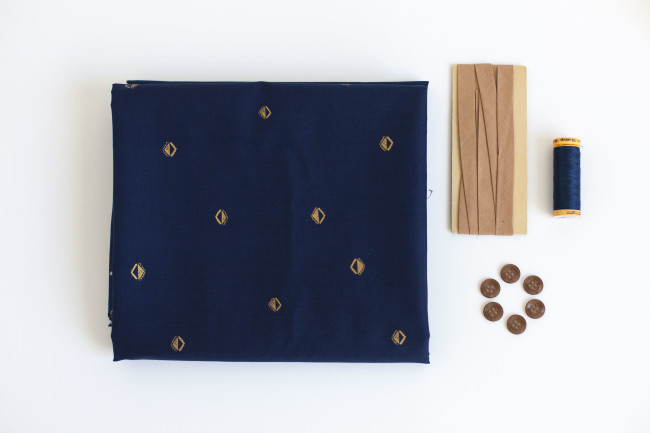 For versions 1 and 2, choose a medium to lightweight woven fabric. It is important to find a fabric with a good balance between structured and light. Fabrics that are too heavy will lay stiff and awkwardly from the form, but fabrics that are too light may be transparent or cling. Cotton shirting is a classic option that strikes the perfect balance. Cotton chambrays are a great trendy but neutral option. Linen is perfect for a chic warm weather blouse. Or try a lawn will a colorful print.
The feminine flutter sleeves featured in version 3 call for a more delicate fabric with lots of drape. Rayon challis is a gorgeously soft option that will provide drape and movement. If you are up for a challenge, try making a version out of silk crêpe.
Some Fabric Options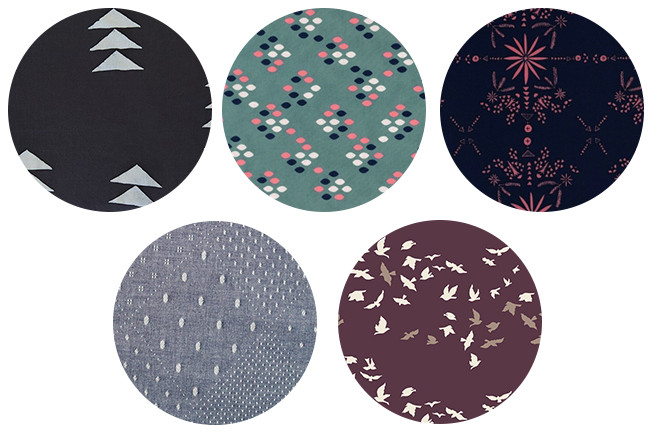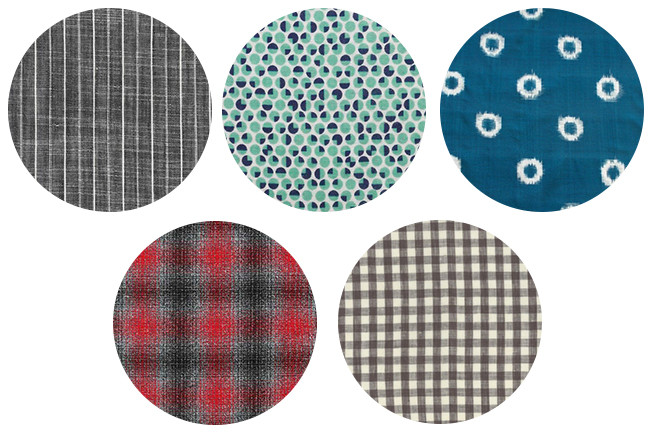 1) Flying geese inspired batik from Stonemountain & Daughter Fabrics
2) Printed lawn by Cotton+Steel from Modern Domestic
3) Printed Rayon by Cotton+Steel from Modern Domestic
4) Chambray Jacquard from Fancy Tiger.
5) Printed cotton voile from Grey's Fabric
6) Stripe slub chambray from Hawthrone Threads
7) Polka dot printed double gauze from Fancy Tiger
8) Cotton Ikat from Stonemountain & Daughter Fabrics
9) Plaid Flannel from Hancock Fabric
10) Linen gingham from Harts Fabric
Gather Your Tools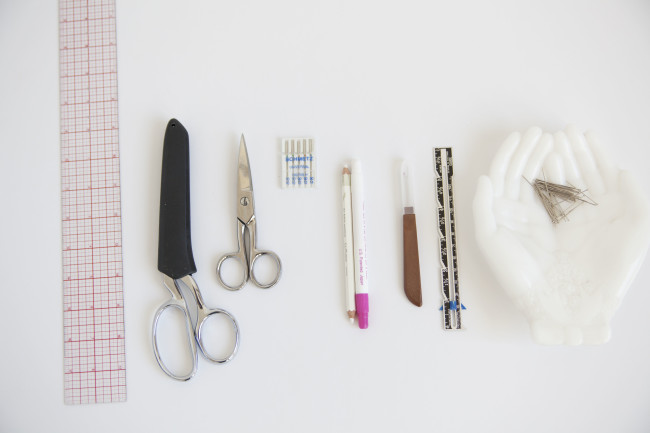 Fabric shears: to cut your fabric. A rotary cutter can also be used.
Tape measure: for taking accurate measurement s of your body.
Pins: For cutting and sewing. More pins= more control!
Water soluble marking tool: since we will be marking on both the right and wrong side of our fabric, make sure that your marking tool is water soluble.
Clear ruler: for putting your pattern on grain and marking your hem.
Seam gauge: this tool is handy for taking small repeated measurements, like on the shirt placket.
Seam ripper: just in case!
Machine needles: choose a needle that is appropriate for your fabric. For medium weight fabric use a universal size 80/12. For lighter-weight fabrics use a smaller needle like a microtex 70/11.
Pretreat Your Fabric
Prewash your fabric in the manner you plan on caring for the finished garment. I never skip this step. There are few things more disappointing than working hard on a project only to have it shrink the first time you wash it. If you are choosing a fabric with a high shrinkage rate, like rayon, be sure to buy additional fabric to compensate for shrinkage.
Next Week…
Next week we will cover cutting, fitting, and both full bust, and small bust adjustments.