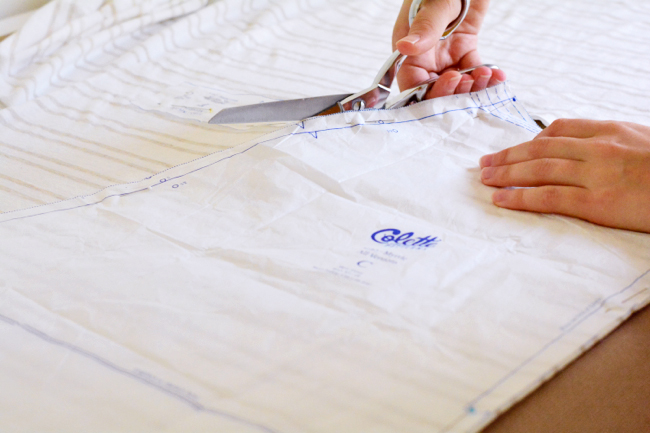 Today we'll discuss knits vs. wovens, ease and size selection, some common fit changes, and how to cut out your pattern pieces.
Sewing with Knits
The Moneta sewalong went pretty in depth on this topic, so I'm going to just touch on the important points here, but I'd highly recommend jumping over and reading the Moneta post as well if you'd like some more info.
Use the right stitch
Because knit fabrics are stretchy, the seams that we sew need to be stretchy as well. If the seam doesn't stretch but the fabric does, the thread will pop.
To achieve this there are a few different options. You can use a serger, which attaches, trims and finishes all in one step.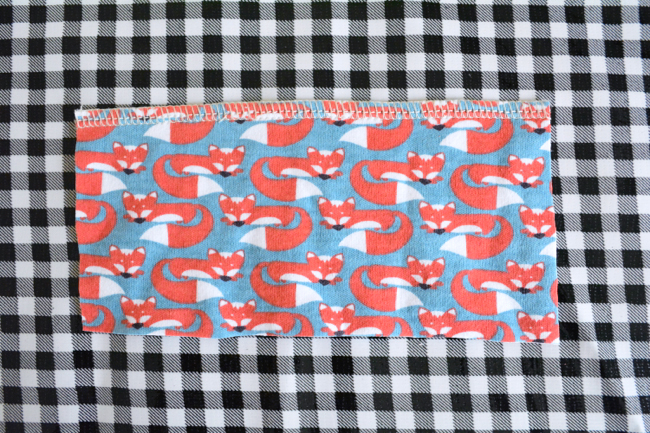 If you're using a standard machine, you can use a narrow zig zag. The back and forth motion of the zig zag builds in just enough extra thread for the seam to expand when the fabric does. Set your width at 0.5 and your length to a medium length, 2.5 on most machines.
If you are sewing entirely on the standard machine, you'll also want to seam finish the edges. You can use a standard sized zig zag, a 3 step zip zag, a mock overlock, or the seam finish of your choice.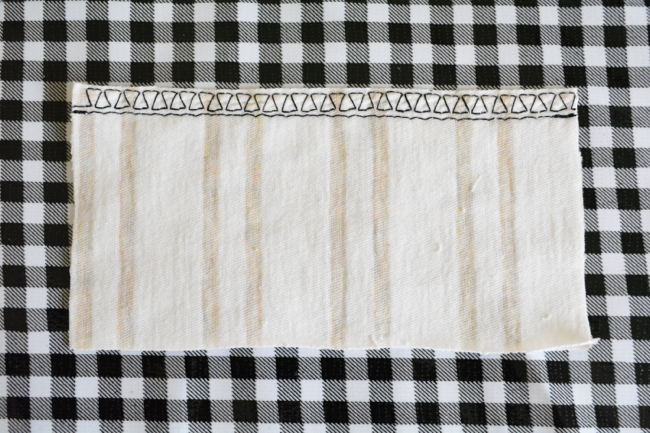 Regardless of which method you choose, always test a scrap first! Since there is such a wide variety of knit fabrics out there, you always want to be sure your chosen stitch and settings are going to look right on the fabric you're using.
Use the right needle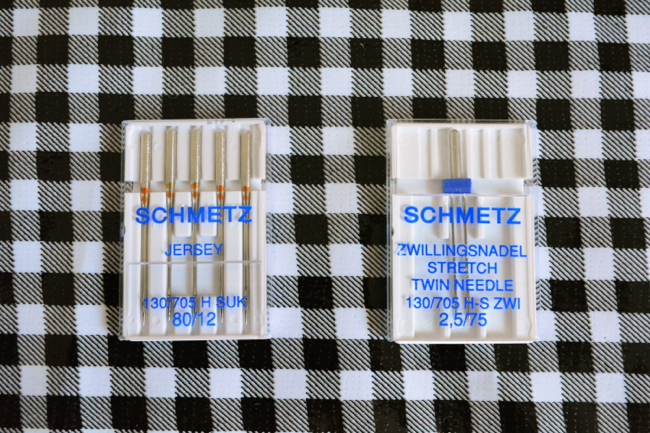 The threads in knit fabric are arranged differently than in a woven – they are looped around each other, just like a sweater is knitted. This means that it's easier to create runs in the fabric if you use the wrong needle.
You'll want to use ballpoint needles, also sometimes labeled as jersey needles. They have a point that is designed to push the threads out of the way instead of pierce them. A size 80/12 will be appropriate for medium and lightweight fabrics.
Unless you have a coverstitch machine, you will need to use your standard machine for hemming. A twin needle is a great hemming option. You'll actually thread two separate threads through your machine, one through each needle point. You can buy stretch point twin needles, but if your fabric store only has universal that will work too.
For more info on hemming with a twin needle check out this tutorial on The Coletterie.
Sewing with Wovens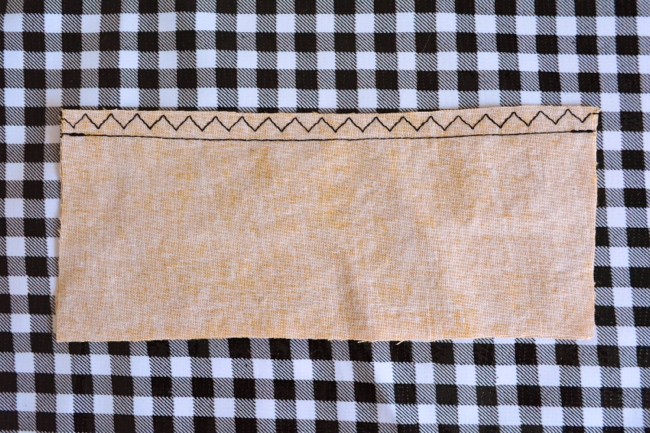 If you're making the Myrtle with a woven fabric, you don't need to worry about stretchy seams, since the fabric isn't stretchy. A regular straight stitch will do.
You'll definitely want to seam finish all the exposed raw edges. This will prevent the edges from fraying and turning into a tangled mess every time you wash it. A common seam finish is zig zagging along the raw edge.
If you're using a very thin and delicate woven fabric, try using a microtex needle in a size 70/10. The microtex tip is extra sharp and pointy, and the smaller size means you're making smaller holes in the fabric.
A few of the steps will be different if you're using a woven, which I will point out as we go along. There is a post on the Coletterie with lots of pictures detailing the different steps for wovens which I will link back to when applicable. There is also a free downloadable instruction set for making Myrtle with a woven available in the pattern store.
Understanding ease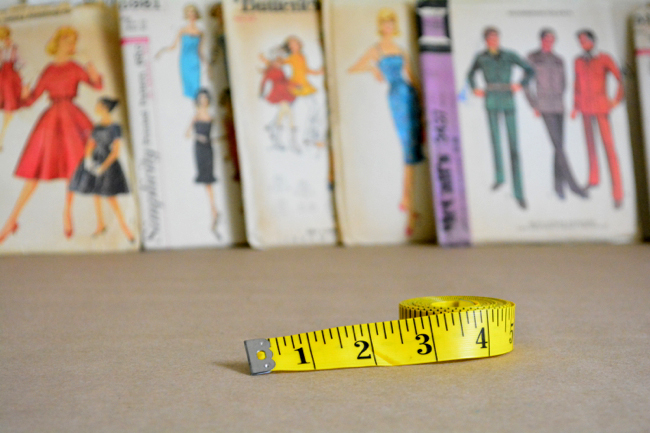 When discussing fit, ease is defined as the difference between body measurement and finished garment measurement. To calculate ease, all you do is subtract your body measurement from the finished garment measurement. Sometimes that leaves you with a positive number, which is called positive ease. Sometimes you get a negative number, which means – you guessed it – negative ease.
Clothes are often not exactly the same size as the bodies they fit. Non-stretchy woven garments need to be a little bigger than our bodies because we need that extra space to move around and feel comfortable. This is positive ease. Tighter, stretchy garments – like a fitted tee – are usually smaller than our bodies, because the fabric will stretch to cover the distance it needs to. This is negative ease.
If you look at the finished garment measurements on the back of the Myrtle envelope, you will see that the bust is designed to have a couple inches of positive ease. The hips have even more. The waist has a little bit of negative ease, but this is only because of the elastic that gathers the fabric down and makes it smaller and snug around your waist.
Myrtle also has a loose, drapey and wide neckline, meaning it can fit over your head without stretching. This style, combined with the positive ease and elastic waist, is why Myrtle can be made using a knit or a woven.
Choosing your size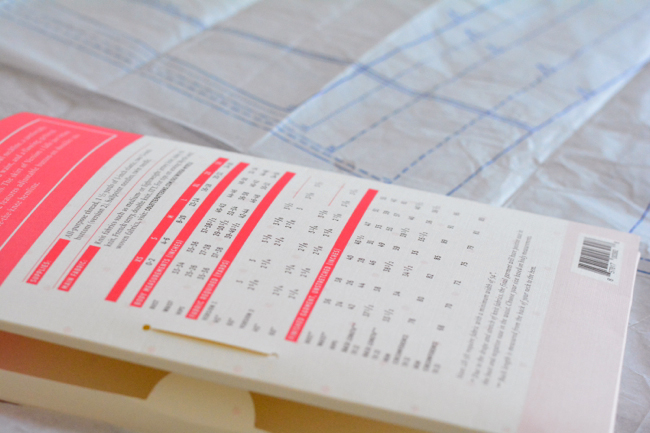 To choose your size, I'd recommend choosing off your bust measurement. The waist can be customized by how long you cut the elastic, and the hips have a good amount of ease built in.
If your measurements are putting you in difference size categories, you can grade between sizes when you cut to customize the fit. Before you cut, simply use a ruler to blend the lines from one size at one landmark to another. For instance, if you are a medium at the bust and a large at the waist, draw a line smoothly connecting the M cutting line at the bust to the L cutting line at the waist.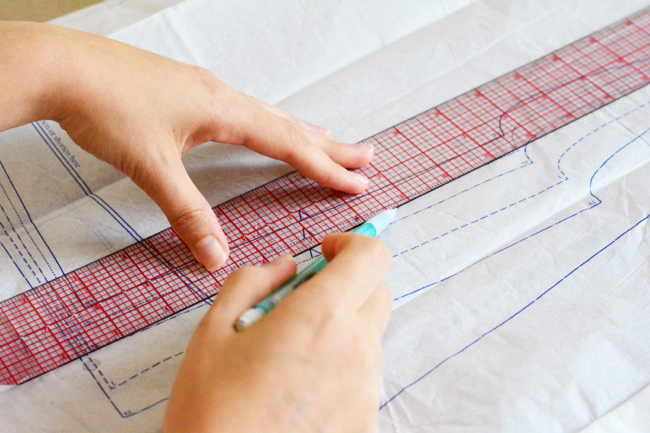 If you do cut between sizes, make sure the bodices and skirt pieces are the same size at the waist, since they need to match each other.
Length adjustments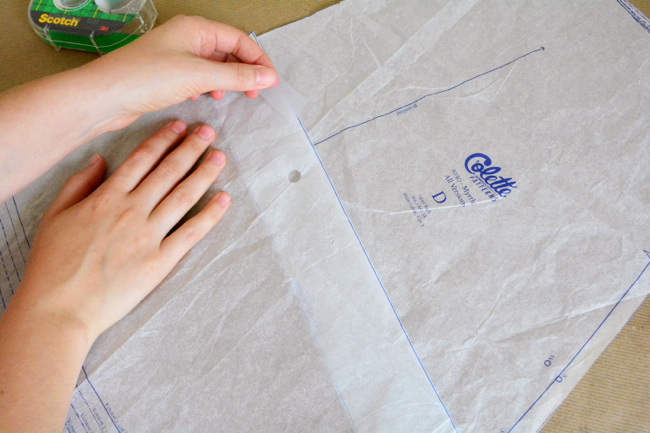 One simple thing fit adjustment you can do is to lengthen or shorten. Check the finished back length for the version you are doing, and have a friend help you measure down that distance from the back nape of your neck.
If you want to adjust this length, simply cut along the lengthen/shorten line and either overlap or spread the pattern pieces by the amount you wish to change them. Keep the fold edges aligned and use a ruler to blend the outside edges.
Depending which kind of adjustment you are doing, you can lengthen/shorten the bodices, skirts, or both.
Bust Adjustments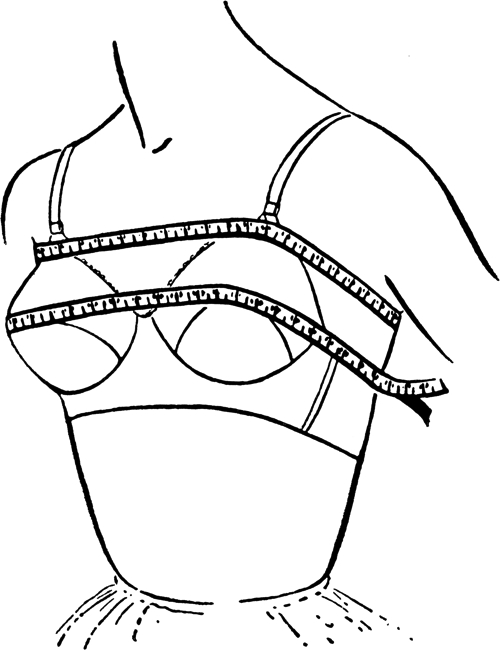 Another major aspect of fit involves your cup size.
Colette Patterns are drafted for a C cup for sizes XS-XL and a DD cup for 2X-3X. Your pattern cup size may or may not be the same as your bra cup size, so don't use that for reference. Instead, it's determined by the difference between your high bust measurement (just under your armpits, across your upper chest) and full bust.
A C cup is a difference of 3", and a DD cup is a difference of 5". If your difference is more than an inch or two above or below those differences, you may want to do either a Small Bust Adjustment (SBA) or a Full Bust Adjustment (FBA). There will be a post for each one published tomorrow that will go into full detail of how to take measurements, choose your size and do the adjustment to your pattern pieces. It's a little different than usual since there aren't any darts.
To muslin or not to muslin
If you'd like to make a test Myrtle, feel free, especially if you are not sure how it will look or you're making a ton of fit changes. If you are using a knit, be sure to make the muslin out of a knit too.
When making knit patterns, I usually consider my first go a wearable muslin. This means I use something inexpensive that I can keep if I like it, but that I won't be heartbroken about if I decide I need a lot of changes.
If you're using a woven, you can use actual muslin for the muslin, just keep in mind that the cowl will look a little funky.
Cutting
Once all your fit adjustments are done and your paper pieces are cut out, it's time to cut your fabric!
Fold your fabric in half on grain, making sure it is smooth. For knits, on grain means that the columns of knit stitches (the little "V's") are running parallel to the fold.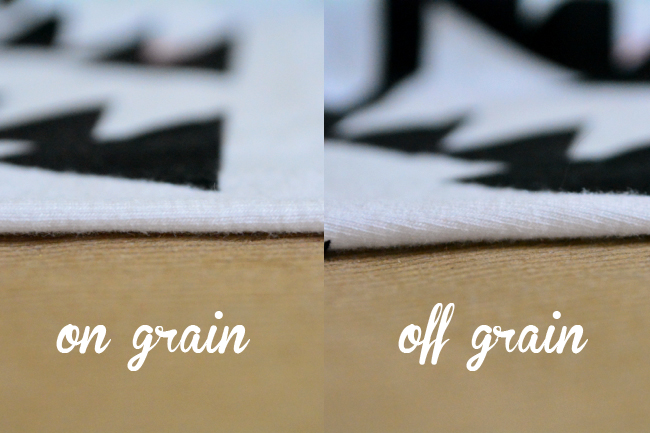 Using the cutting layouts in the instructions, pin and cut all the pieces. You can either pin or use pattern weights, and cut with scissors or a rotary cutter. For very thin and slippery fabrics you'll find pattern weights to be easier than pinning.
If you're using directional fabric, make sure all the pieces are going the same direction on the fabric. This might mean pinning some of the paper pieces on with the printed side down.
For knits and finicky slippery fabrics, I like to work in small sections, adjusting and pinning and cutting as you go. Just double check that you're sure about the layout before you start cutting!
One all the pieces are cut, snip out any notches. The seam allowance is only 3/8", so don't snip too far into the fabric. Dainty snips.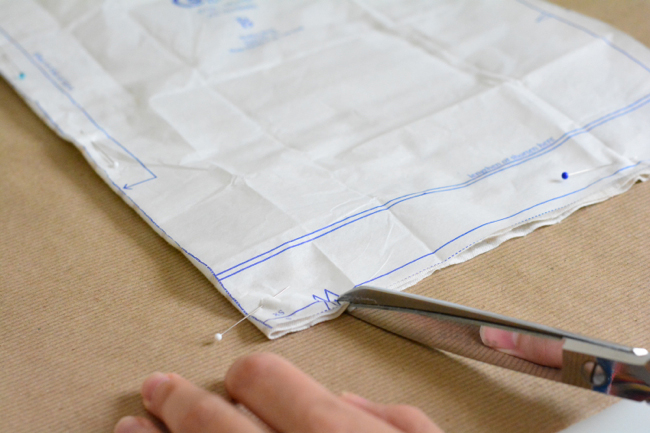 Transfer all other marks. One easy way to do it is to stick a pin right into the circle and then use its placement to mark the circle on the fabric.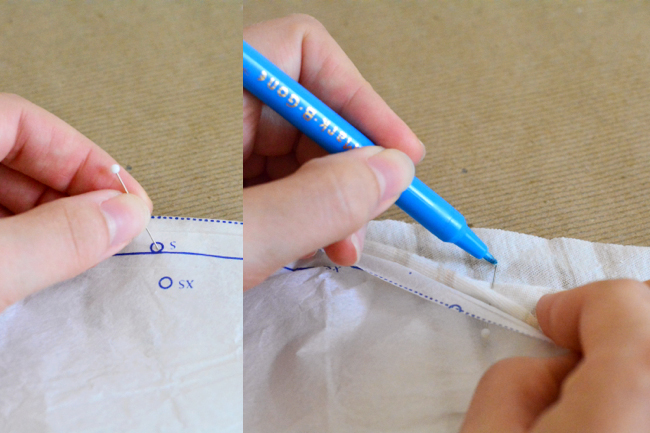 If your fabric has similar right and wrong sides – for instance, a solid color – you may find it useful to mark a small 'x' on the wrong sides of all the pieces.
I hope that was helpful! Tomorrow we will be back with a full post for both SBA and FBA pattern adjustments.