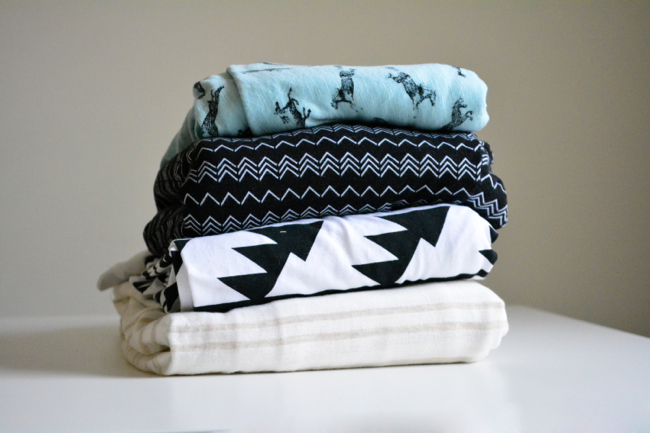 To begin our sewalong, we'll be giving you a couple weeks to pick out your fabric and gather your supplies.
Gather your supplies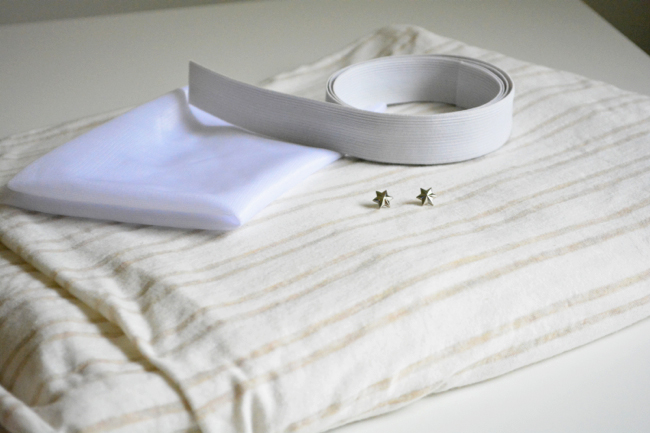 Main Fabric. For either version, you'll want a medium to lightweight fabric. For knits, that includes jersey, ITY, baby rib, some double knits. For wovens, that includes rayon challis, silk or rayon crepe, lightweight linen or chambray, seersucker.
Interfacing. If you're making Version 2, it can be helpful to use a small piece of interfacing on the button tabs to reinforce your buttonhole.
Elastic. Both versions require 1 ½ yards of 1" elastic.
Buttons. For version 2, you'll also need two ¼" buttons.
Choosing your fabric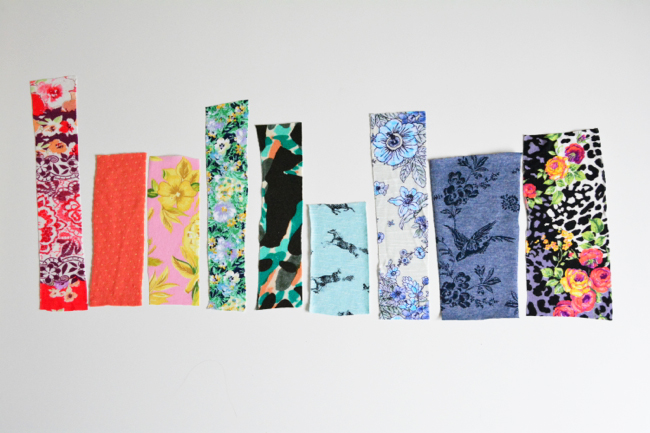 When looking for fabric for your Myrtle, you'll want to look for a fabric that has a nice drape. This is because we want our cowl neckline to flow and hang nicely. If the fabric is too stiff, the cowl will stand up and away from the neck. This would not a very flattering detail (although possibly useful for catching crumbs). If you're not sure about a fabric choice, fold it into a double layer and hold it up to yourself to make a mock cowl. Then you can see how it will look on the finished garment.
Generally, a nice drape means medium to lightweight fabrics. Anything that is on the lighter and slinkier end of the spectrum would make a lovely Myrtle.
Do keep in mind that the front bodice piece is self-lined by folding it in half, so if your fabric is sheer and you choose a very high contrast print, it may show through.
Myrtle is a rare pattern that can be made in either a knit or a woven fabric. Usually, patterns are either one or the other, and some fit alterations are necessary if swapping knits for wovens or vice versa. But because of the elastic waist and the ease around the bust, you can go with either a knit or a woven.
Interfacing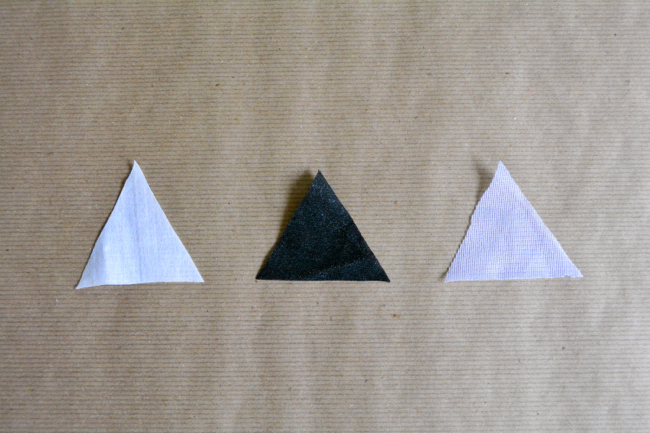 If you are making Version 2, it will be helpful to interface the buttonhole area to prevent them from stretching out. As with all buttonholes, you should do some experimentation first to see what works the best. You can try using fusible knit or tricot interfacing, which has some stretch to it, or fusible woven interfacing, which will make your fabric a bit sturdier.
A few fabric options
Here are a few different fabric options I've come across during my online window shopping. I can't wait to live vicariously through all of your fabric choices!
(Please note that I can't vouch firsthand for quality as I've not purchased these myself, but they are all the right type of fabric.)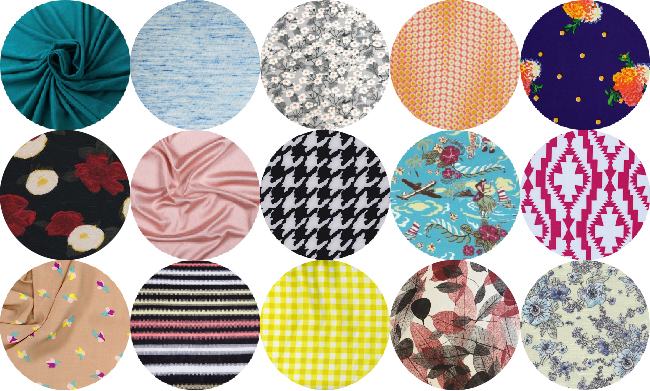 Row 1:
Mermaid's Tail Rayon Spandex Knit from Grey's Fabric
Baby Blue Slub Jersey from Grey's Fabric
Liberty Viscose Jersey from Raystitch
Joel Dewberry Bungalow Rayon Challis from Harts Fabric
Marc Jacobs Viscose Crepe from Mood
Row 2:
Bold Floral Wool Jersey from Mood
Veiled Rose Silk Jersey from Mood (for a very special occasion Myrtle!)
Black/White Houndstooth ITY from Fashion Fabrics Club
Vintage Hawaiian Vacation Rayon Crepe de Chine from Wanderlust Fabrics
Red/White ITY from Fashion Fabrics Club
Row 3:
Ella Moss Floral Rayon from Harts Fabric
Black Missoni-esque Cotton Jersey from Mood
Yellow Gingham Rayon Challis from Harts Fabric
Printed Leaf Rayon Jersey from Wanderlust Fabrics
Wild Primrose Rayon Jersey from Wanderlust Fabrics
Gather your tools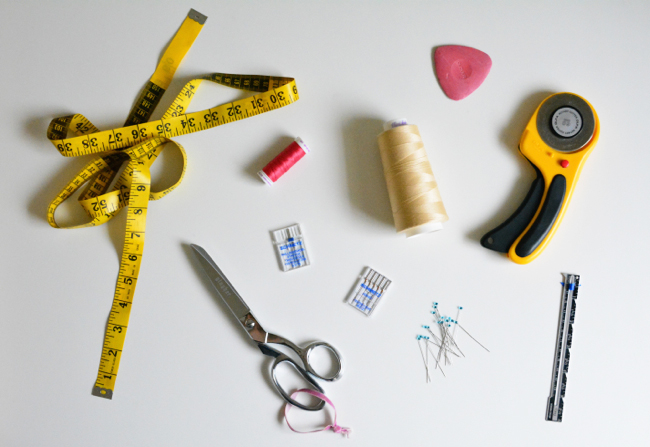 Sewing Shears. Use sewing shears (also called dressmaker's shears) to cut your fabric. Even if you use a rotary cutter, it's a good idea to have these on hand.
Rotary cutter (optional). Not necessary, but makes cutting your fabric go faster. If you go this route, you'll also need a mat.
Pins. You'll need plenty of pins. I prefer glass head ones because they won't melt under your iron.
Pattern weights. Use these to hold the pattern on your fabric while you trace it, or while cutting with a rotary cutter.
Marking pens or chalk. Choose one that stays put and shows up easily on your fabric, but washes away cleanly.
Seam gauge. Not absolutely necessary, but very helpful when hemming.
Ballpoint Needles. They may also be labeled as jersey needles. Ballpoint needles are designed to push through threads rather than pierce them, so they help prevent runs and snags in your fabric.
Twin Needle. A twin needle will allow you to create a professional looking stretchy hem. Look for one labeled 'stretch'.
Hand Sewing Needle. This is for sewing on the buttons in Version 2.
All purpose thread. You'll need all-purpose polyester or cotton thread on regular spools. If you are using a serger, you'll also need cone thread.
Equipment
You can make the Myrtle using either a serger or your standard home sewing machine. We'll touch upon techniques for both in a future post.
If you're using a serger, you'll still need your standard machine on hand for hemming and a few other small tasks.
Pretreat your fabric
Before we begin, you will want to prewash your fabric in whatever manner you plan on caring for the finished garment. This is not something you want to skip, as you don't want your dress to shrink after you've invested lots of time and effort into it.
Do you have any questions about fabric, tools, or supplies? Let me know in the comments!