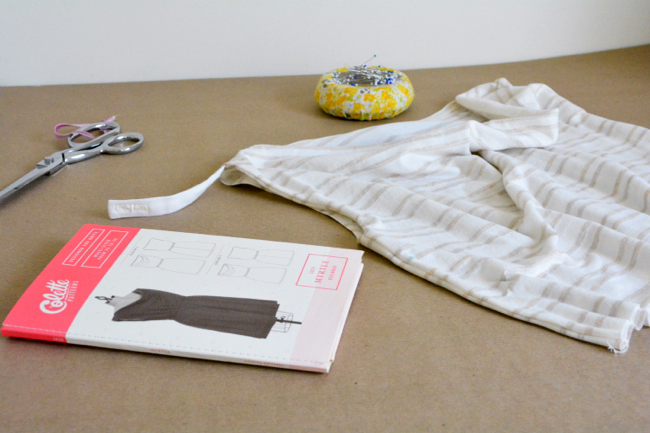 Now it's time to get to it, so let's fire up those sewing machines! We'll be starting things out by hemming our back bodice (V1 & 2) and creating our shoulder tabs (V2).
Before we dive in, let's cover a little bit of buttonhole basics.
Buttonhole basics
Buttonholes seem to be one of the most feared obstacles in the path to intermediate sewing, but they're really not that bad, I promise! The Myrtle buttonholes are even less pressure because you do them right away in the beginning, so if things go awry you can just start over with a new shoulder tab.
Here are a few tips to make your buttonhole experience go well:
Set up properly. Your machine's owners manual is your best friend when setting up for a buttonhole. There are lots of different types of buttonholes out there, but usually there is a specific buttonhole foot to put on. Mine is a one step buttonhole, and it attaches so that the bulk is sticking out the back. There is a slideable compartment to put the button, which determines the buttonhole size.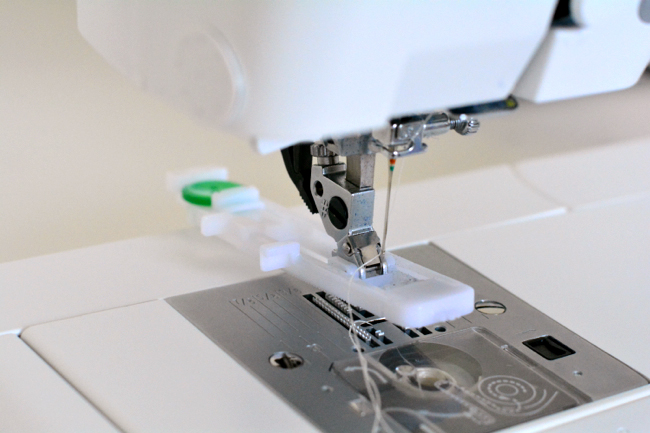 There is also a lever to pull down just to the left of the needle that tells the machine when to turn around at the end of the buttonhole.
For a multi step buttonhole, each component of your buttonhole will be a separate stitch that you will select. They are usually labeled A, B, C, D or something to that effect. You will be the one determining how long the button is by deciding when to turn around.
If your machine is computerized, go with the default settings when you select the buttonhole stitch. If your machine is mechanical, often times there is shading or little buttonhole icons on the length and width settings to help you set them. Also, again, refer to your owners manual.
Interface. Buttonholes don't do well when the fabric is too thin, so your fabric is lightweight try using some fusible interfacing on the shoulder tab. I used knit interfacing because it's more lightweight than woven interfacing.
Practice! Always do at least one practice buttonhole before you go for it on your project. Make sure you are practicing on the same situation as your project – in this case, two layers of fabric with a layer of interfacing in between [if applicable].
Sew the shoulder tabs (V2)
1) Interface. Fuse interfacing to wrong side of fabric under buttonhole marks.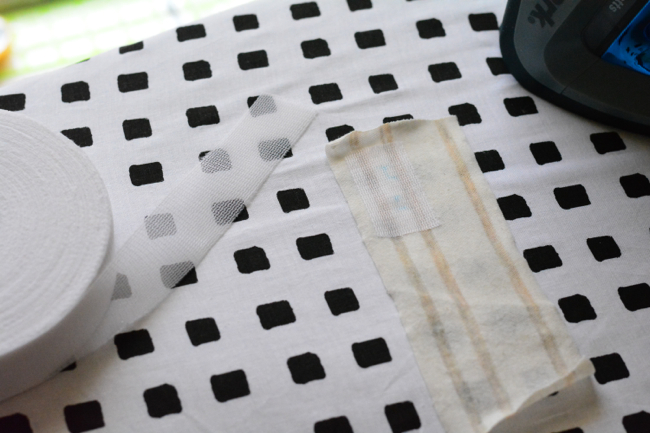 2) Pin and stitch. Fold one shoulder tab right sides together and pin. Stitch together along the long edge and the short edge closest to buttonhole marks.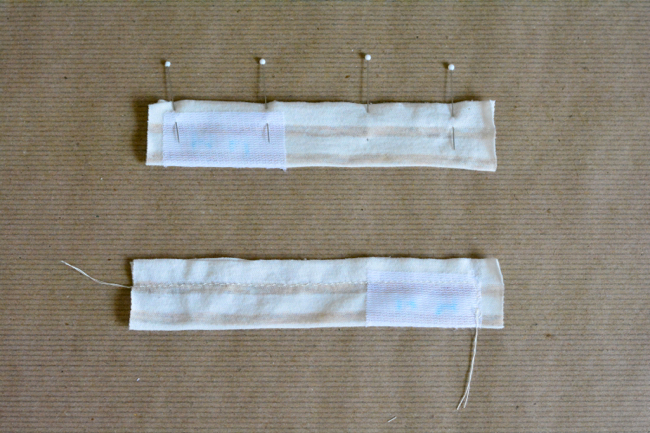 3) Turn and press. Clip corners and turn tab right side out.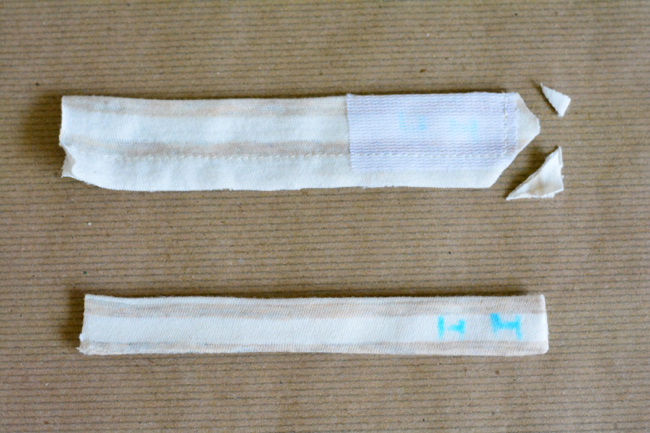 4) Create buttonholes. Make two buttonholes on the placement marks. Using a seam ripper, slice through the fabric in the center of the buttonhole from each end to middle. Be careful not to cut the thread.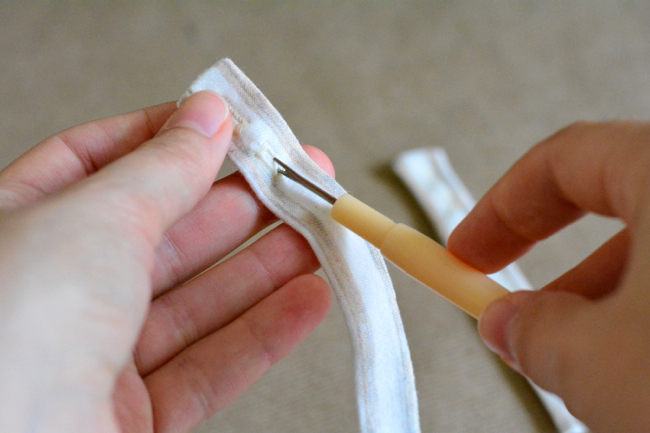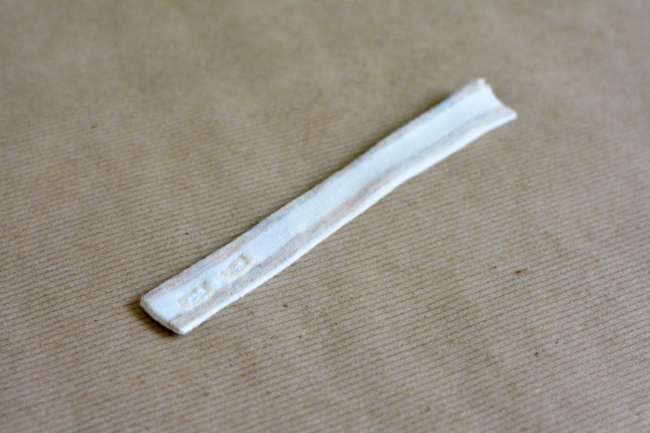 5) Repeat to make second shoulder tab.
6) Pin shoulder tab. Pin one shoulder tab to right side of bodice front between small circles, aligning raw edges, right sides together.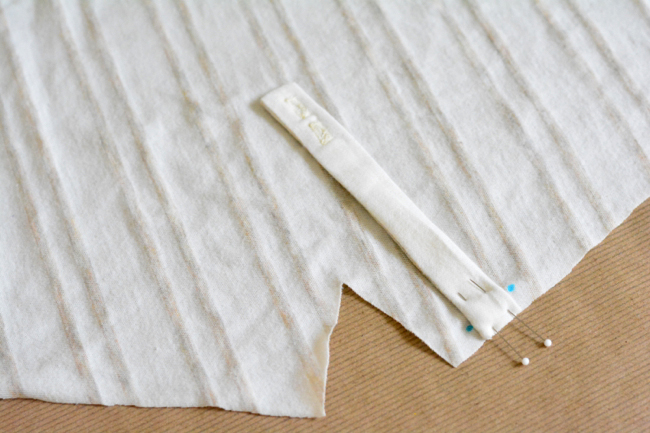 7) Attach shoulder tab. Stitch tab to bodice between small circles.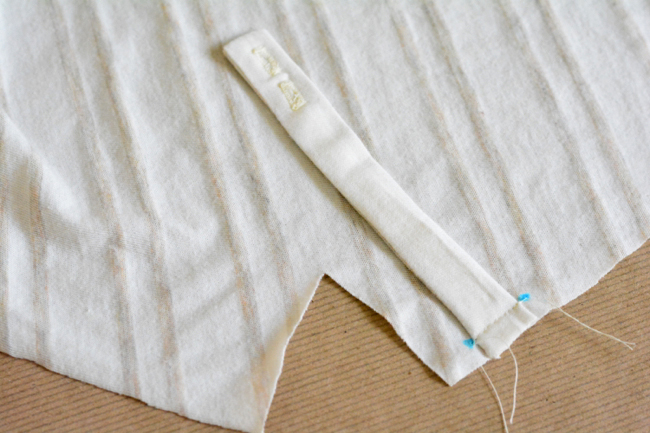 8) Repeat with other shoulder tab and shoulder seam.
Hem Back Bodice (all views)
1) Prep hem. Finish the back neckline edge of the back bodice. Fold 3/8" to the wrong side, pin and press. (My fabric is lightweight so I also used a narrow strip of knit interfacing along the hem as a stabilizer.)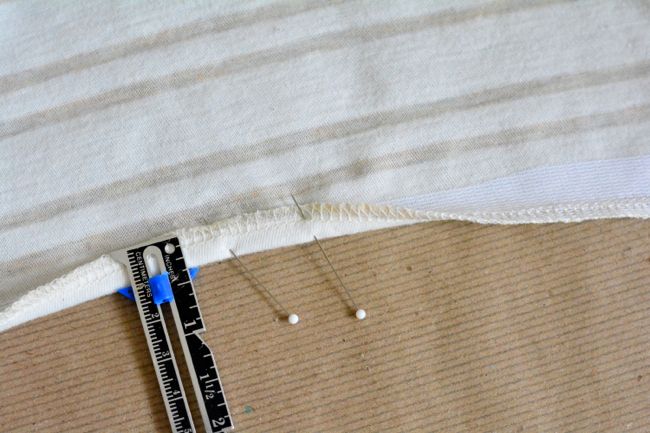 2) Sew hem. Hem with a twin needle or hemming method of your choice. Here is a post on the Coletterie about using a twin needle.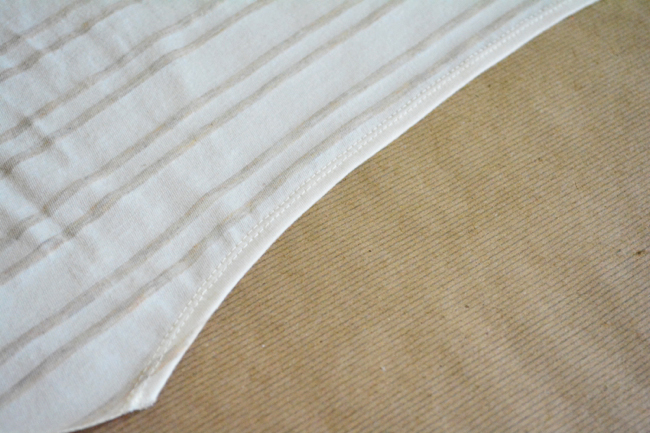 3) Repeat hemming process with both armhole edges of back bodice.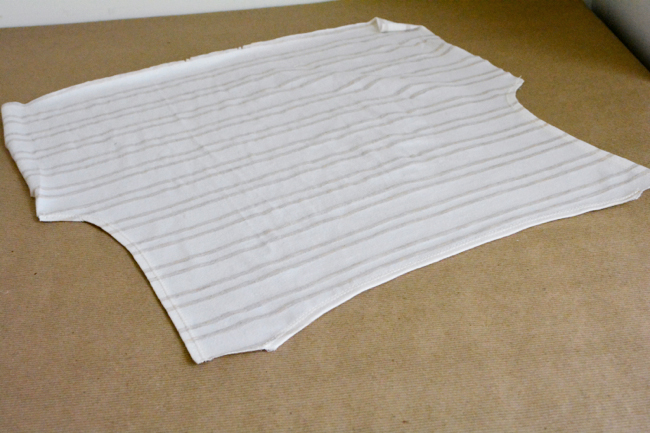 WOVENS
If you are using a woven, the shoulder tab process is the same. After the tabs are constructed, topstitch around the edges to help keep them flat and to add more durability.
Instead of hemming the back bodice edges, you will use 1/4″ double fold bias tape to finish the edges. Woven fabric will not stretch around the curves in the same way knits will, so they must be finished with a bias tape facing. Here is a post on the Coletterie with detailed pictures for that process, and remember to download the woven instructions from the pattern store.
That will be it for today! I'll see you back here on Wednesday to finish constructing the bodice.