Welcome to the Myrtle sewalong!
In this sewalong, we'll be going step by step through the process of sewing a Myrtle dress.
Myrtle is an elegant, figure-skimming dress with a cowl neckline. Version 1 has a hemline that falls just below the knee, and Version 2 features cute button shoulder tabs with an above-the-knee hemline. And one of the neatest things about this pattern is that it can be made in both knits and wovens!
If you're a little shaky on working with knits, that's ok. We'll go over some techniques for working with knit fabrics both with and without a serger. The sewalong will focus on sewing with a knit, but will also include instructions for each step if you're using a woven.
With a bit of a Greek goddess vibe, Myrtle is just as comfortable on a breezy summer day as she is on a glamorous night out. So get ready to channel your inner goddess and join us in making a Myrtle!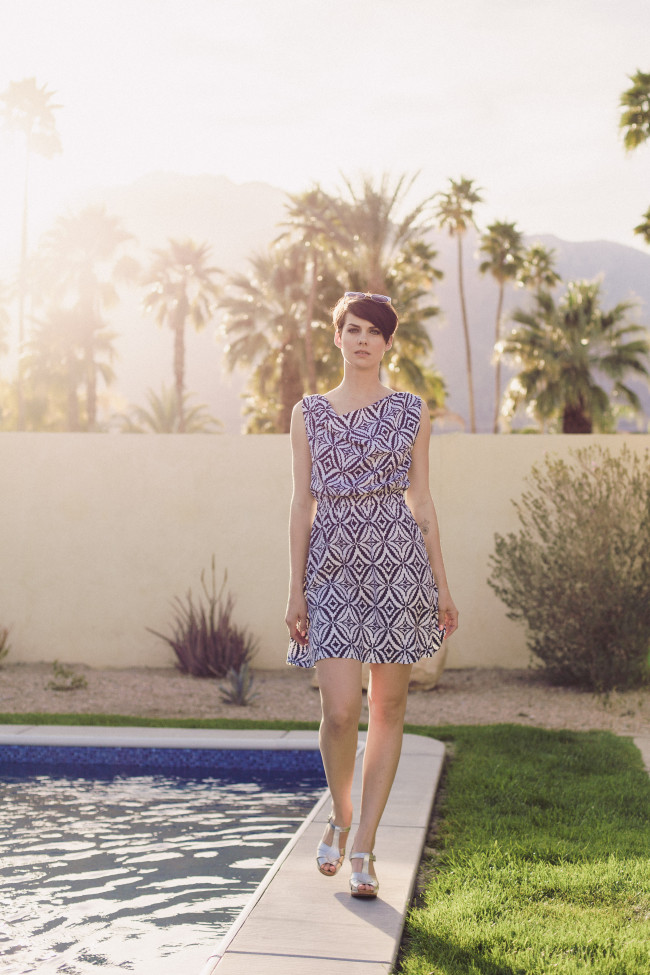 Your teacher
I'm Devon, a sewing teacher living in Nashville by way of Los Angeles and rural Ohio. I've been sewing my whole life and have shared this obsession with others by teaching at places like Sew LA, The Fabric Studio and the Craftcation Conference. You can read about my sewing projects and similar exploits on my website Miss Make.
How it works
Our sewalongs are simple. We'll publish a series of posts detailing each step in the process of fitting and sewing your pattern. You can sew along with us, ask questions, and share your techniques and advice with others.
Feel free to leave comments here on the blog, or join our Sewalongs Facebook group to post thoughts, questions, and photos. We try our best to answer as many questions as possible, but encourage you to jump in and help each other out as well.
What's covered
Tomorrow we'll get started by going over what fabric and supplies you'll need for your Myrtle. You'll have two weeks to get your shopping done before the actual sewing gets underway.
A week from today, we'll go over some sewing basics and discuss fitting and cutting. We'll also detail the whole process of doing full and small bust adjustments.
Then a week after that on August 18th, we'll get started with the sewing. We'll work through the dress through the rest of that week, with the final sewing post being the following Monday.
Then you'll have a week to get all your Myrtles finished and into the Colette Flickr group before we highlight some of them in a parade post.