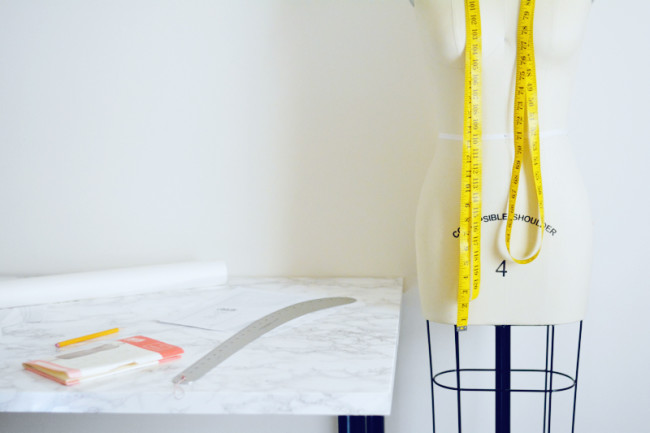 In this post we'll discuss how to choose a size and some basic fit adjustments you can make to your pattern pieces.
choosing your size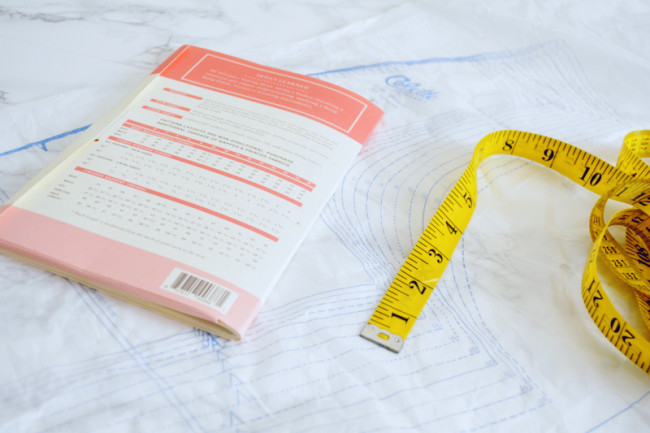 Use a tape measure to take your bust, waist and hip measurements. When taking your measurements, don't wear bulky clothes, and be sure the tape measure is parallel to the floor and snug against your body. Wear the undergarments you plan on wearing with the finished dress.
Your bust measurement is the fullest point of your bust. Your waist measurement is the narrowest part of your torso, generally where you crease when you bend to the side. Your hip measurement is the fullest point below your waist.
If you are falling into very different sizes in the bust and waist – like more than two sizes apart – you might be a candidate for a bust adjustment. In that case, take your high bust measurement, which is under your armpits and across the flat part of your chest. Sizes 0-16 are drafted for a C cup, meaning there is a 3″ different between high and full bust. Sizes 18-26 are drafted for a DD cup, meaning there is a 5″ difference between high and full bust.
If your own cup size is significantly different, then choose a bust size that would make sense for your high bust, remembering to think about the pattern's cup size. So if your high bust is 33″, the pattern thinks your full bust will be 36″. Even if yours is only, say, 34″, you'd still want to cut a size 6 (36″ bust), and then do a Small Bust Adjustment, which will be covered Thursday.
blending sizes
If you fall in different sizes at each measurement, it is very easy to blend sizes – simply use a ruler to draw a line from one size to another. For instance, if you are a 10 at the bust and a 12 at the waist, draw a line that blends evenly from size 10 at the fullest point of the bust to size 12 at the waist.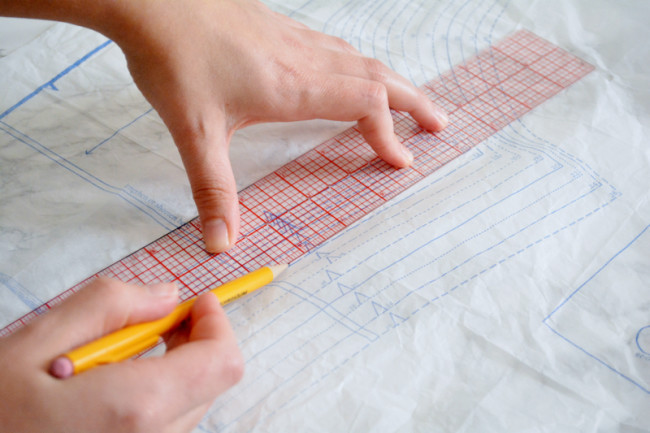 Blend your lines smoothly into the size lines so that there are no jagged angles. Also, be sure to make the adjustment everywhere – if you are cutting from one size at the bust to another at the waist, you need to do that on each side of every bodice piece (except the center front fold and the back center zipper, which are the same for all sizes).
Tip: Instead of cutting out your pattern tissue, trace it off with pattern paper or tracing paper. You can draw in the size blending as you trace. That way if you ever need to start over, you won't have mangled your pattern pieces. If you can't find any local sewing stores that carry pattern paper (which is a thin white paper marked with a grid of dots or numbers), you can find rolls of tracing paper at your local art supply shop.
lengthening/shortening
Since we are all different shapes and sizes, you may need to lengthen or shorten a pattern piece – for instance, if you are short- or long-waisted, or have shorter or longer legs than average. You don't want to just add or subtract length from the edges, because this will change the length of those edges and the proportions of the garment.
To determine whether or not you need to lengthen or shorten, try an initial tissue-fitting – after cutting out the pattern pieces, hold them in place over your body, aligning the center front(s) with yours. See where the pattern piece waist/hip is hitting on your waist and hip, remembering to account for the 5/8" seam allowance along each edge. This can help give you a ballpark amount to lengthen/shorten for your muslin.
If you aren't sure, it's best not to do anything until you've tried your muslin on.
To shorten a pattern piece, determine how much shorter you'd like it to be. Then use a clear ruler to draw a line this amount above the upper lengthen/shorten (L/S) line.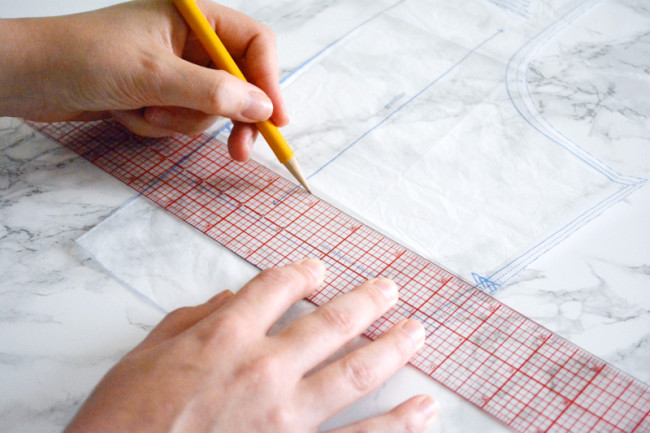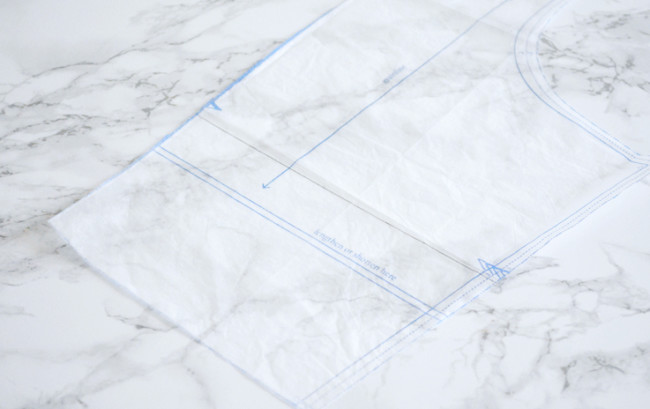 Fold the pattern piece along the upper L/S line and bring the fold up to meet your drawn line. Tape in place and blend any jagged edges.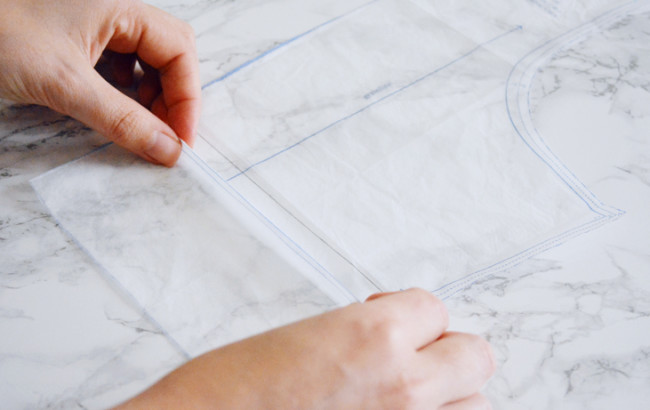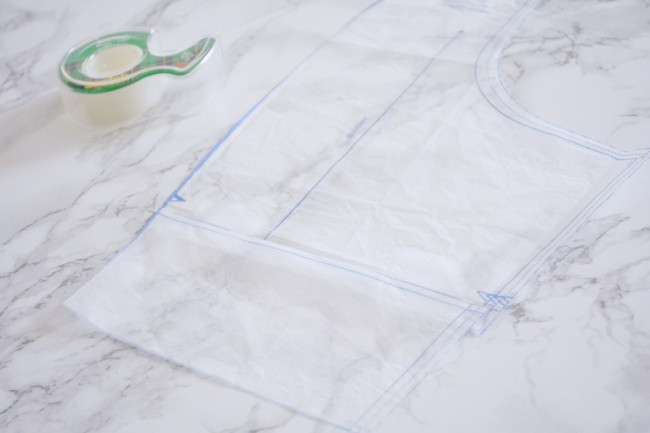 To lengthen a pattern piece, first use a ruler to extend the grainline across the L/S lines.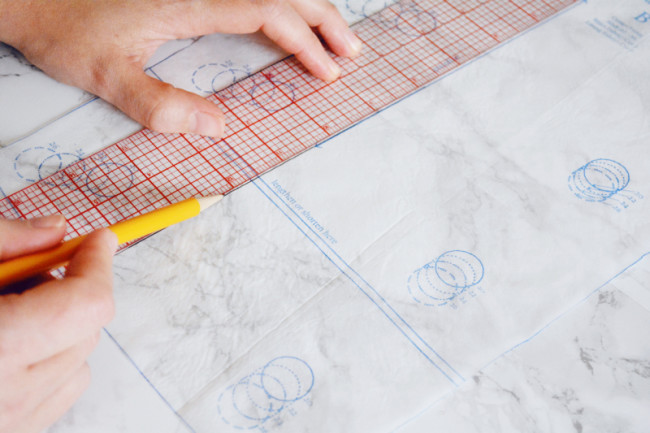 Cut the piece apart between the L/S lines.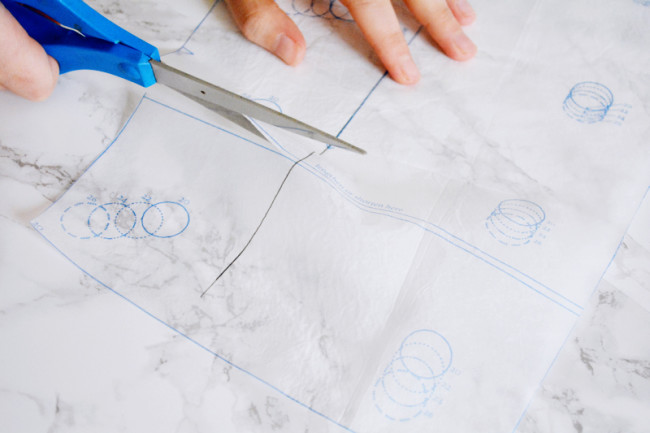 Place a strip of paper behind the upper half (you can use scraps of pattern tissue) and tape in place. Use a ruler to draw a line below and parallel to the upper L/S line. Draw another line down extending the grainline.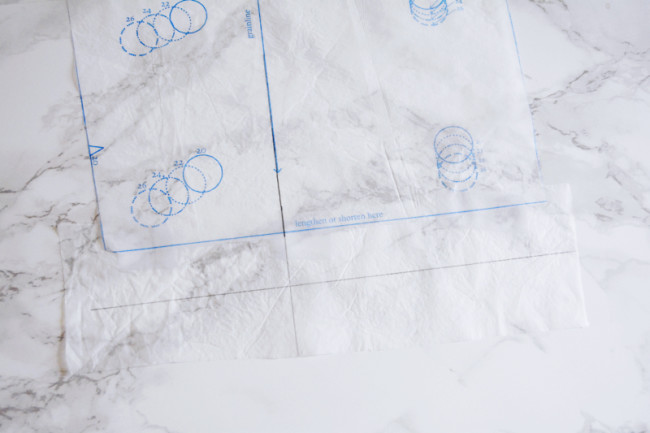 Tape the lower half in place, using the drawn lines as a guide. The lower L/S line should be lined up with the horizontal drawn line. Trim excess paper, blending any jagged edges.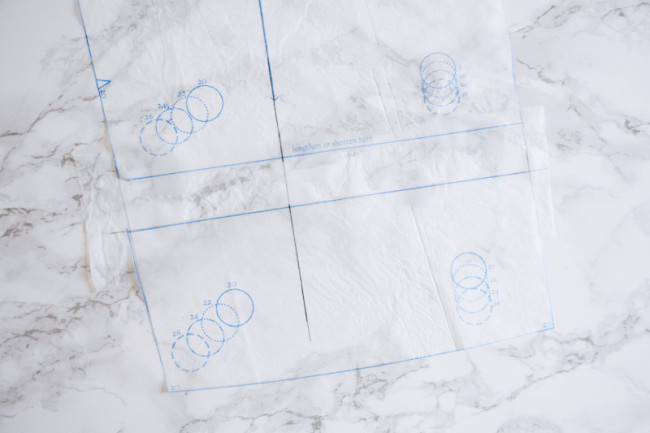 Just like size blending, if you lengthen or shorten, remember to adjust all affected pattern pieces (ex. both skirt pieces, all bodice pieces).
redrawing button placement
If you're making Version 1 and you lengthen or shorten the bodice, the button placement marks will now be uneven. To fix this, draw a line between the center of the top and bottom button marks, going through the centers of all the other buttons.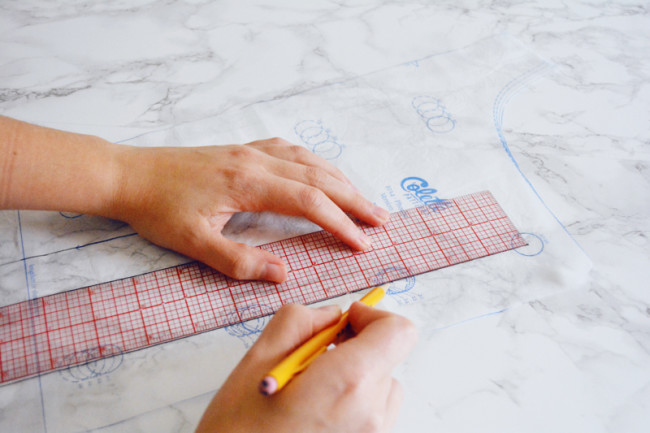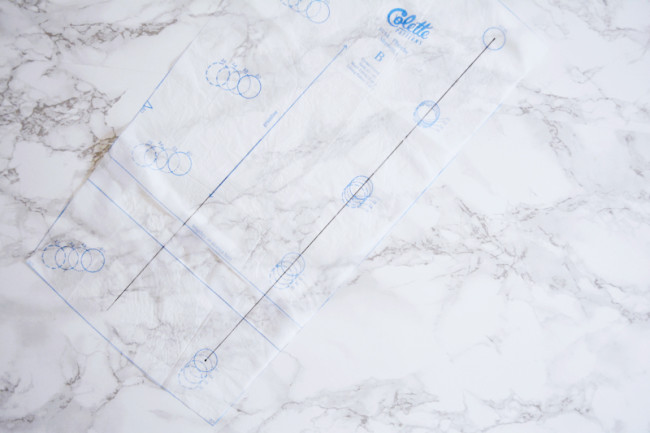 Measure this line and divide it by 4, rounding to the nearest 1/8". Starting at the top, mark along the line in this increment (you should end up marking three times). Draw new button placement circles around your marks.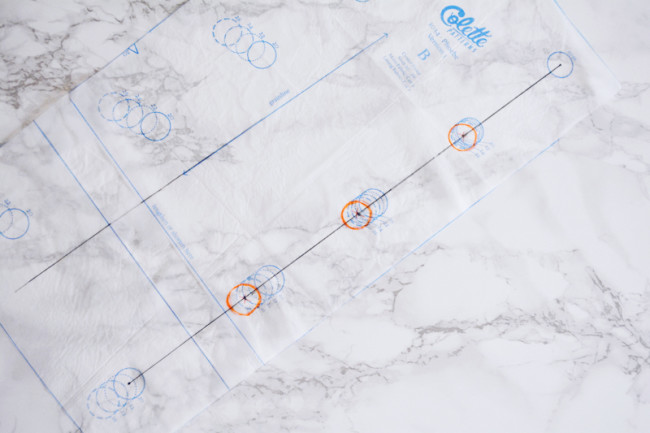 Repeat for the second column of buttons.
Make a muslin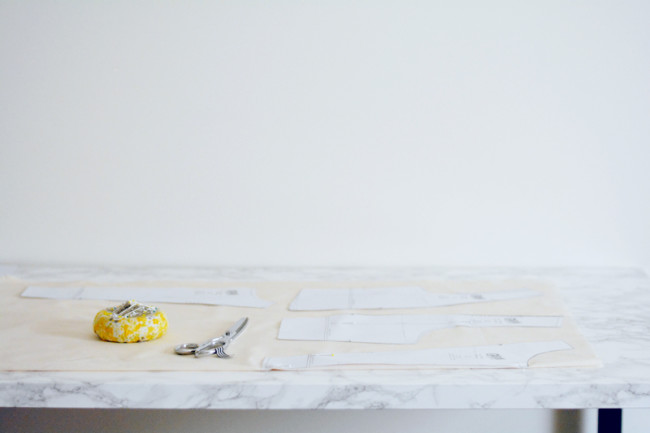 I know it seems like a drag, and you just want to get to the fun stuff, but making a muslin (also called a toile) is really worth it, especially on a garment with princess seams. I would highly recommend making a muslin before trying any bust alterations.
When making a muslin, there is no need to do any seam finishing or lining. You'll still want to backstitch at the beginning and end of each seam, but use a long stitch length to make it easier to seam rip if necessary. It's also helpful to stitch along the neckline at 5/8". This not only helps you visualize where the finished neckline will be, it also prevents that edge from stretching out when you try it on.
If you haven't done much to the skirt, you can get away with making a muslin of just the bodice.
Skirt or not, you should install a zipper in the back. If you use long basting stitches, it's easy to rip out the zipper to use in your final dress.
If you've never done a zipper before and want to wait until that post in the sewalong to attempt one, have a friend pin you into the muslin 5/8″ in along the back edge.
Check back on Thursday when we cover bust adjustments!
Comment below with any questions!