Let's start with one of the most fun parts of any sewing project – putting together fabric and supplies!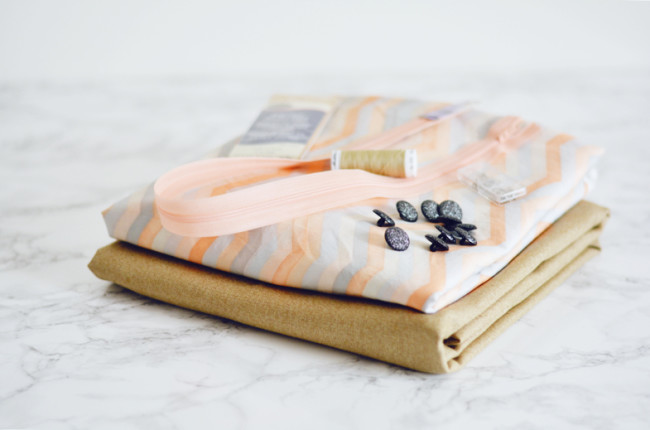 gather your supplies
Main Fabric: For both versions, you'll want a medium weight woven fabric like poplin, denim, twill, etc. You don't want something too drapey, like a very fluid rayon or silk, because the style of the dress calls for a bit of structure in the fabric.

Lining Fabric: Both versions also call for lining fabric. Look for a lightweight fabric that will be comfortable against your skin. This can include lightweight polyester, bemberg rayon, acetate, and cotton lawn or voile.

Buttons: Version 1 requires ten 3/4″ buttons.

Zipper: Both versions require a 22″ regular coil zipper.

Hook & eye: Look for size 2 or 3.

Bias Tape (optional): A Hong Kong finish is a beautiful way to finish the raw edges of your seam allowances (more on that later!). It requires about four yards of 1/2″ single fold bias tape.
Choosing Your Fabric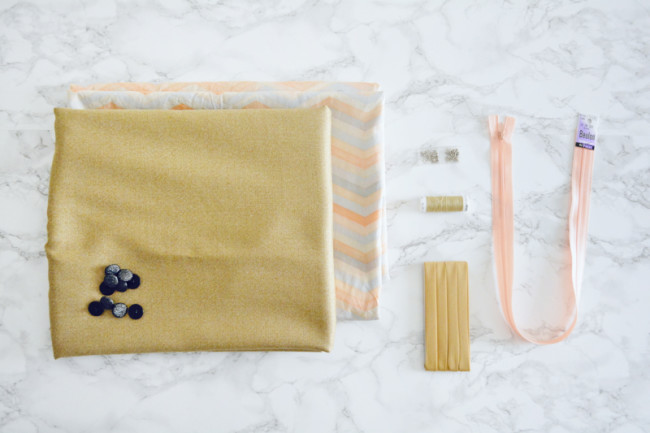 Phoebe is a structured shift with princess seams. Because princess seams skim and hug the figure, rather than hang from it, they will look smoother and more polished with a slightly more structured fabric. Something very fluid like rayon or silk might tend to droop a bit. Twill, lightweight corduroy, and velveteen would all be lovely options.
For the lining, look for something on the lighter side, as you don't want to add too much bulk. It will be against your skin, so you want something smooth and non-irritating. And in this case, drape is ok! Bemberg rayon is one of my favorites, and it has a very cool feel. You can also use a polyester or acetate lining. If you're a newbie, you might want to find a cotton lawn or voile for the lining, as it will be a little easier to work with than some of the more slippery options.
Remember too that linings don't have to be solid, as long as your main fabric is opaque or dark enough. One of my favorite things to do when making a solid garment is to use a fun print for the lining – it's like your clothes have secrets.
For both fabrics, the yardage requirements can be found on the back of your pattern envelope, and by clicking on the "Supplies" tab on the Phoebe page in the Colette Patterns online store.
Make sure you are reading the yardage quantity for the width of fabric you are buying. The yardage amounts are for non-directional fabrics, so if you have a directional print or a napped fabric like corduroy, you'll want to buy a little extra (like ¼ -½ yard) to accommodate a slightly different cutting layout. You'll also need extra fabric if you're going to be matching plaid/stripes across seams.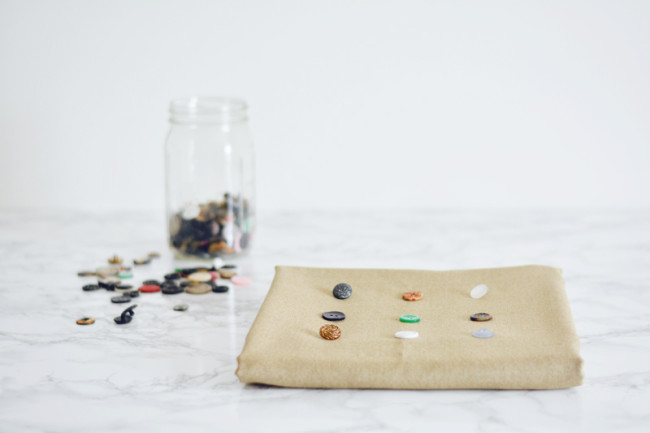 When buying buttons, remember – as long as they're the right size, you can always change them later. If you can't find buttons you like, or if you want your buttons to match perfectly, make your own with a button cover kit.
Some Fabric Options
Since one of my most practiced skills is window shopping for fabrics online, here are a few main/lining fabric pairings that could make nice Phoebes.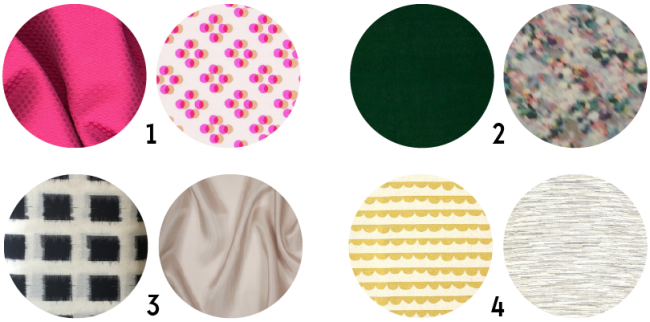 1.
Dove Jacquard Pink Dot from Harts Fabric
Cotton + Steel Picnic Dot Lawn from Harts Fabric
2.
Robert Kaufman Lush Velveteen in Forest from Fabricworm
Japanese Cotton Lawn from Hellgate Fabrics
3.
Double Black Ikat from Craft South
Moonstruck Viscose Lining from Mood Fabrics
4.
Metallic Gold Ellen Baker Canvas from Miss Matatabi
Veronica Voile in Stone from Superbuzzy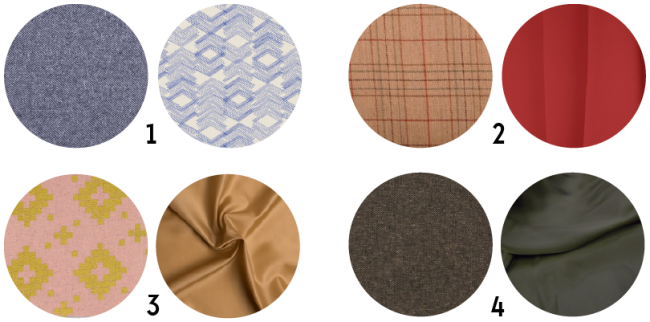 1.
Herringbone Wool from Mood Fabrics
Limestone Feel Voile in Indigo from Hawthorne Threads
2.
Plaid Wool Suiting from Mood Fabrics
Red Bemberg Rayon from Britex Fabrics
3.
Cotton + Steel Mesa Canvastile in Rose from Superbuzzy
Antique Gold Polyester Lining from Mood Fabrics
4.
Essex Yarn Dyed Linen/Cotton in Espresso from Modern Domestic
Chocolate Bemberg Rayon from Vogue Fabrics
Note: If you do choose a very contrasting lining, be aware that it may peek out from time to time at the armscye.
Gather Your Tools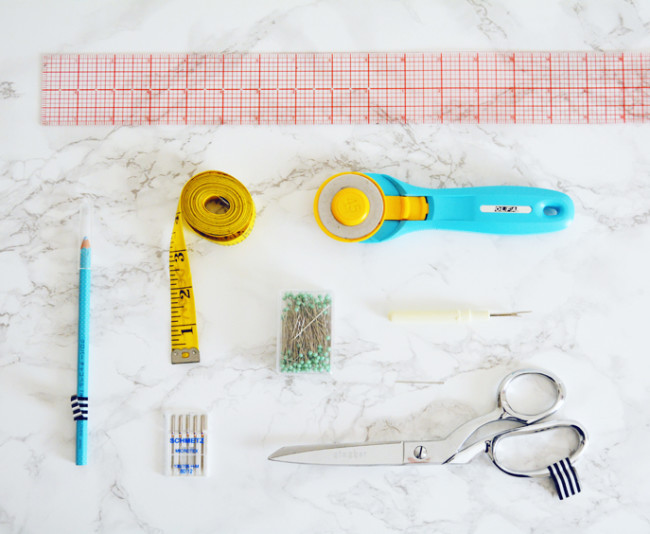 Fabric shears: A very important tool! Be sure they're sharp, and never use them on anything other than fabric.
Straight pins: More pins is more control. Glass or metal headed pins are convenient because you can press over them.
Tape measure: For taking accurate body measurements.
Water soluble marking tools: We'll need them for transferring darts, buttonholes, and anything else we need noted on our fabric.
Seam ripper: Everyone makes mistakes.
Rotary cutter/mat: If you're comfortable with a rotary cutter, they can make cutting out your Phoebe a bit faster.
Hand sewing needle: For attaching the buttons and hook/eye.
Machine needles: Size 80, universal or microtex.
Optional: It's not necessary, but it's very helpful to have a water soluble basting agent when installing the zipper. Two of my favorites are Wonder Tape, which is a narrow double-sided tape, and a basting glue stick. Both are formulated to dissolve completely away in water.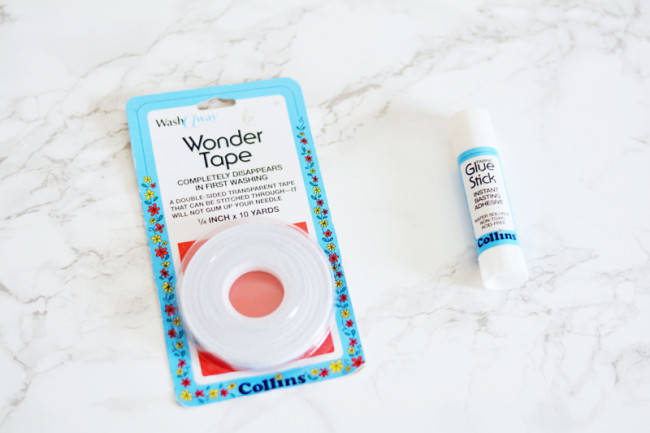 Equipment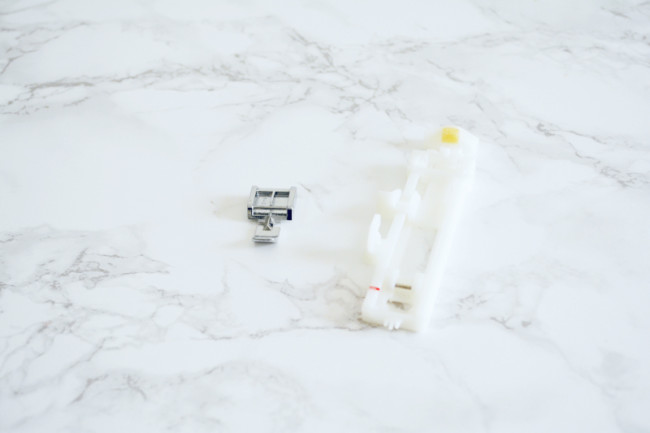 Both versions will require your sewing machine's zipper foot (left). If you're making Version 1, you'll also need the buttonhole foot. The one pictured above is an automatic buttonhole foot. Yours might look a little different, especially if you have a multi-step buttonhole.
Pretreat your fabric
Before cutting, pretreat your fabric however you plan on caring for the actual garment. This is not something you want to skip, because there's nothing worse than your fabric shrinking after you've made something.
If you're using wool or silk, you can take it to the dry cleaner first. Most wools and silks can also be safely hand washed in tepid water with a delicate detergent. It's always good to test wash a swatch first.
Next week, we'll discuss several fit adjustments you can make to your pattern. If you have any questions about supplies, please comment below!