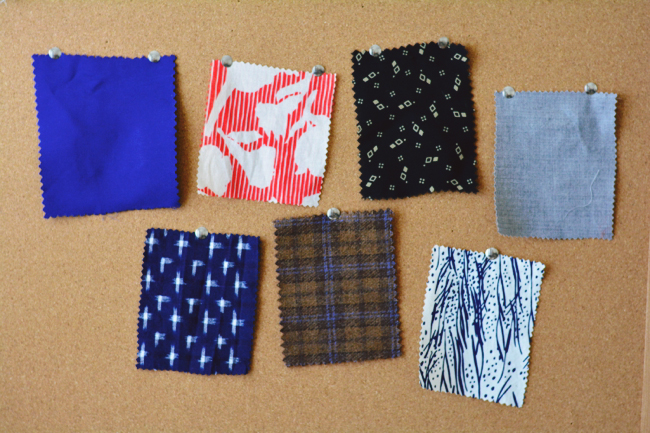 To begin our sewalong, we'll be giving you a couple weeks to pick out your fabric and gather your supplies.
Gather your supplies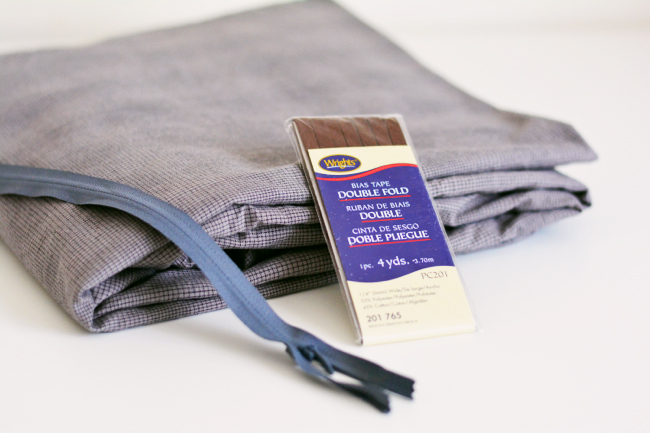 Main Fabric. Dahlia is designed for woven fabrics. For either version, you'll want a medium to lightweight fabric with a bit of drape to it, such as voile, chambray, rayon challis, or cotton lawn. For Version 1, a flannel or wool suiting would also be appropriate.
14" Invisible Zipper. Both versions require a 14" invisible zipper that will be installed in the side seam.
1/4" Double Fold Bias Tape. Both versions also require 3 yards of ¼" double fold bias tape. You can buy prepackaged bias tape or make your own. Keep in mind that the bias tape will be visible on the finished dress.
Choosing your fabric
When choosing fabric for your Dahlia, look for something that has a nice drape and flow to it. Because much of the shaping is done through gathers, you want to avoid anything too thick or heavy, which will not lay very attractively.
Version 1 is a cooler weather dress, so a warmer fabric like flannel or wool suiting would be great.
Version 2 has a slightly fuller skirt and is sleeveless, so it makes sense to make it in a lighter weight summery fabric like rayon, lawn, seersucker, or chambray.
Dahlia was designed with stripes and plaids in mind. There are no darts to visually distort the fabric design, and the seam lines allow for some beautiful pattern matching. The different pieces also lend themselves to a lot of color blocking possibilities. Keep in mind that choosing a stripe or plaid will take a little more work to match the pattern across seams, and you may need to buy a bit of extra fabric to allow for fussier cutting.
A few fabric options
Since one of my favorite pastimes is window shopping for fabric online, here are some different options I've come across. I can't wait to live vicariously through all of your fabric choices!
(Please note that I can't vouch firsthand for quality as I've not purchased these myself, but they are all in the right categories.)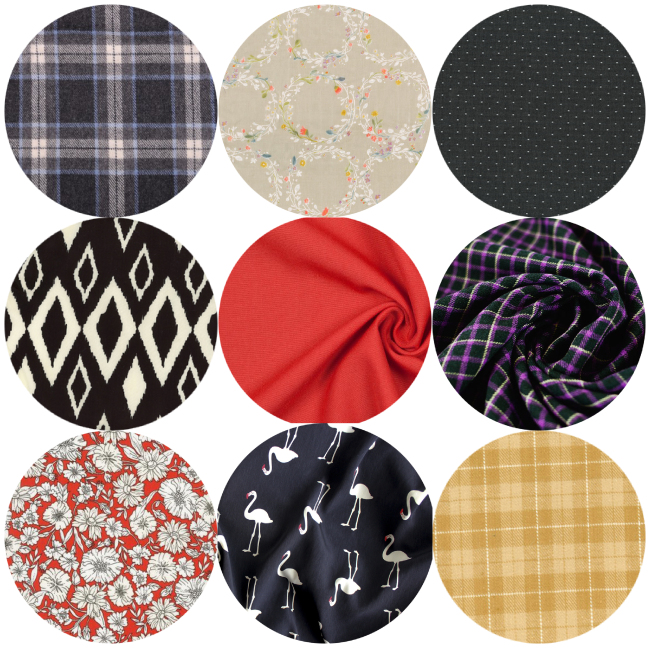 Gather your tools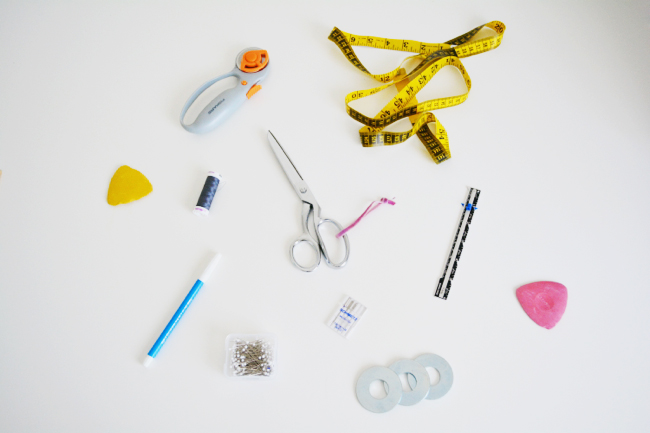 Sewing Shears. Use sewing shears (also called dressmaker's shears) to cut your fabric. Even if you use a rotary cutter, it's a good idea to have these on hand.
Rotary cutter (optional). Not necessary, but makes cutting your fabric go faster. If you go this route, you'll also need a mat.
Pins. You'll need plenty of pins. I prefer glass head ones because they won't melt under your iron.
Pattern weights. Use these to hold the pattern on your fabric while you trace it, or while cutting with a rotary cutter.
Marking pens or chalk. Choose one that stays put and shows up easily on your fabric, but washes away cleanly.
Machine Needles. Look for a size 80/12 for medium weight fabrics or 70/10 for light weight fabrics in either universal or microtex points.
All purpose thread. You'll need all-purpose polyester or cotton thread to match your fabric.
Presser Feet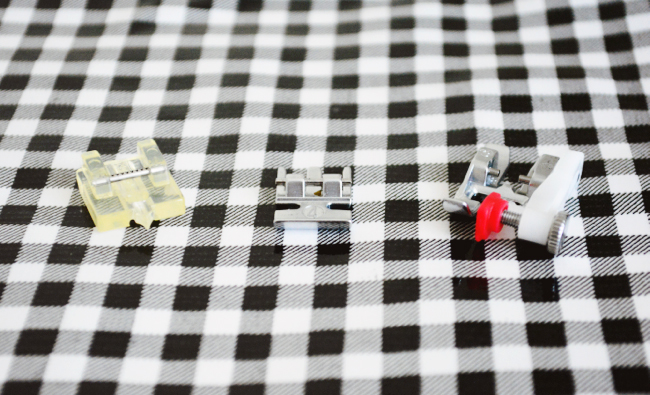 There are three presser feet that will be useful to have while making your Dahlia. The first is an invisible zipper foot (left). While it is possible to install an invisible zipper with a regular zipper foot, it is so much easier to do it with an invisible zipper foot. The bottom is grooved so that the teeth of the zipper unroll as you stitch, guiding the needle to sew precisely in the right place. Be sure to get the appropriate foot for your make and model of machine.
You will also need a regular zipper foot for the zipper installation (middle). These generally come as part of a machine's accessories.
You'll also need a blind hem foot (right) if you wish to do a blind hem by machine. This is not absolutely necessary, as you can stitch a blind hem by hand or use a regular double fold hem, but it's quick and fun to do it by machine and a blind hem provides an elegant, invisible finish for the bottom of your dress. Blind hem feet are sometimes part of the accessories pack that comes with a machine, so consult your manual to see if you have one.
Pretreat your fabric
Before we begin, you will want to prewash your fabric in whatever manner you plan on caring for the finished garment. This is not something you want to skip, as you don't want your dress to shrink after you've invested lots of time and effort into it.
If you're sewing with a wool, you can take it to the dry cleaner before you cut into it to have them pretreat it for you. You can also safely hand wash most wools with tepid water and a delicate detergent. It's always a good idea to wash a test swatch first just to be sure.
Do you have any questions about fabric, tools, or supplies? Let me know in the comments!