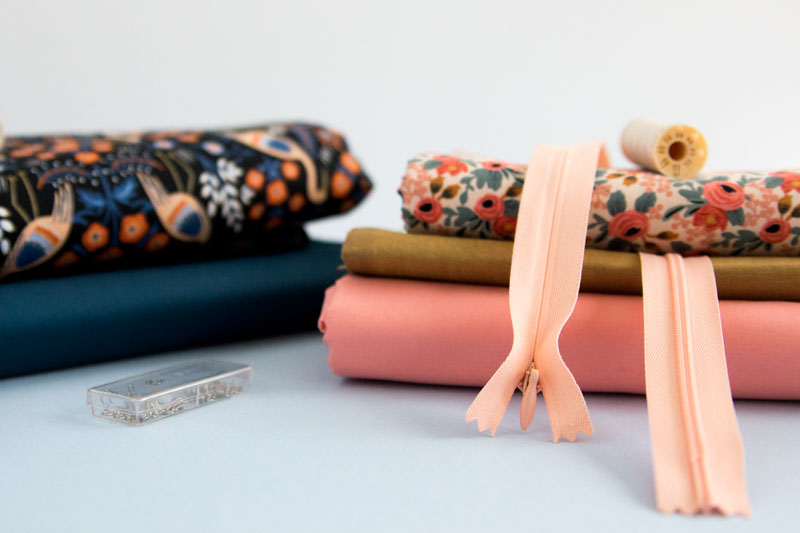 Let's start with one of the best parts of any sewing project – putting together fabric and supplies.

Main Fabric: For both versions, you'll want a medium weight woven fabric such as seersucker, linen, quilting cotton, wool suiting, flannel, chambray, or double gauze.

Lining: Both versions also call for lining fabric. Look for a lightweight fabric that will be comfortable against your skin and not show through your outer fabric. This can include lightweight polyester, cotton, acetate, silk, and rayon lining fabrics.

Zipper: Both versions call for a 22″ invisible zipper.

Hook & Eye: Look for size 2 or 3.

Thread: 50 wt all-purpose polyester thread

Needles: One 80/10 machine sewing needle, one hand-sewing needle

Piping (optional): 1 1/2 yards piping, if you plan to add piping to your bodice seams.
Choosing Your Fabric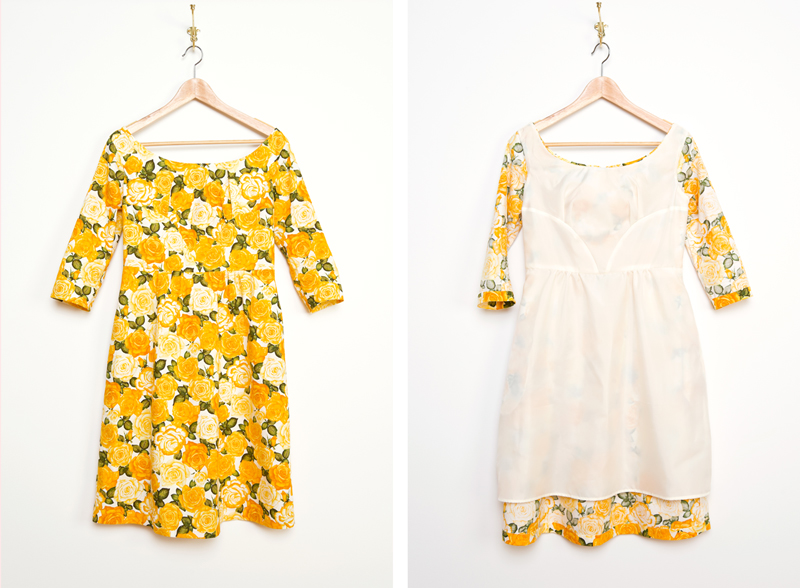 For versions 1 and 2, choose a medium weight woven fabric. It is important to find a fabric with a good balance between structured and light. Fabrics that are too heavy will lay stiff and awkwardly from the form, but fabrics that are too light may lack the needed structure for the bodice shaping.
Medium weight is a broad term for all sorts of fabrics and Rue is designed to accommodate that spectrum. For instance, flannel will have a much different drape than a shirting. Both of these fabrics are a great choice for Rue and in the fitting post we will discuss tips for using differing weights of fabrics.
Rue features some very distinct style lines on the bodice, keep this in mind when choosing fabrics. If your fabric's design is really busy the style lines may get lost. If that's what you're going for, that's great, but if not, you can opt for piping the style lines to bring more attention to them.
Your lining choice will depend on which fabric you choose as an outer fabric. I always go for what I love and know, cotton voiles and lawns. Both of these substrates offer breathability and are soft on the skin. I've noticed that when I've lined dresses in synthetics, I get uncomfortable once I've been in the dress for a few hours, i.e. I get sweaty. If you do choose to use a synthetic, make sure it's a nice quality.
Counteracting your lining weight with your main fabric weight can sometimes be handy. For instance, if your main fabric is a flannel or wool, try lining with a silk in order to avoid adding unnecessary bulk to your Rue.
One of my favorite things about a lined garment is finding the perfect pair of outer fabric and lining. Even if no one else will see my lining, I know it looks so good, inside and out!
Fabric Options
Rue has a very classic shape that can be worn in the office or out on date night. I like to think of an occasion that I'll be wearing my garment to before I go fabric shopping. It reins me in a bit and keeps me from making duplicates in my wardrobe.
Here are a few pairings of outer and lining fabrics that could make great Rues for different occasions.
Party

1. Metallic Floral Brocade paired with Estate Blue China Silk from Mood Fabrics.
2. Manchester Metallic paired with Twist Cambric from M is for Make in the U.K.
Office

1. Essex Yarn Dyed Linen paired with a Italian Floral Cotton Lawn, Blue from Hart's Fabric.
2. Shetland Flannel paired with Cotton + Steel's Hana Rayon from The Confident Stitch.
Weekend Farmer's Market

1. Pinstripe Chambray Linen with a Cotton Voile from Stonemountain and Daughter Fabrics.
2. Seven Island Citrus Multi paired with Cotton+Steel's Solid Lawn from Fancy Tiger Crafts.
A More Few Fabric Options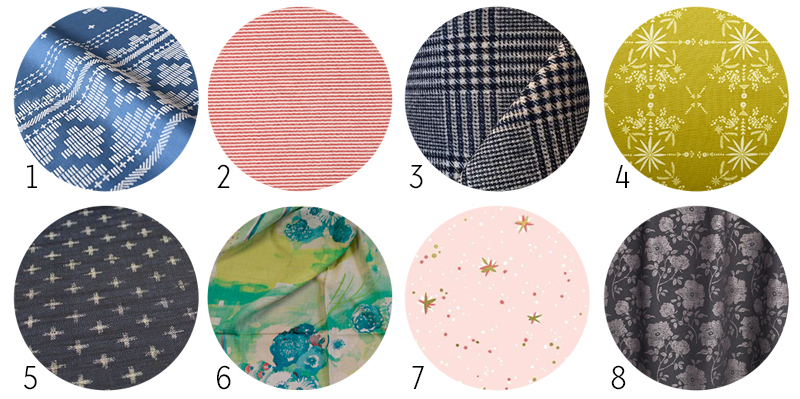 Outer Fabrics
1. Kokka, Tsumiki Border from The Cloth Pocket in Austin, TX.
2. Red Stripe Seersucker from Fabric Depot in Portland, OR.
3. Merchant & Mills Augusta Classic Check Wool Flannel from Stitch 56 in Australia.
4. Cotton+Steel Banbana Grass from Fancy Tiger Crafts in Denver, CO.
5. Sevenberry Indigos Crosses from Backstitch in the UK.
6. 'Komorebi – Sunshine Filtering through Foliage' from The Drapery in Australia.
7. Cotton+Steel Space Thistles, double gauze, from Hawthorne Threads from Red Hook, NY.
8. Jennifer Sampou Shimmer 2 Floral Fabric, from Craftsy.com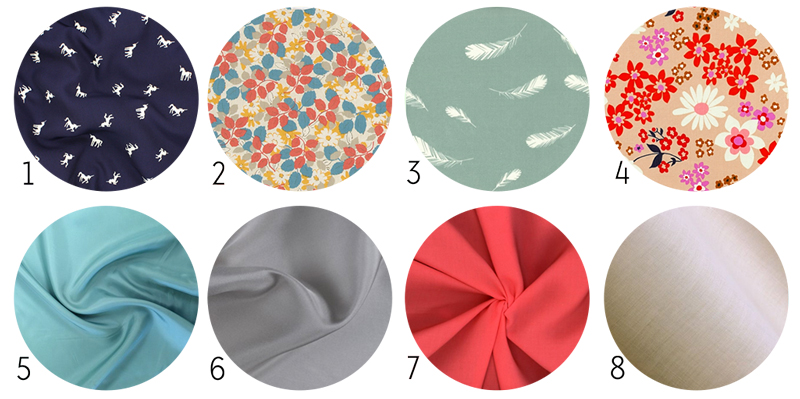 Lining Fabrics
1. Unicorn Poly Crepe from Stonemountain and Daughter Fabrics in Berkeley, CA.
2. Robert Kaufman London Calling, Lawn Flowers & Leaves Autumn from Fabric.com.
3. Charley Harper Nurture Feathers Organic Voile from Harts Fabrics in Santa Cruz, CA.
4. Cotton+Steel Playful, Pink Vintage Floral Lawn from The Workroom in Canada.
5. Bemberg Rayon Lining from Stonemountain and Daughter Fabrics in Berkeley, CA.
6. Moonstruck China Silk/Habotai from Moodfabrics.com
7. Rayon Voile from Harts Fabrics in Santa Cruz, CA.
8. Poltcotton Lining from Ray-Stitch in the UK
My Fabric Choices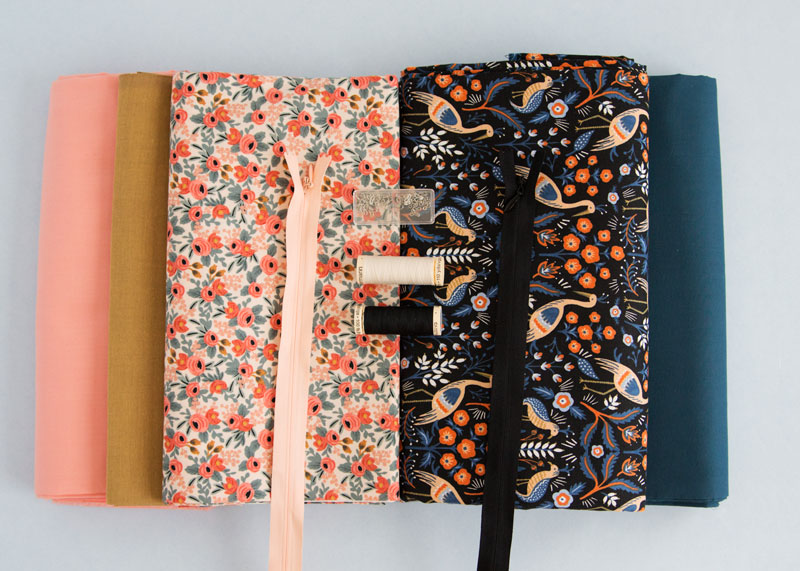 I will be making Version 1 of Rue with Tapestry Black from Cotton+Steel. This fabric is from their new Les Fleurs Collection by Rifle Paper Co. I'm pairing it with a Cotton+Steel solid lawn in Indigo.
For Version 2, for my main fabric, I choose Rosa in Peach, also from the Les Fleurs Collection. I'm pairing it with a Cotton+Steel solid lawn in Peach.
I will be cutting the Side Front Bodice in a contrasting fabric, Shot Cotton in Tobacco. My hope is to counteract the cutesy-ness of the floral print by mixing in this bold neutral.
Gather Your Tools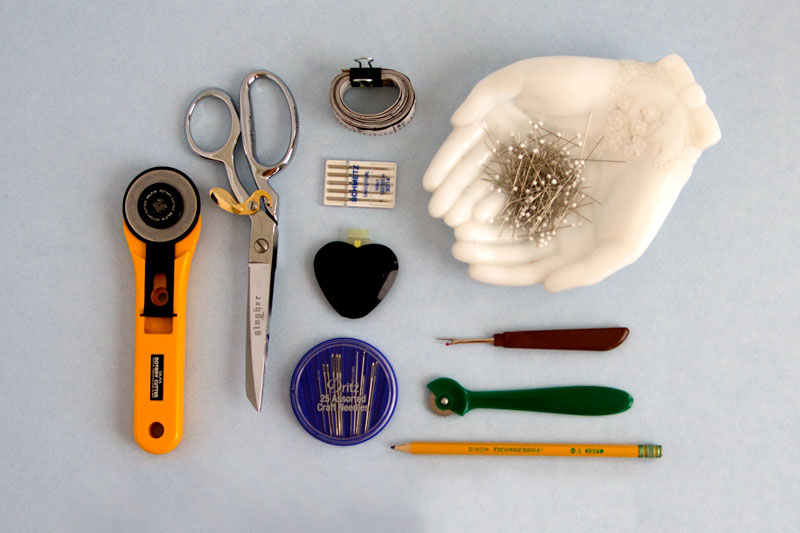 Shears: Use sewing shears (also called dressmaker's shears) to cut your fabric. Even if you use a rotary cutter, it's a good idea to have these on hand.

Rotary cutter (optional): Not necessary, but makes cutting your fabric go faster. If you go this route, you'll also need a mat.

Pins: You'll need plenty of pins. I prefer glass head ones because they won't melt under your iron.

Pattern weights: Use these to hold the pattern on your fabric while you trace it, or while cutting with a rotary cutter.

Marking pens or chalk: Choose one that stays put and shows up easily on your fabric, but washes away cleanly.

Machine Needles: Look for a size 80/12, this is the perfect size needle for medium weight fabrics.

Hand sewing needle: For hand sewing the blind-stitching, hook/eye and creating the thread chain.

Measuring Tape: For choosing the perfect size and altering your pattern for a perfect fit.

Seam ripper: Because everyone makes mistakes.
Presser Feet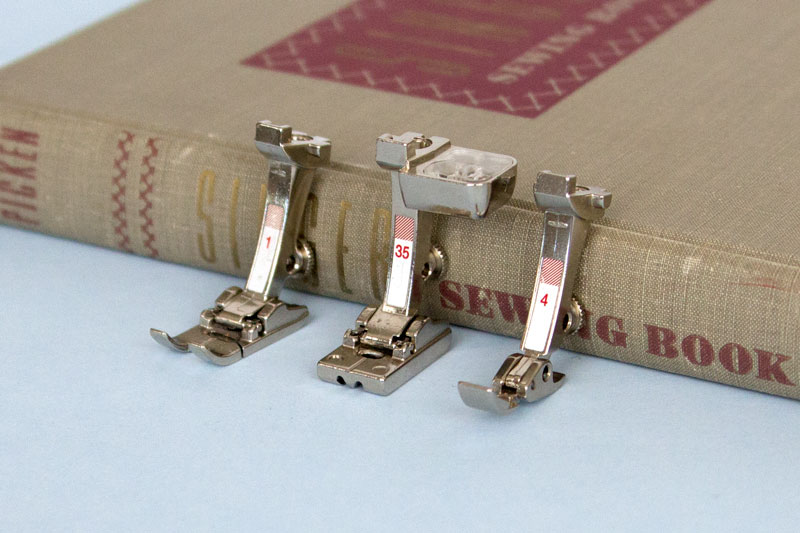 There are three presser feet that will be useful to have while making your Rue. The first is an invisible zipper foot. While it is possible to install an invisible zipper with a regular zipper foot, it is so much easier to do it with an invisible zipper foot. The bottom is grooved so that the teeth of the zipper unroll as you stitch, guiding the needle to sew precisely in the right place. Be sure to get the appropriate foot for your make and model of machine.
Next, you'll need a regular zipper foot for the zipper installation (middle) and the optional piping. These generally come as part of a machine's accessories.
You'll also need a blind hem foot (right) if you wish to do a blind hem by machine. This is not absolutely necessary, as you can stitch a blind hem by hand or use a regular double fold hem, but it's quick and fun to do it by machine and a blind hem provides an elegant, invisible finish for the bottom of your dress. Blind hem feet are sometimes part of the accessories pack that comes with a machine, so consult your manual to see if you have one.
Last but not least, you'll need your standard, satin stitch presser foot for all of your straight stitching.
Pretreat Your Fabric
Before cutting, pretreat your fabric however you plan on caring for the actual garment. This is not something you want to skip, because there's nothing worse than your fabric shrinking after you've made something.
If you're using wool or silk, you can take it to the dry cleaner first. Most wools and silks can also be safely hand washed in tepid water with a delicate detergent. It's always good to test wash a swatch first.
Up next
On Thursday, we'll begin discussing fit adjustments you can make to your pattern. If you have any questions about supplies, please comment below!