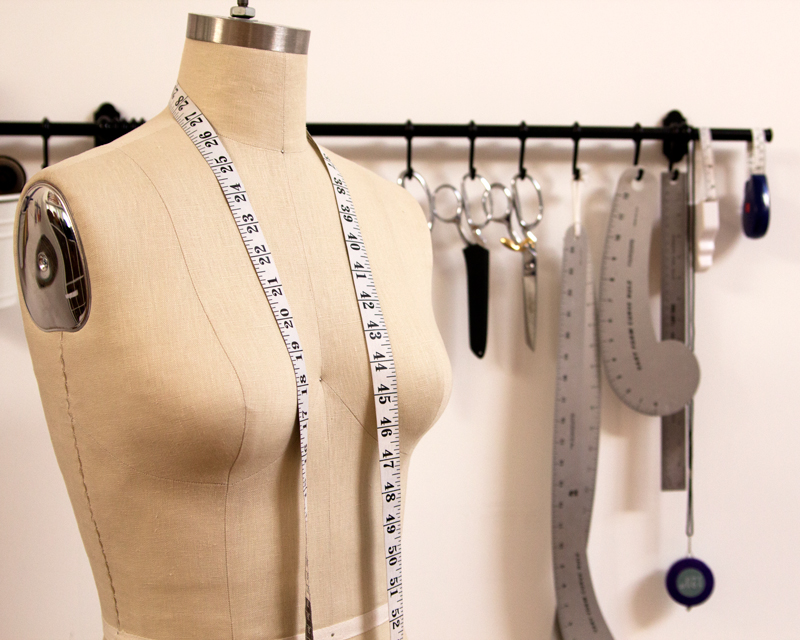 In this post we will be covering general pattern adjustments that can be made to the garment before sewing a muslin. These adjustments include blending between sizes, lengthening, and shortening.
Though making flat pattern adjustments can improve the overall fit of your garment, nothing can do the job quite like a sewing a muslin. If you want a predictable outcome when it comes to fit, always make a muslin!
Next week, we will go over Lengthening the Bodice, Bust Adjustments, and Shoulder Adjustments.
Taking Measurements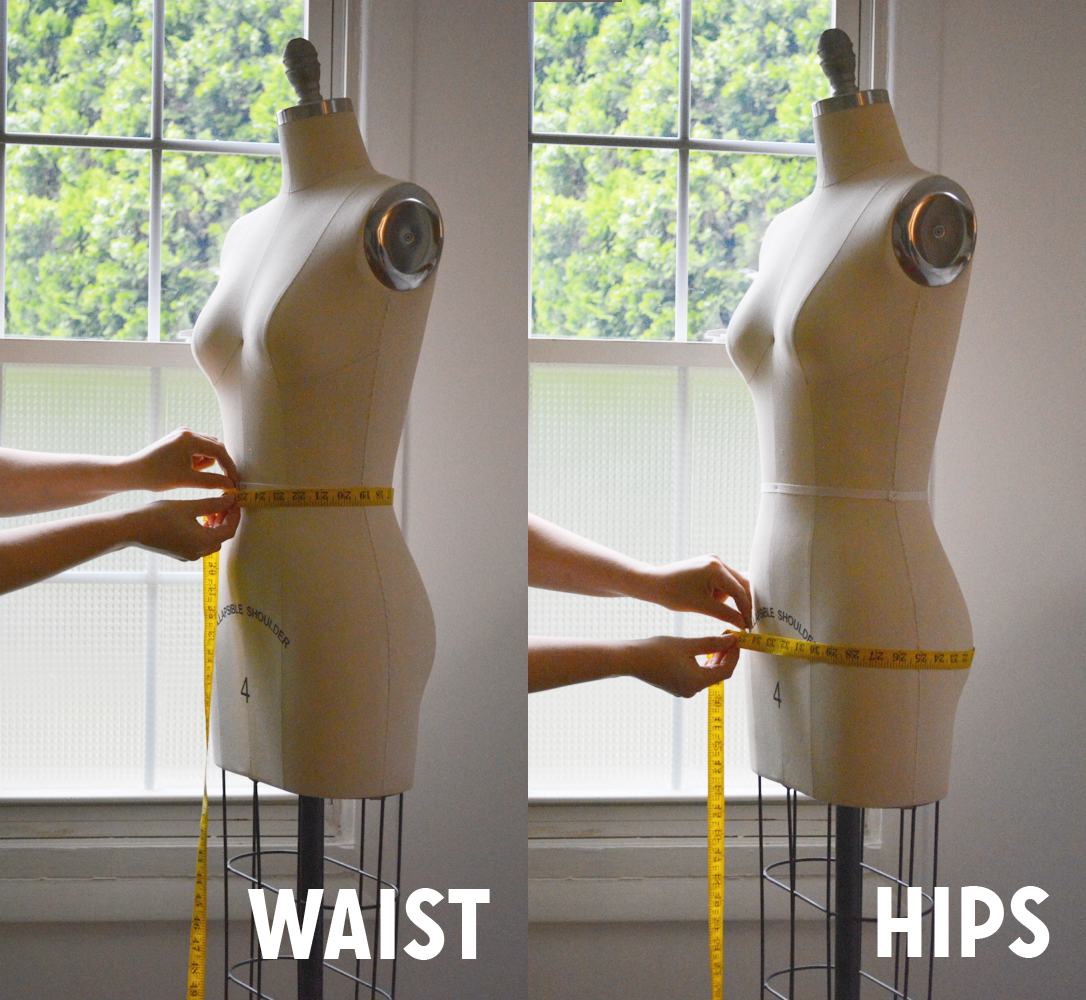 Using a tape measure and wearing undergarments or non-bulky clothing, take your waist and hip measurements. Your waist is the narrowest part of you, usually where you crease when you bend to the side. Your hips are the widest part of you below the waist, generally about 8-10″ below the waist. Make sure the tape measure is parallel to the floor and snug but not digging in.
Make a note of your measurements and see where you fall on the size chart. It's ok if you are in different sizes for your waist and hips – in a moment we'll go over how to blend sizes.
Understanding Ease
Ease is the difference between your actual body measurements and your finished garment measurements. It allows for movement and general comfort. The type of fashion fabric used will determine the amount of wearing ease needed in a garment. If a tightly woven fabric with little "give" is used for a fitted dress, more ease would be needed to allow for adequate movement, compared to the same dress being made from a double cotton gauze. Rue is designed for a large range of fabric types and weights. To accommodate this, a larger amount of ease has been added to each size.
How much wearing ease do you need?
Ease amounts are a personal choice. Each person has their own preferences when it comes fit and wearing ease. For instance, I have a small bust and hate having lots of ease in the bust of my garments, it always seems to give me "baggy boobs." But, I do love the way my Dahlia fits in the bust, which has 1 1/2″ ease. I shoot for that amount of ease in the bust when I'm sewing up a mid-weight dress.
The easiest way to determine what amounts of ease you like, check out a pattern you've sewn up before or even a RTW dress in your closet. Your reference dress should also be fitted and made in a similar fabric to your Rue fabric. Cross reference your measurements and the dress' measurements to determine a starting point for the ease amount of your Rue. It's a safer bet to add too much rather than too little, reference the minimum ease chart to make sure your not going overboard.
Choosing a Size
When choosing a size in a fitted dress, it's always a better bet to base your size selection off of the waist measurement rather than the bust. If your bust doesn't fall into the same category as your waist, you most likely will need a FBA or SBA. If your hip measurement is not in the same size category as the waist, you'll need to grade at the hip. To start off knowing that the waist fits, your bust and hip alterations will go much more smoothly.
Also, if you are sewing up your Rue in a lighter fabric, or if you are between sizes, I suggest choose one size down from what the pattern suggests.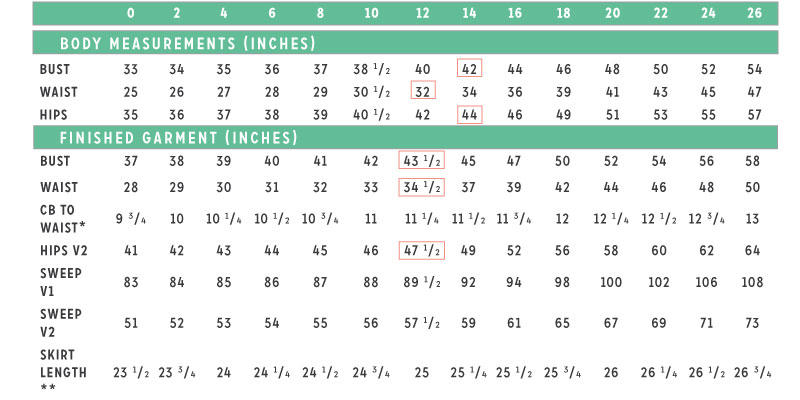 For example, Haley's measurements are:
Bust: 42.5
Waist: 33
Hip: 45
Technically, she falls somewhere between 12 and 14.
On the finished measurement chart, the waist measurement at size 14 is 37″, which would give Haley 4″of ease. That's just too much. It is a better choice to size down to size 12, which will give her 2 1/2″ of ease. She will need to do a full bust adjustment, but she always has to do a full bust adjustment ;)
If you are the same size at the waist and hip, you can go ahead and either cut out or trace your pattern pieces. Tracing takes extra time, but it can be good to have an unaltered original in case you end up making any pattern adjustments that don't work out and you want to start over.
Blending Sizes
If you are falling into different size categories for your waist and hips, one simple fix that you can do before you even make a muslin is to grade your paper pieces between sizes while cutting them out.
In Rue, the only measurements that can be blended are from waist to hip. The Bust Adjustments for Rue require more than just blending, which we'll cover next Tuesday.
Size blending is ideal for people who find that their hip falls into a larger size than their waist. Luckily this is an easy adjustment we can make to our flat pattern.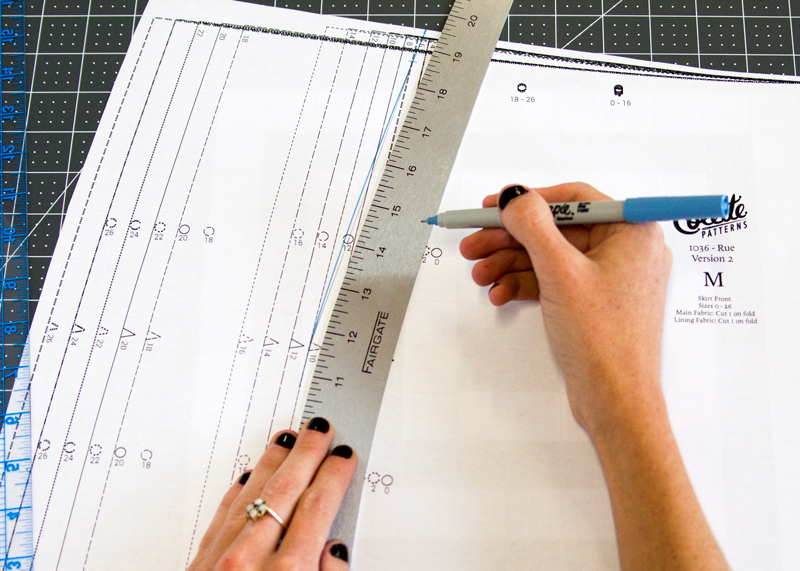 To go to a different size from waist to hips, start at the waist edge of the skirt pieces and use a ruler to blend out to the new size line at the hips. The hip measurement is always at the first notch of the side seam.
Repeat this step for Skirt pieces D, E, and F for Version 1 and J, M, and N for Version 2.
Lengthen and Shortening the Skirt or Sleeve
Since we are all different shapes and sizes, you may need to lengthen or shorten a pattern piece—for instance, if you have shorter or longer legs than average. You don't want to just add or subtract length from the edges because this will change the length of those edges and the proportions of the garment.
We will learn to lengthen and shorten the bodice next week when we discuss Bust Height Adjustment.
First, to determine whether or not you need to lengthen or shorten, look on the fabric yardage chart to see the finished back length. This is the measurement of the length of the skirt at center back. Take a tape measure and pinch it at that measurement. Hold this to your waist at center back and let the '0' end of the tape measure dangle down. Look in a full-length mirror—the end of the tape measure is where the bottom of the skirt will be.
If you aren't sure, it's best not to do anything until you've made and tried on your muslin.
Shortening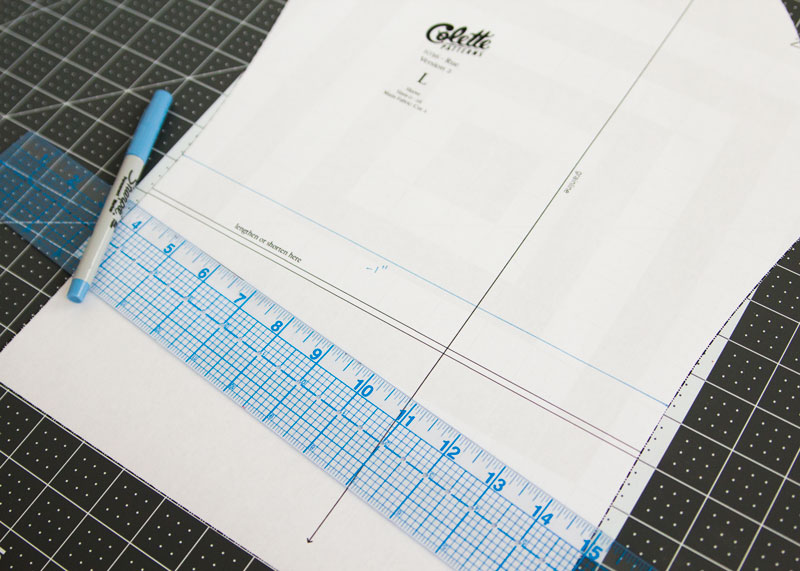 To shorten a pattern piece, determine how much shorter you'd like it to be. Then use a clear ruler to draw a line this amount above either lengthen/shorten (L/S) line. I shortened the sleeve by 1 inch.


2. Fold the pattern piece along the same L/S line and bring the fold up to meet your drawn line. Tape in place and trim any jagged edges.
Lengthening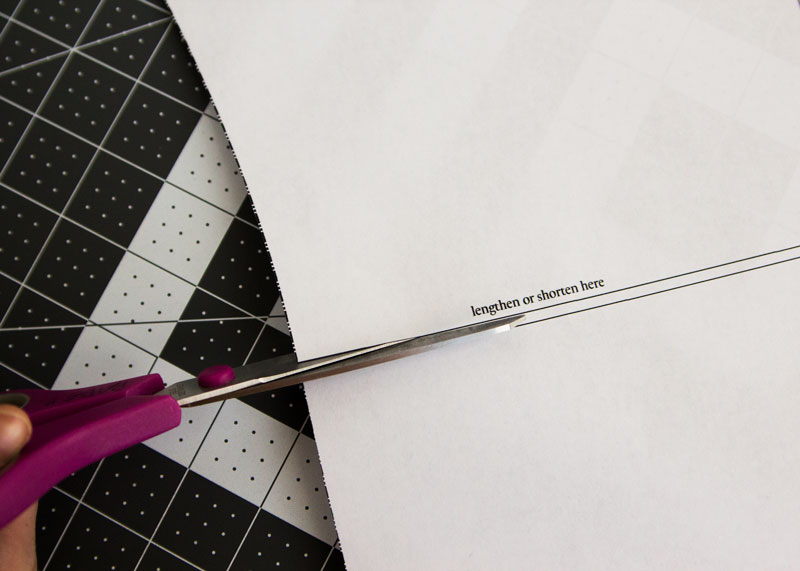 1. To lengthen a pattern piece, cut along the lengthen/shorten lines.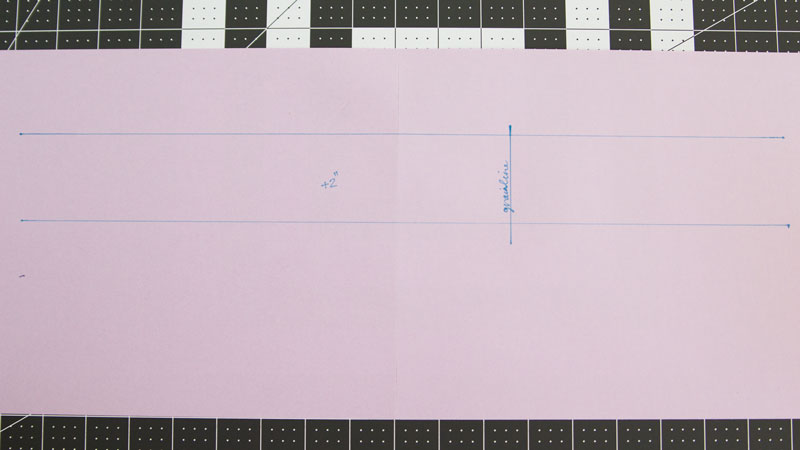 2. On a separate piece of pattern paper draw two parallel lines. The distance between these two lines should be the amount you would like to lengthen. Draw a third line that is perpendicular to the previous lines this will act as a continuation of your grainline.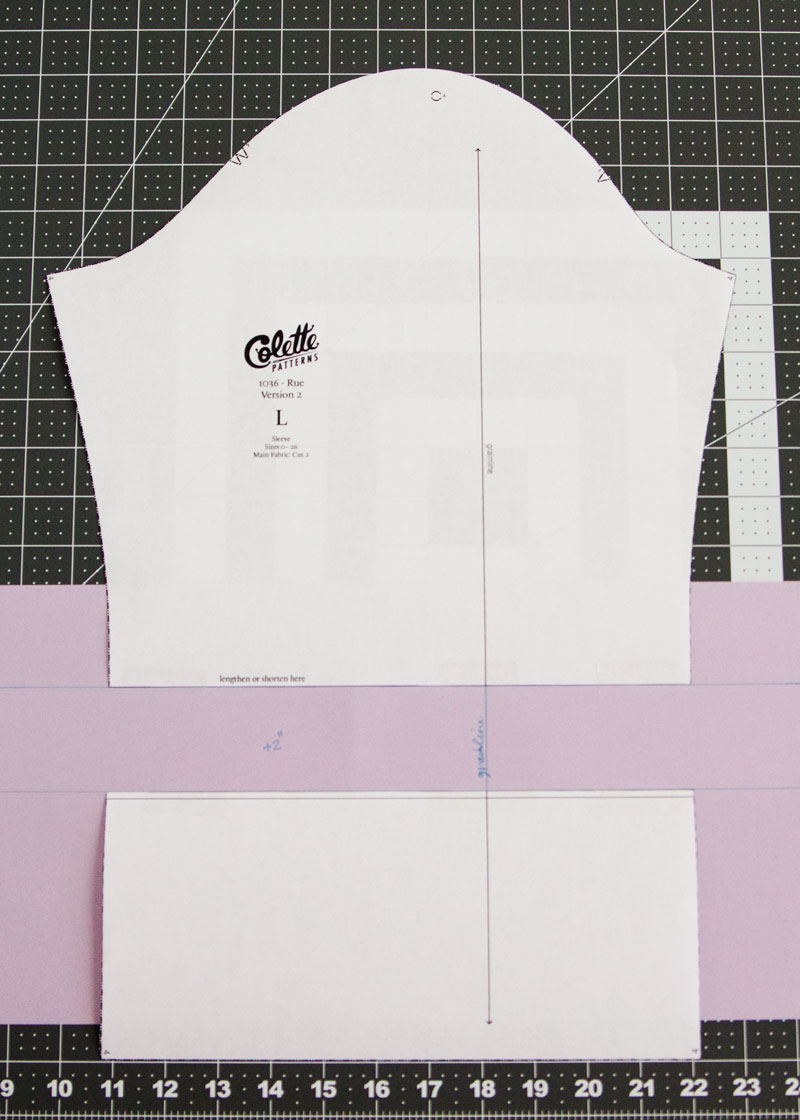 3. Bring your scrap piece of paper behind the slashed lines. Align your slashed pattern pieces with your lengthening guide and grainline. Tape to secure. Blend jagged edges and trim.
If you lengthen or shorten, make sure you do the same adjustment to all skirt pieces for your version.
Muslin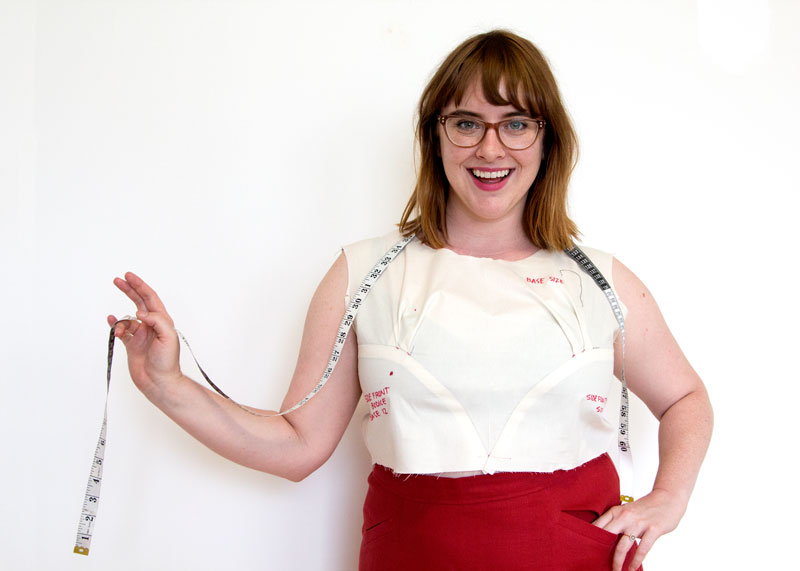 There are some things we can adjust in the flat paper before we cut any fabric, but at the end of the day, numbers can only tell us so much, as we all carry weight, length and width in different places. So it's always helpful to make a muslin (also called a toile).
When making your muslin, remember that you do not need to do things like finish seams. It's meant to be a quick and dirty mock-up so that you check the fit. Be sure to sew accurately, however, so that you're getting a good idea of how a finished garment will look. You will also want to staystitsh the neckline so that it doesn't stretch out as you're trying it on.
Often times you can get away with just making a muslin of the bodice. It's useful to still put a zipper in the center back so you can really see the fit. Remember, it can be a quick (baste it in so you can easily take it out to reuse it) and dirty (it doesn't have to look good) zipper installation.
Alright, that's it from this week! Next week, we'll go over Bust Height Adjustment, Full/Small Bust Adjustment, and Narrow/Broad Shoulder Adjustments. It'll be a doozy but you'll learn so much! If you have any questions about what we went over today, leave a comment below!