We discovered a few issues with the first printing of Rue that have now been fixed. A corrected pattern is available through service@colettepatterns.com. For information, see the
Corrections to Rue Pattern post
.
Welcome to the Rue sewalong!
In this sewalong, we'll be going step by step through the process of sewing both versions of the Rue dress.
Rue is a return to the classic Colette vintage style. Rue offers two versions with pieces that can be easily mixed and matched to create the perfect dress for any season.
Both versions of Rue offers a one of a kind bodice that is sure to flatter all figures. The show-stopping style lines that gently curve from the side seam to the center front waist, emphasize the vintage silhouette of this dress. Tucks radiate from the style lines offering shaping and a scoop neckline adds a dramatic touch.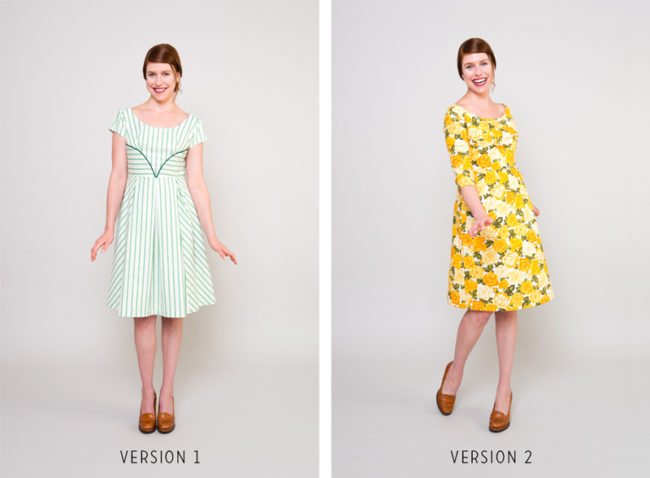 Version 1 features Rue's signature bodice paired with a lined short sleeve. A paneled pleated skirt gives this dress a vintage silhouette while allowing you to use your fabric economically.
Version 2 features unlined 3/4 length sleeves perfect for cooler weather. A subtle a-line skirt shaped with two clustered gathers finish this sophisticated dress.
Try mixing and matching sleeve and skirt options to create a Rue that is totally your own.
So use your imagination, dream up your Rue and come join us in the sewalong!
Your Teacher
I'm Katie! I teach new skills through in-depth tutorials, sewalongs, and articles for Seamwork Magazine and the Colette Blog. You can read more about me on our blog.
How it Works
Our sewalongs are simple. We'll publish a series of posts detailing each step in the process of fitting and sewing your pattern. You can sew along with us, ask questions, and share your techniques and advice with others.
Feel free to leave comments here on the blog, or join our Sewalongs Facebook group to post thoughts, questions, and photos. We try our best to answer as many questions as possible, but encourage you to jump in and help each other out as well.
Whats Covered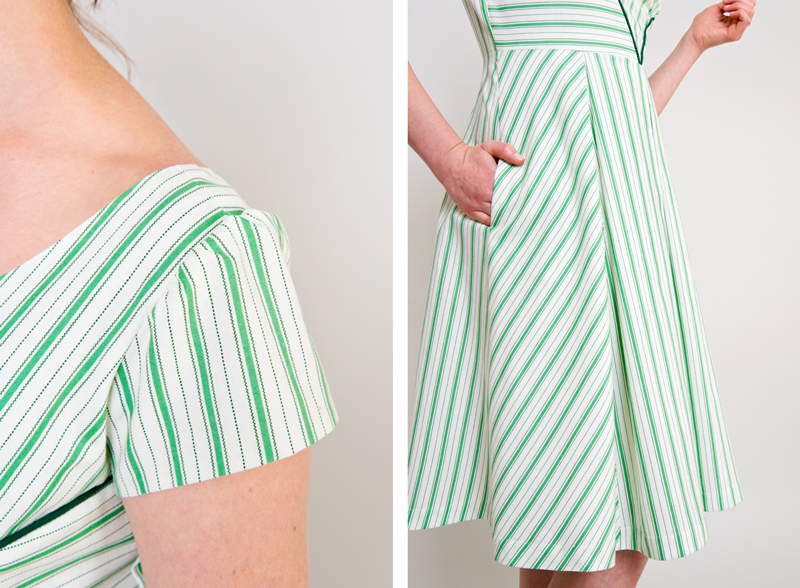 We'll start on Tuesday September 13, 2016 by going over what fabric and supplies you'll need for your Rue.
Then, we'll dive right into pattern fitting. You will learn to blend sizes, lengthen and shorten, make bust adjustments, and adjust for a narrow/broad shoulder.
Following the pattern alterations, we'll cut out the pattern and start sewing! For the following three weeks, on every Tuesday and Thursday, we'll work through both versions, step by step. The final sewing post on finishing will be posted on October 13th, my birthday!
You'll have a week to get all your Rues finished and posted to Instagram or Twitter, with #coletterue before we highlight some of them in a parade post on October 21st.